Jo Lawson-Tancred visits one of Franciacorta's best loved wineries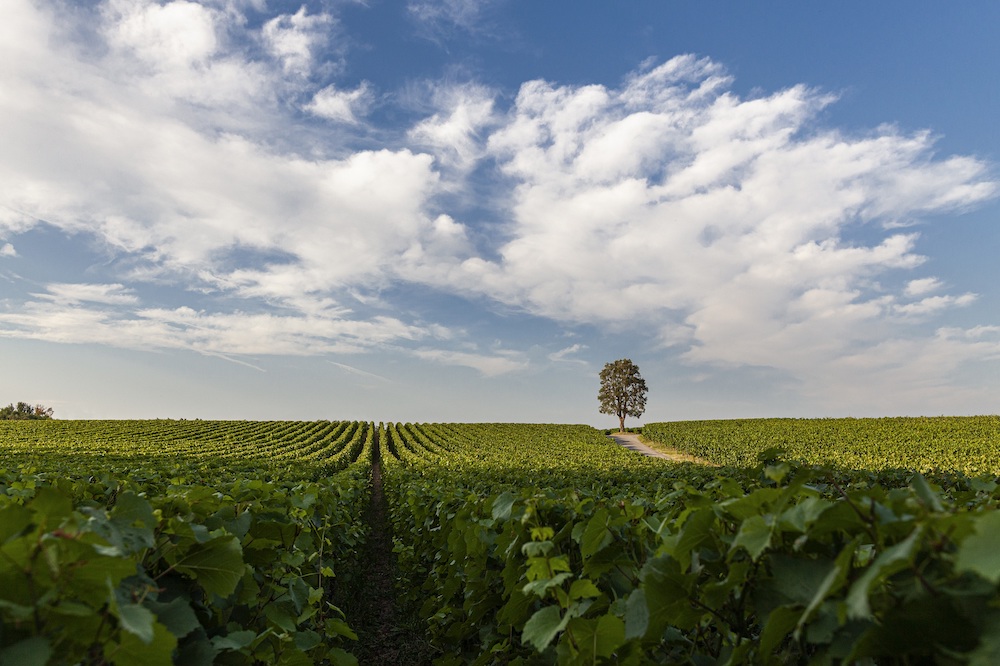 Only in recent years has the world of sparkling wine suddenly been shaken up, as experts and enthusiasts alike are tempted to try out alternative wine appellations. Italy, once notorious for the prosecco that is so often treated as knock-off champagne, has carved out a new reputation with wine a cut above the rest from the region of Franciacorta in Lombardy. Unlike prosecco, its more sugary sister, Franciacorta applies the very same techniques and painstaking attention to detail that we have come to expect from Champagne to the same varieties of grape, like Chardonnay and Pinot Noir. This is hardly an act of imitation though, as the finished product offers an entirely new structure and complex palate on account of the region's much warmer terroir.
Slowly gaining renown, over the past few decades Franciacorta has become one of Italy's few remaining well kept secrets. It's one, however, that Maurizio Zanella, founder of one of the region's best loved wineries, Ca' del Bosco, is more than willing to share. As President of the Consortium of Franciacorta until 2015, he saw it promoted to the official wine of Milan Fashion Week. Since then, its international eminence has only been growing, evidenced by a new partnership with the Emmy's in 2021.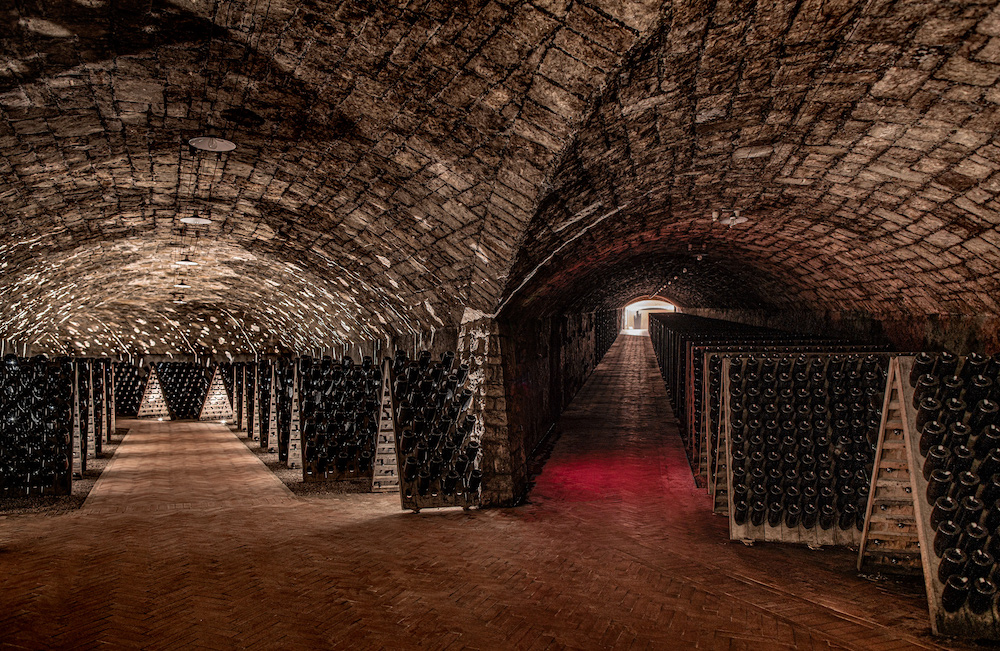 While still only a teeanger with no particular aspirations to make wine, Zanella went on a fateful tour of France and brought back a few bottles from the cellars of Domaine de la Romanée-Conti. Back home in the late 1960s, he was inspired to convert the old farm where he lived with his mother into the beginnings of Ca' del Bosco. The winery began producing its trademark vino spumante in the 1970s and, in the half century since, it has grown to over 240 hectares. It enjoys a prestigious reputation for pairing historic techniques with state-of-the-art technology, and specialising in expressly organic methods of cultivating the vine. In 1995, it was awarded Italy's premier guarantee of quality, the DOCG status.
In over half a century, Zanella's vision has come a long way. A magnificent expansion of Ca' del Bosco is set to open to the public in spring 2023, proving he has no plans to slow down. The rolling landscape and airy factories have already long housed statement artworks by established Italian artists, from the grand circular gate by Arnaldo Pomodoro installed in 1993 to one of sculptor Stefano Bombardieri's iconic suspended rhinos positioned at the entrance of the cellar. Cracking Art group's blue wolves can be seen nestled within the vineyards, an eye-catching nod to the wild animals that once roamed through nearby woodlands.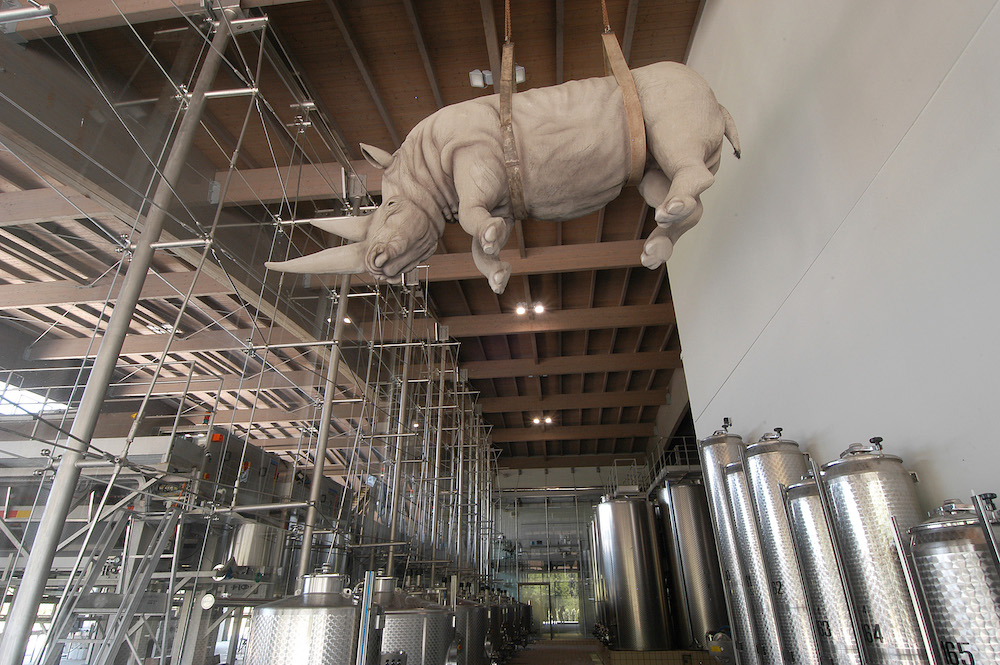 Now, the estate has become the stage for a surprisingly ambitious architectural project helmed by the father-son duo Roberto and Gabriele Falconi. The pair have worked with Zanella to imagine a surreal fleet of adjoining new spaces that each offer their own delightfully unexpected interpretation of the winery's purpose and function.
In the long vault that leads visitors away from the historic building, a dark celestial corridor is subtly illuminated with a "starry sky" lighting effect that makes the long wall of stacked vintage bottles sparkle. Once reached, the Dome of the Senses has a warmly sacred atmosphere. Its central well of light – Paolo Scirpa's Ludoscopio – has formal resonances with the Pantheon dome while four intimate alcoves serve as private chapels for the contemplation of artistic installations.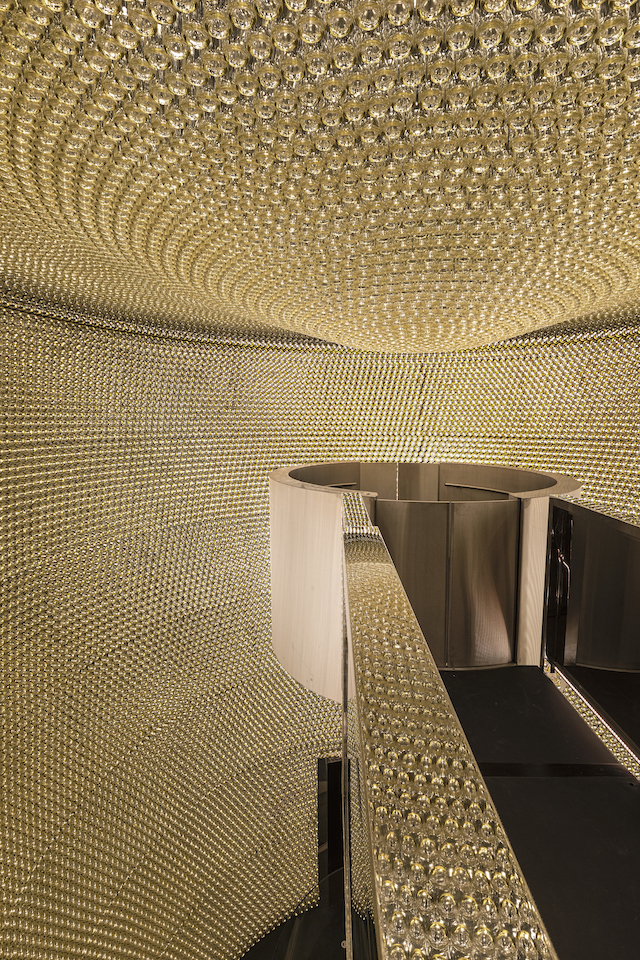 The pièce de la résistance is, without a doubt, a dazzling immersive experience created with 30,000 empty bottles of the winery's Cuvée Prestige all lit from the inside and themselves arranged in the shape of a bottle. A panoramic lift allows viewers to slowly float through the structure, not unlike bubbles fizzing up to the surface. The experience transcends our expectations, as visitors who arrive hoping to find out how a bottle of Franciacorta is made leave having had the fantastical opportunity to set foot in one.