Chris Chasseaud learns how to mix and bottle his own Negroni cocktail at the London bar
Located within the Exmouth Arms in Clerkenwell and the Well & Bucket pub in Bethnal Green lies 5cc – a cocktail bar specialising in forgotten cocktails and vintage spirits. They've recently started offering customers the opportunity to create their own forgotten cocktail under the supervision and guidance of 5cc's highly knowledgeable mixologists. However, the twist to this master class is their focus on bottle-aged cocktails. This is where the cocktail is left to mature in a vintage glass bottle. The result is an unusual and exciting blend of flavours that turns the visit into a unique and personal drinking experience.
The art of bottle-aged cocktails has somewhat died off, but this master class allows the visitor the chance to re-discover the effects it might have. The mixologist provides a little history and science as well as explaining the effects different spirits have on the flavour of the cocktail. The oxidisation – from the air trapped in the bottle – creates subtle changes to the cocktail, a similar effect as ageing a wine or whisky would have.
Asked what kind of cocktails and flavours you prefer – sweet, sour etc – you're recommended a cocktail in which you'll be presented with the various spirits that make up components of the drink. My drink of choice was Negroni, the Italian super drink. I was given the task of tasting each of the various components that make a Negroni. I tried an array of red and blanco vermouths, familiarising myself with their individual qualities. Next I was given tasters of Campari and Aperol, distinguishing the differing bitters. And finally, sampling a couple of gins, as well as a mescal.
I was then made three versions of a Negroni using different vermouth, gin and bitter in each. After tasting, I had to choose whether I wanted to stick to one of those or if I wanted to play around with the recipe – either changing a vermouth or altering the measurements. The previous tasting allowed me to see which tastes I liked and what I'd prefer to add to my cocktail. The discussion and suggestions from the mixologist helped me decided what suited my preferences. Invited to get behind the bar, I poured and mixed my own cocktail before it was bottled and named.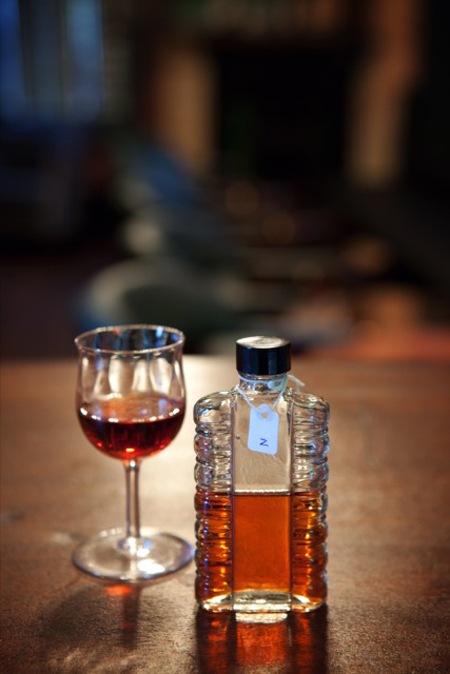 By this time, I had drunk copious amounts of spirits and sampled a handful of cocktails which had taken me on a unique and valuable exploration into flavours. The exciting next stage is to return to 5cc after the cocktail has aged and had time to sit in the glass bottle. Housed in a beautiful cabinet along with 5cc's numerous vintage spirits, the cocktail will be kept until my return to try my drink.
Knowing your own cocktail, you can choose whether to request adding a peel or berry or cinnamon to enhance the flavour before you visit. 5cc are offering the chance for people to really discover traditional cocktail-making and its qualities through forgotten methods that allow you to experiment and discover new flavours.
More info HERE