Proprietor Lionel Salama introduces three traditional dishes with a fine-dining twist, from the menu of his acclaimed Square-Mile restaurant
Not far from the Gherkin, in the midst of London's City quarters, lies the Bevis Marks synagogue. Hiding in the courtyard of an anonymous brick building, this is the capital's oldest synagogue. Next to it, even more obscure in its location, you'll find a UK Michelin Guide-listed restaurant dedicated to Jewish food, all of it firmly based in Jewish traditions. Founded in May of this year by Lionel Salama and his wife, Natalie Salama-Levy, the 1701 kitchen is headed up by Oren Goldfeld, formerly of Nopi, and serves its guests a delicious mixture of culinary delights and ancient history. Here, Salama – who also runs the Adafina Deli in St Johns Wood – explains the premise for his latest restaurant, and lists three selected dishes from the 1701 menu.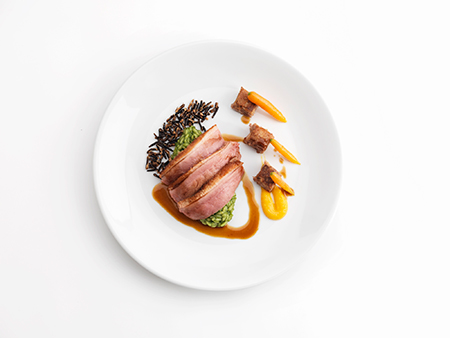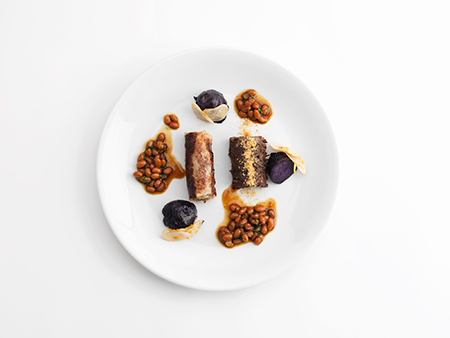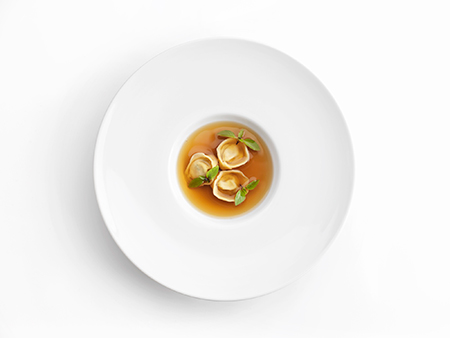 "Jewish Cuisine has never been really celebrated in this country. Most people think Jewish food is a smoked salmon bagel with cream cheese or a salt beef sandwich. But the world of jewish cuisine is quite vast and worthy of exploration. 1701 is also the first ever fine dining offering of this cuisine, in an environment with such historical resonance."
Jewish Penicillin (above)
Chicken consommé with chicken tortellini: "Often referred to as Jewish penicillin because of its perceived medicinal qualities, in many Ashkenazi households no Friday night Sabbath meal can begin without a bowl of golden chicken soup."
Palau Kabuli (above left)
Pan-fried duck breast, confit duck leg, nettle risotto and puffed wild rice: "A favourite of Afghan Jews, this quintessential rice based dish is traditionally served at weddings and celebrations. Traditionally featuring a combination of meat, purple carrots and raisins with pistachios added for crunch.
Adafina (left)
Braised ox cheek, pearl barley, chicken confit, coco beans and pickled turnips: "When the Sephardi Jews arrived in northwest Africa after the Spanish Inquisition, they merged their dishes with the native cuisine, an example being the North African Sabbath stews known as dafina (Arabic for 'covered'). Adafina is the Spanish version."