The Director of Le Caprice talks to Laura Barber about running a restaurant. Like the Army, it's teamwork that gets results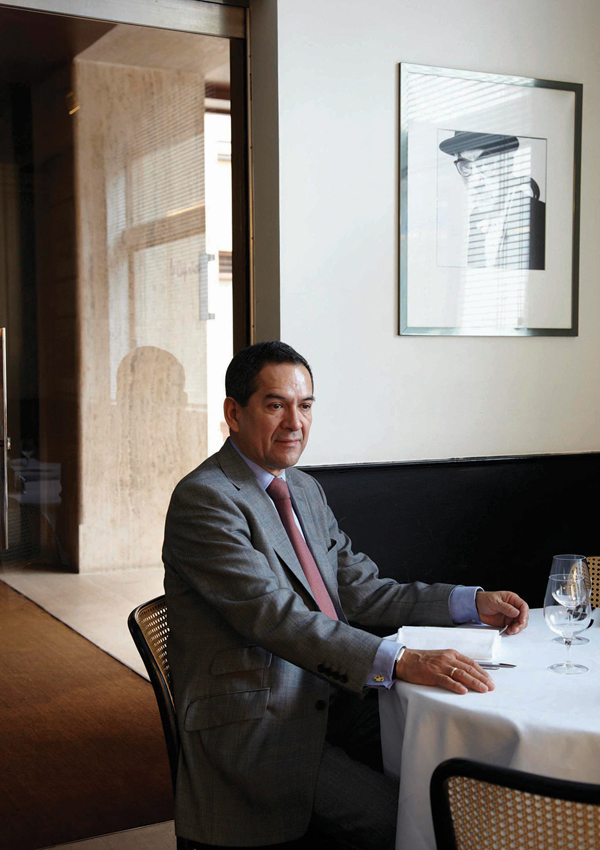 When I arrived in London from Bolivia in 1972, I never dreamed I'd end up as part of the establishment. At 19, my plan was to study civil engineering. But as a foreigner, almost the only way you could earn money in those days was by working in catering. So I found a restaurant and started doing the washing up. It was the hardest time of my life. I worked six days a week and I had to wash three times a day – in the morning, after lunch and again after dinner – just to get rid of the smell of food. But it was a step on the way to becoming a waiter. I was teaching myself silver service, practising with a fork and spoon how to put a potato on a plate, and learning to carry things with my little finger.
After three months, I was given the job of commis waiter and put in charge of the dessert trolley. Back then, it was mostly tinned fruit. I was wheeling it across the dance floor one night when the whole thing went crashing – peaches and figs everywhere. I was terrified. But instead of throwing me out on the street, the manager and the senior waiter got down on their hands and knees to help clear up the mess. That was my first lesson in man-management and how to get the most out of people.
After that I worked even harder, because I wanted to prove myself to them. By then, civil engineering was forgotten. As a young man, I was impetuous and I didn't stay anywhere very long but, with each job, I gained experience and confidence. I learned that being a good waiter isn't just about serving food: it's about looking after people, making them relax, making them laugh. I had a passion for it and I guess my managers saw a natural ability too.
"I learned that being a good waiter isn't just about serving food: it's about looking after people, making them relax, making them laugh"
I got my big break when I became the wine waiter at Inigo Jones in Covent Garden. That's where I met my first mentor, Colin Livingston. He was the quintessential Englishman, always impeccably dressed. He also knew everything about London: when customers came in, especially if they were American, he could tell them exactly what was going on, when and where; he could talk to them about what they'd seen and where they'd been. A restaurant can be famed for its ambience, cooking and design – but it's Colin's kind of service that gives it the wow factor.
I joined Le Caprice when it opened in 1981, and I watched Jeremy King and Chris Corbin very carefully: how they worked the room, how they treated customers, how they treated staff. Like Colin, they were the best in the business and big inspirations to me. After I'd been there a while, I asked to learn more about back of house operations – cashing up, reconciling accounts – but after trying to teach me for a couple of mornings, Jeremy said, "Actually, you're better in the restaurant – you're better with people." At the time I was quite hurt, but then I thought: damn it, I'll be the very best waiter this dining room can have.
When Jeremy and Chris sold Le Caprice in 2000, I became the keeper of its spirit. It was a question of holding the team together and spreading a feeling of one for all, all for one. Even today, I still serve food, open wine and mop the floor; everything I can to make our customers feel wanted and cared for – like kings and queens! Le Caprice has become an institution, and to be part of that is just magic.
Photography Chris Brooks