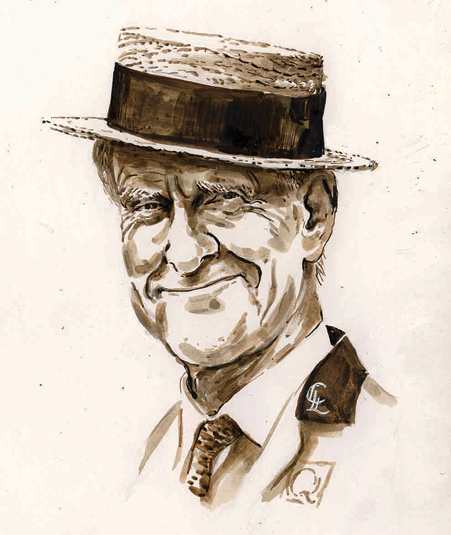 As the fourth generation to run the family business, David Lidgate tells Laura Barber how he transformed an ailing shop established in 1850 into London's premier butcher's, celebrated for its prize-winning pies and home-made sausages, and famed for selling organic meats from the royal estates and the bird they call "the
Rolls Royce of Turkeys"
Working with meat isn't a job, it's a way of life – and I was born to it. As a toddler, I remember looking up at the sausage machine, absolutely riveted, and as a child, I loved eating raw bacon rind and beef dripping on toast.  When I was growing up, I'd work in the shop on Saturdays and holidays, but the business was struggling and I was determined to do something else.Sport had always been my passion and by the age of 17 I'd made my way up through the ranks of the Wasps Rugby Club. By this stage, my father was very ill, but I still hoped I could combine a rugby career with being a butcher.  But then the day before my first big match for the top team, there was a serious accident in the shop and I realised I'd have to make a choice.  I left the team and gave myself 18 months to learn as much about the industry as I could, so I went straight from school to Smithfield Market.
It was a total culture shock – working from 4.30am, in all weathers, hauling 170lb hind quarters – but right away, I'd only have to look at the meat to know if it was good.  When I inherited the business, things were fairly desperate, but my mother and the men who'd worked with my father taught me a lot.  I was actually on holiday with my rugby friends in Austria when I had my eureka moment.
"My wife suggested that we invite a woman who did a bit of catering to run our kitchen:
her pies became an instant hit and completely transformed our fortunes"
One evening, after a rather bloody wrist-wrestling competition with some locals, I got talking to a young man who, like me, had just taken over the family business and he offered to introduce me to his cousin, who was a butcher.  His shop turned out to be unlike anything I'd ever seen.  Back in England, it was all crash-bash in those days, but this place was immaculate: small cuts of meat laid out on steel trays, salamis hanging around the walls, and in the back, they must have had £10,000 worth of machinery.  It was like a laboratory: they were manufacturing sausages and absolutely no meat was wasted.  A lot of people thought the industry would follow the American way of doing things – mass production and supermarkets – but I thought then, this is the future: it'll be more Continental and it won't be enough to sell meat, we've got to start making things too.
Over the next few years, I managed to get the business on a better financial footing, so that we owned the premises outright and had the capacity to expand.  My wife suggested that we invite a woman who did a bit of catering to run our kitchen: her pies became an instant hit and completely transformed our fortunes. By now Lidgate's was making a name for itself. I was still on the shop-floor servingcustomers, but I was also in the office and away in Europe picking up ideas.  And people started seeking us out: we were joined by a young woman who'd spent four years training at Holland's top butchery school, and a Michelin-starred chef who extended our variety of sausages from two to about 15 in a week.  We were doing something different but it didn't seem like a risk: we had good people and our tasting panel was constantly striving for perfection.
The business has taken its knocks over the years – it was bombs in my father's day, and BSE and bureaucracy in mine – but it always comes back to the meat and we're committed to selling the best.  I personally select from organic suppliers I trust, whether it's lamb from a farm in the Shetlands where sheep have grazed on the same iron-rich hills since the Stone Age, or the newest Wagyu beef from the country's only pedigree herd.  I've never had any time for the grading system: we analyse our meat scientifically, but the quality is something you can feel when you touch it and taste when it's raw.  They say the meat trade is in the blood and, now that my sons are taking over from me, I know it's true.
Illustration Dan Williams