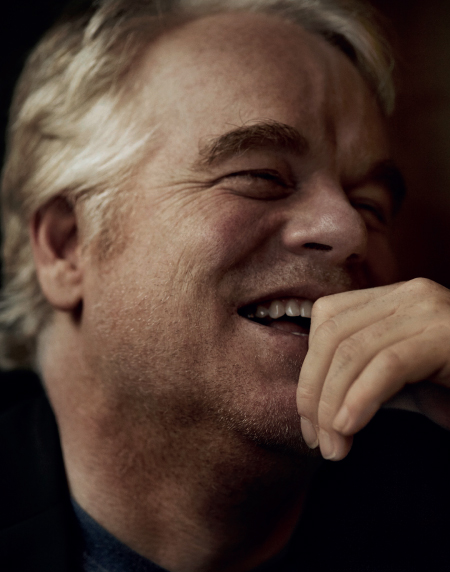 Having interviewed Philip for Port's spring 2012 issue, Samantha Morton revisits her chat with the late actor and reflects on her feelings following his death
It seems so strange seeing your face everywhere and the word 'dead'. What the fuck does that mean? I feel devastated and so proud to have known you, to have been inspired by you from my beginning. So no, I refuse this to be the end.
Words? I just don't have them but the tears won't stop. I light a candle for You, Mimi, Cooper, Tallulah and Willa. Memories burn today like acid. I Love you. I know you are in a better place and that is the only comfort.
Samantha Morton: Finally we connect! It's been so very hectic lately.
Philip Seymour Hoffman: Yeah, the holidays, family, back to work…
Sam: It was really weird. I was directing a music video for The Kills. I was there on set, and my dad called. His partner had had a heart attack. My dad is a door-to-door salesman, he's what we call a knocker over here. He knocked on her door 20 years ago to sell her an ironing-board cover, and never left. We had to go and get him to spend Christmas and New Year at our house in the countryside, it's just been insane. And then I was sick in LA… it's all been going off. But you were ill too. Are you feeling better now?
Philip: Wow! God, what a time. Yeah, I had this 'flu thing. I got sick two weeks ago, and then I had a stomach virus yesterday. I'm hoping that'll be it. I'm in the second week of rehearsals for Death of a Salesman now. So all that happened to you over the holidays? That's not easy.
Sam: I also got really sick recently when working on a movie in LA. I got a bit paranoid because I thought I'd just Method-acted out too much. It was playing this real woman from Toronto called Annie Parker, who had had cancer many times. She basically pushed people to look into the genetics of breast cancer, because she believed there was a link, a gene. And indeed there was. But I really got into this character and then I collapsed at the end of shooting and had to go to hospital. So we came home. I'm speaking to you now, and then I'm going to rest and get better.
Anyway, here we are doing this interview for Port. I've seen everything that you've done, apart from some early television and plays. And then I re-watched them all at my own personal film festival, the location being my sofa. It was so enjoyable. I'd see three or four films a day, so I was able to go from watching John in The Savages to Father Flynn in Doubt. Without sounding sycophantic, you're just a genius. You're absolutely, unbelievably gifted. It just blew my mind, and then I was desperate to see Jack Goes Boating, which you directed and starred in. 
Philip: The first film I directed. I learned a lot. I would never have done that if I hadn't been doing it at least vicariously for over 20 years, you know? I think a lot of actors are kind of blind. It's really ignorant. You just kind of jump into it with directing.
Sam: But thank God you did. You managed to pull off a really beautiful film. I directed a movie a few years back, and I was meant to be in it to get some money, and I just chickened out. The fear got me. What bit did you love most about the experience? I love editing.
Philip: As an actor you have your relationship with the director and with the other actors. But as a director you get to go through those three stages. Pre-production, which is all about the screenwriter, the designers and the DP . You have great intimate relationships with all these people over those few months of pre-production. And then you start shooting, and it's all about the actors and the DP, and I built great relationships with them. Then in post-production you have the editor. As with you, that's the part that blew my mind. Not what editing could do or how important it was, but how satisfying that was.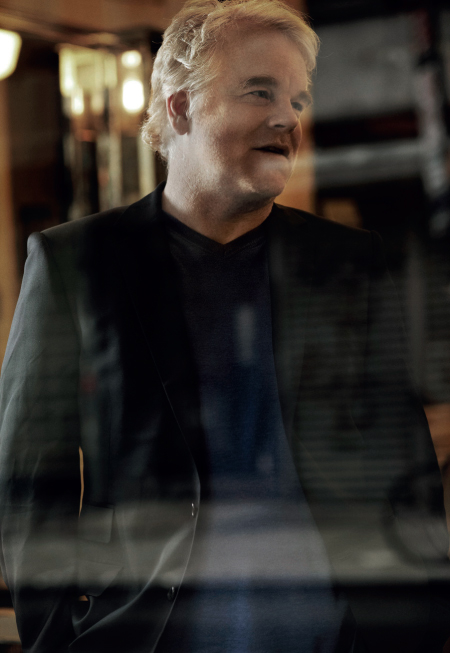 My relationship with the editor, Brian Kates, was like going to therapy every day. I'd sit on this couch behind him, and we'd be there in the room for eight hours, looking at each other once in a while. It was just an incredibly cathartic thing over a few months. You'd reach these points of desperation where you'd feel you had nothing and everything you'd thought was going to work doesn't, what the fuck. And so the two of you would find a new way, you know? Or I would leave him alone for a little bit, and when I'd come back he would have found something beautiful that I never would have thought of. The film just got remade in front of my eyes. I have to say, all those stages are very satisfying, but that one with the editor at the end was the most surprisingly satisfying.
Sam: Are you going to direct again?
Philip: Well, I'd like to. I'm trying to think about it. It takes up such a chunk of your life.
Sam: It does. I didn't act for three years after I directed.
Philip: Yeah, you're sure not going to be able to act for over a year after directing. I'm in my mid-40s, so time is starting to mean more and more to me. I'm definitely going to direct again. But because I didn't spend my life doing it, I realised that, you know, it's gotta be right. I'm not going to do it just to do it.
Sam: I want to talk about The Ides of March. How was it working for George Clooney?
Philip: It's not always a good thing to work for an actor-director. But in George Clooney's case, he has really done it all. And done it well, you know, a lot of really good TV, a lot of really good film, and he's worked with many different people in a lot of different styles. He's a very well-schooled guy, and a really good actor. He's a good guy to act opposite. The way he dealt with you was like an actor, like you'd want to be dealt with. But the way he ran the ship was like a director, a really well-educated director.
He knew what he wanted, and was confident. So the days weren't long, he didn't worry too much about too many things, and you didn't worry too much either. You made your choices and committed to them, and there's something kind of nice about that. Because I can take a while to get someplace, I can meander around a bit and be a little lost. To have someone there who would say it's OK, this is what we'll do, and believe me, follow me, trust me – that's good, you know? And he's also a really fun guy to hang out with.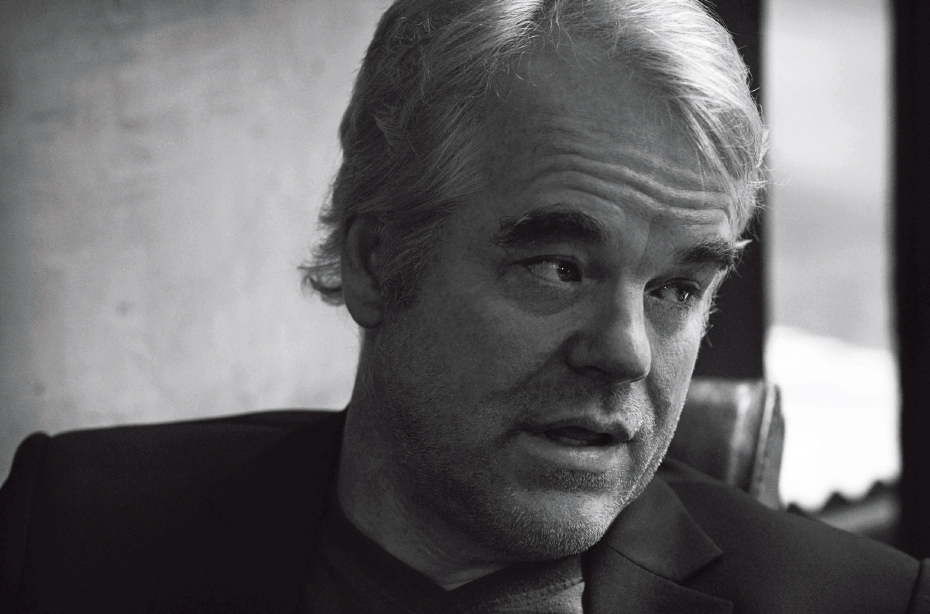 Sam: I have a memory of you as Caden in Synecdoche. I had just found out I was pregnant, and my head was all over the place. I remember you, just sitting on that sofa when we were in that house scene, and the house was on fire, on fire inside where we were, and I had that wig on and it was really hot. And we were being so proper and professional, doing this scene so close to the fire… 
Philip: Oh God, you're bringing it all back. That was one of the hardest jobs…
Sam: I saw the film for the first time in Cannes. 
Philip: I remember seeing it at Cannes too. It was a weird night because there's something almost too intimate, too exposing about that movie. I don't remember feeling relieved, just very exposed, which I think is what that movie is about.
Sam: The film blew me away. I was in need of some time to let it sink in. Brad Pitt was at the after-party. I have a memory of being really rude to him, and then keeping my boyfriend Harry awake all night going "I can't believe I told Brad Pitt I needed a moment, so dismissive…" You gave me a gift of some Tom Waits music at the end of the movie. Do you get time to listen to music?
Philip: I didn't listen to a lot of music growing up. I was one of those very rare children who didn't buy albums and go to concerts, so my relationship with music was over the radio, in the car and stuff like that. I love music and I listen to it all the time now. I'm the anti-snob when it comes to music. It's funny you bring up Tom Waits. Just the other night I was on this website with a friend, and Tom Waits came up and I was like, oh, you gotta listen to this album, Orphans: Brawlers, Bawlers and Bastards. So I was reminded again how big a fan I am of Tom Waits.
Sam: I loved the music in Jack Goes Boating. You just nailed that, man, it was absolutely pitch-perfect. I think a lot of people take sound in film for granted and they don't value how it can internalise you, do so much for you.
Did you choose the music?
Philip: I did, pretty much. You know, I had had some music in my head, a simple reggae tune. I wanted to make sure the movie didn't become about that kind of rhythm. So I wanted music that was quite eclectic, specific to the moment, and that hopefully at the end of the day would be a vocabulary for the picture.
Sam: Well, it worked, and it felt personal. I've noticed – and I could have got this wrong – you've not done a horror film. That's a choice, is it? 
Philip: No! That's a great question. There are some really good horror movies. It's not a choice! I've never even been offered a horror movie. That's so fuckin' funny! I've never been offered a horror movie…
Sam: You've done really scary films, but they're more psychologically scary than choppy-up bloody scary. This is actor-talking-to-actor now, and you don't have to answer any questions – just say no comment if you want, like you're in a police cell – but there's a handful of directors that I'm in awe of, and I really want to work for. I've never written to them because I don't do that kind of thing. But I pray and hope that one day I'll get a call for an audition or a meeting. Do you have anyone like that? 
Philip: I know exactly what you mean. I've never been that kind of guy, in the sense that I always feel like the person I want to work with is somebody I will, eventually, work with. Because whenever I see something and I'm like, oh, that person's great, I never feel like I want to reach out to them… because I like being a fan. I just want to see their work and, at a distance, respect it. But every once in a while there's somebody I really wanna work with, and it's different. The one person that pops into my mind is Jacques Audiard, who made A Prophet and that film about the piano player, The Beat That My Heart Skipped. I saw them and I thought, those are my kinds of movies. So Audiard is someone who's like – oh yeah, I feel like we'd get each other.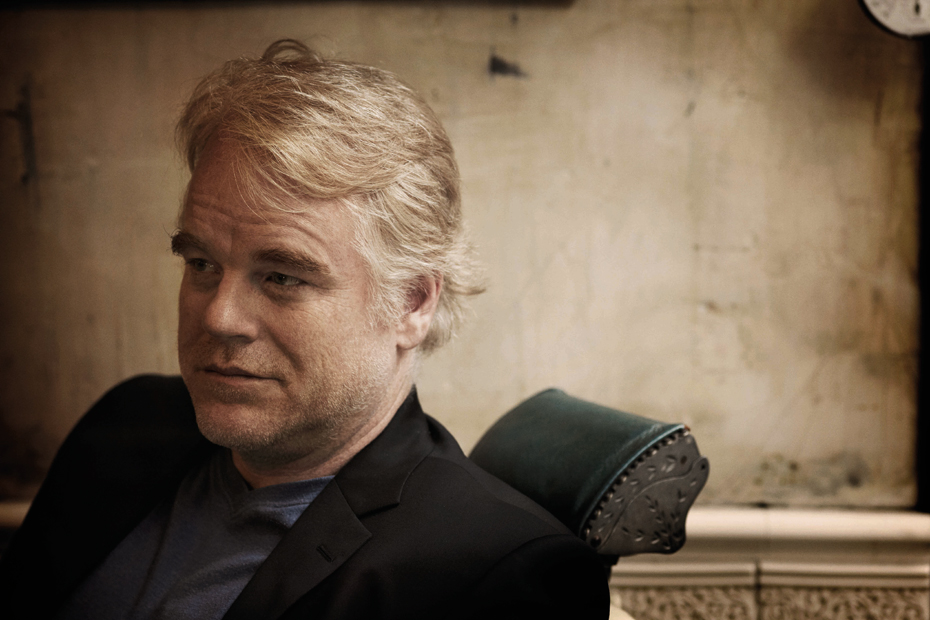 Sam: Has there been a standout film for you this year? Philip: No, I haven't seen enough of them. It's unfair because I just don't get to the movie theatre like I used to. And to sit home and watch screeners with my kids around?
Sam: There's one film I'll tell you to see if you haven't already, it's called Take Shelter. 
Philip: Oh yeah, with Michael Shannon.
Sam: It's absolutely phenomenal. I can't believe it, I talk to people here, and nobody's seen it. I'm furious with whoever distributed it because this is one of the best films I've ever seen in my life. But where is it? Why don't people know about it?
Philip: I gotta see it. I've heard so many great things about that movie.
Sam: Do you think that politics is affecting what films are allowed to be made? In the UK, about a year ago now, they closed down the Film Council. They shut it down without any proper warning or research, and just moved it over to British Film Institute, putting loads of heavy responsibility on the BFI's doorstep. Ed Vaizey, who's our Culture Minister, has such a say in where the money goes now, and the number and the kind of films that are getting made – and he doesn't really know anything about film, or theatre. Politics is getting into our medium massively in this country. 
Philip: Really?
Sam: There are people fighting to get certain films made, but it's where and how the money is distributed that I'm having issues with. I wondered if the same thing's happening in independent cinema in America – where did your money used to come from, where does it come from now? 
Philip: In our case it's not coming from the government, which is a problem in itself. But no, the politics gets more into our television because there's more money involved and, you know, big stations are owned by big corporations. People who have a lot of money are influenced by the government, blah blah blah. So I feel like TV is more influenced by politics, and so are the news outlets.
Sam: That's scary.
Philip: Unless you go to PBS or the local public stations. The main ones, you know, there's a lot of influence and bias behind them. But independent cinema and film? No. I don't find that to be the case so much. Money is usually what sways people. But in independent cinema, everyone has a hard time getting money, it's an investment that's not really going to bring back dividends. You have to find people willing to give money to make art movies. Which isn't going to make them any more wealthy, you know. OK, just wait a minute! Sorry, daughter in the bath…
Sam: You have a little girl the same age as our Edie, don't you? 
Philip: I have a five- and a three-year-old.
Sam: It was David Bowie's birthday yesterday, and so my last question is about Bowie: do you have a favourite song? 
Philip: I love David Bowie. I'm going to choose his episode of Extras – you know what I'm talking about?
Sam: I know Extras, the BBC Two series, but I haven't seen the one with Bowie.
Philip: He sings a song on that which is one of my favourite David Bowie songs. It's partly a joke but partly serious, because he sings the most awful song about the Ricky Gervais character. But because he's singing it, it still sounds great. It's so, so funny.
Sam: My favourite radio station now is BBC Radio 6 Music. Jarvis Cocker has his own show on a Sunday, and he played a version of David Bowie singing Simon & Garfunkel's America with this Omnichord, and it just blew my mind.
Philip: Wow. That reminds me of a version of Little Drummer Boy that he sings with Bing Crosby. It is a really, really beautiful thing.
Sam: I'm writing that down. Well, I just want to say thank you, and I'm glad we got to speak. I was meant to ask 'Do you make bread', and 'Do you wash the pots', and weird things like that, but I'm not going to ask you that now. I'll let you get back to your family. 
Philip: I've been known to wash some things…
Photography John Balsom
Styling David St John-James
This interview is reprinted from spring 2012. Philip Seymour Hoffman, 23 July 1967 – 2 February 2014 was an Academy Award winning actor and director