PORT travels to Hollywood to meet Kevin Spacey and Maggie Gyllenhaal, who discuss their roles as mentors in Jameson's First Shot competition for budding directors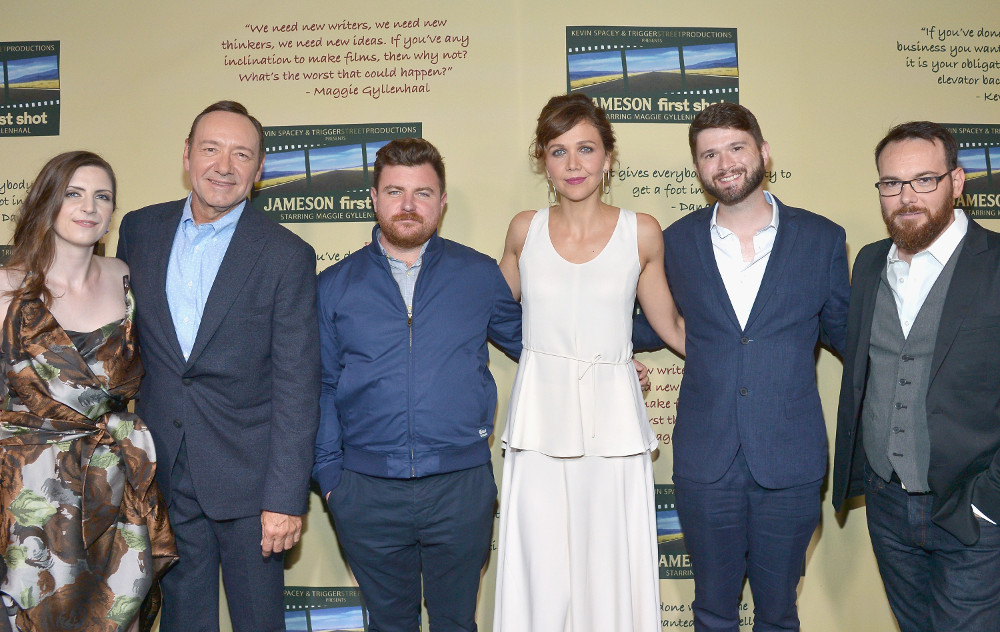 When I arrive at Paramount Studios, Maggie Gyllenhaal is sitting in her trailer as crowds gathers outside the iconic Bronson Gate, waiting for the premiere to start. It's a familiar environment for the 38-year-old Hollywood actress, whose filmography includes a swathe of blockbusters – Dark Knight and Crazy Heart – and modern cult classics, such as Donnie Darko and Lenny Abrahamson's Frank. But for the three young directors sitting opposite her, this is unfamiliar territory.
As joint winners of Jameson First Shot 2016 Cameron Thrower (USA), Kat Wood (UK) and Australian Jason Perini (Australia) are at the beginning of an exciting road. Now in its fifth year, the competition is a collaborative project between the whiskey brand and Spacey's Trigger Street Productions, and provides a platform for budding writer-directors to bring their scripts (strictly limited to 5–7 pages long) to the silver screen.
"I'm a product of someone believing in me early on, giving me opportunities, putting me under their wing, nurturing me – so to now be in a place in my life where I can do this sort of thing is so important to me," Spacey tells me, on the eve of the premiere. "I'm so proud of what they've done and the films they've made."
Besides benefitting from the mentorship of Spacey, now 57, and the use of a Hollywood-standard production team, each winner was able to cast Gyllenhaal as the lead in their films. Starting in 2012 with Spacey filling the main role, the First Shot series has seen Willem Defoe (2013), Uma Thurman (2014) and Adrien Brody (2015) all take centre stage. All actors essentially 'went in blind', as the winning scripts wouldn't be picked until after they'd signed up. But this didn't deter Gyllenhaal, who instead saw an opportunity to work with emerging talent.
"When they asked me [to do First Shot], they sent across a few of the previous films that had been made and I thought they were really good," Gyllenhaal explains. "I just thought, 'what a cool way to do something generous'."
"I'm incredibly grateful to Maggie. Normally, an actor knows a script and a director [beforehand], and they make a judgement about whether they're going to do something based on that," Spacey says. "But we've asked them to not only to take that leap of faith with one movie, but to take a leap of faith with three.
"The fact that the actors have done this every year is really valuable," he adds, "because it sends a message that it's important for the film industry to be really cognisant."
The three winning shorts — Home by Wood, Beauty Mark by Thrower and The New Empress by Perini — all show a level of filmmaking experience and storytelling prowess well beyond the years of their respective directors. Given that nearly 20,000 scripts were submitted to the competition, I was curious to find what it was about these three that caught the judges' eyes.

Home by Kat Wood sees Gyllenhaal take on a somber role as Ruth – a homeless woman who has been living in a tent on a beach (for reasons that are never explained to the viewer) until it is destroyed as part of a prank by passers by. A good Samaritan soon comes to her aid, but has trouble convincing Gyllenhaal's character to accept a generous offer.
"Home was very different to the other two projects – I was immediately drawn to the script," Gyllenhaal says. "It was the simplest in terms of shooting; when there's a simplicity to the story, and space in it to express many things, I can give it a piece of myself."
"I've never directed anything before, so to go from being a screenwriter for a few years to directing my first film with an Academy Award-nominated actress and working with such talented people was absolutely amazing," Wood says, before revealing that she's just been giving funding by Creative England to fund her first feature-length.
"It was great to be able to talk to Maggie about her ideas for the character's backstory," Wood says. "I found it really rewarding just to be able to have that collaboration."

Eccentric in its plot and playful in its execution, The New Empress by Perini is the light relief among the three productions, and reveals a promosing comedic writing talent in the young Australian actor-turned-director. It opens with Gyllenhaal's character, Olive, being dumped in a kitsch Asian restaurant, and the viewer can't help but feel sorry for her. The oddly matched pair soon realise they've lost their wallets and can't pay the bill, but after some quick thinking on Olive's part they manage to get away with it. The night then spirals into a bizarre freeloading tour across town, before she elopes with an even more unlikely partner.
"I picked [Perini's] script out of the 20 shortlisted because it was so unconventional," says Gyllenhaal, "I hadn't read anything like it before."
"I was intimidated before meeting Maggie, and anxious about it, because how could you not be?," Perini says. "But very quickly she was so open and warm, and really friendly towards me, so I felt confident that I could collaborate with her on this."
"The thing I learned most by watching her was what a freakishly good actor she is. She brought new and interesting things to each take, while being really true to what I had written," he adds.
"This experience has been so positive, and people have been so kind and generous, and I've worked with such talented people, it's made me think I'd love to be able to do this for the rest of my life."

Creator of Beauty Mark, Cameron Thrower, is undoubtedly the most experienced out of the trio, having spent several years making indie films. But winning the Jameson First Shot competition afforded him the opportunity to work with a professional crew and to finally realise the film he "wanted to make."
The short sees Gyllenhaal play Valerie Williams, a door-to-door cosmetics saleswoman, who changes one customer's life forever by helping them reveal a side of them they've been concealing. Perhaps the most polished of the three shorts, Thrower's script is expertly brought to life by Gyllenhaal and her co-star, Connor O'Farrell.
"Maggie was so professional, I learned so much from her," Thrower tells me. "I feel like she treats big blockbusters that same way she treated each of our three films. She just wanted them to be the best that they can be."
"In my experience, the most experienced and the most talented directors I've worked with are also, without exception, the most collaborative," says Gyllenhaal. "The people who are least collaborative are the ones who are scared."
"One of the things that was so nice about working with all of these directors was that it was a collaborative experience," she adds, "and that is a mark of confidence, I think, in all of them."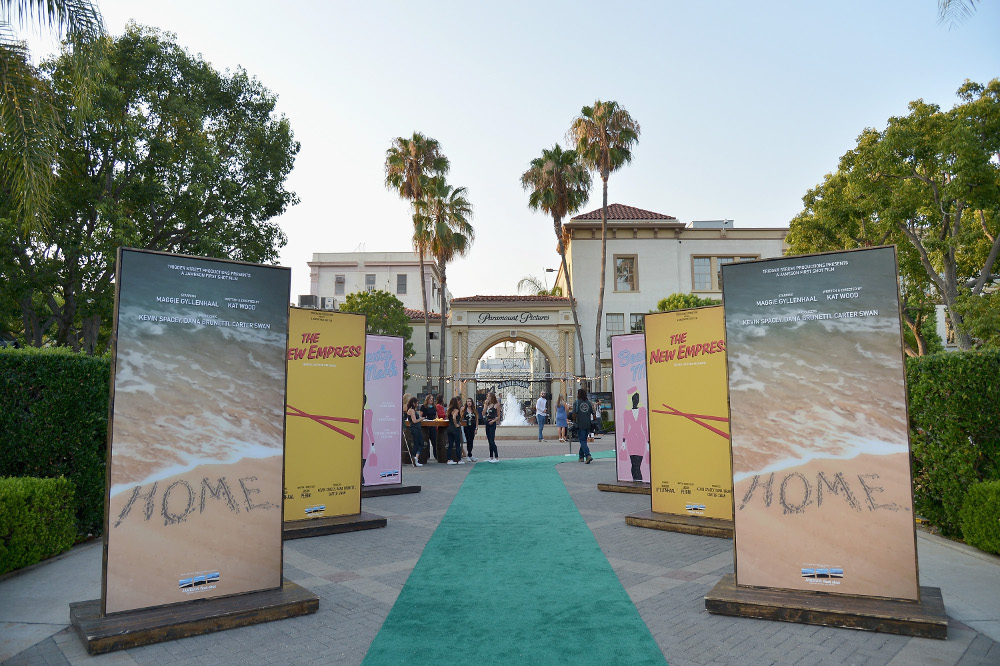 When asking the winners if they had any words of advice for those hopefuls considering entering Jameson First Shot next year, there was a common thread among their responses: be willing to take risks and don't let rejection deter you.
"All they can say is no, and then you enter next year," says Wood. "I was shortlisted in 2015, but I thought I'd try again. You've just got to keep going, it doesn't matter if you get rejected."
Despite their own stardom and Hollywood success, it's encouraging to see that the importance of grassroots competitions like this is not lost on Gyllenhaal or Spacey, who seem happy to shoulder the responsibility of mentoring the new wave of directors and screenwriters.
"It's not that [the three directors] just won the money to make their movies," says Gyllenhaal, "it's that they won the interaction with people who have been doing this for a long time and have that experience."
"We have to support emerging talent, trailblazing filmmakers, the next generation, because not enough of it is done," Spacey tells me, "so I'm very happy that we're able to do this."
"We've had filmmakers that did our films and then before you know it, they were getting their first feature produced and supported in their own country," he concludes. "We hope it's a leg up. And the beginning of what will be a very fruitful career for them."