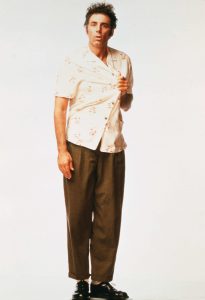 The enduring aesthetic influence of Cosmo Kramer, from 2016's Issue 18
To find a style of clothing that suits your personality can be difficult; many of us will spend a lifetime trying to match our outfits to our moods.
There are a number of characters from literature, film and television whose signature looks can be spotted from a mile away, some even become synonvmous with their style. Cosmo Kramer from Seinfeld is one such example and had many ways of expressing his small-screen persona: the hairdo, body language and clothes, all ingrained with eccentricity. His wardrobe transcended fashion because it was about a mood – a very personal, sartorial expression.
Sheepskin coats, high-waisted trousers and those Guayabera-esque shirts. Kramer favoured a certain type of 1950s bowling influence, often in a smooth silk fabric and loud colours, sometimes with graphic patterns. Perhaps the viewers – as well as Jerry, George and Elaine – flinched at first, but by the time the last Seinfeld episode screened in 1998, Kramer's wardrobe choices were as iconic as the series' 'a show about nothing' concept.
Kramer's style goes in and out of fashion from one season to another; often brands pick elements from his look. For SSI6, brands like Umit Benan, Alexander McQueen, Louis Vuitton and Margaret Howell have all included the bowling shirt in their collections.
Always the oddball, Kramer brought classic pieces together in an unconventional way. When worn separately, his clothes weren't necessarily that extraordinary, but it comes down to styling – and next to Jerry's dad jeans, over-sized and tucked in button-down shirts and comfortable New Balance trainers, they excelled.
While Jerry was the perfect svmbol for mainstream New York in the 1990s, Kramer symbolised a more expansive, unique outlook on life. He encouraged you to follow your dreams, to voice your opinions, embrace life and to say yes rather than no. Kramer's kookiness went well with those shirts, his outlandish wardrobe matched perfectly by his larger-than-life haircut and 'outside the box' personality.