Aliki Vougiouklaki was far more than a film star. For a country torn apart by war, she also represented the hopes of a nation, as British author Ali Smith writes
Aliki Vougiouklaki. Aleeeki. Voo-yoo-klaaki. Say her name in the middle of Athens and it's like standing in the middle of Rome saying Sophia Loren. Or the middle of Los Angeles saying Marilyn Monroe, or the middle of Paris saying Brigitte Bardot. In fact, wherever you are in the world, once you know, saying the words Aliki Vougiouklaki is like saying the Greek for Loren Bardot Monroe MacLaine Hepburn – both the Hepburns – and Garland, and Minnelli, and even a bit of Julie Andrews too. In her time Vougiouklaki embodied, literally on stage, what reads like every possible role: Sally Bowles and Shirley Valentine and Victor/Victoria and Eliza in My Fair Lady and Evita's Eva Peron and Maria from The Sound of Music… and the tragic and classical heroines like Antigone and Lysistrata and Shakespeare's Juliet, and the leads in Bernard Shaw and Tennessee Williams and Agatha Christie plays… and that's just her stage presence, that's not including her hugely influential cinema presence.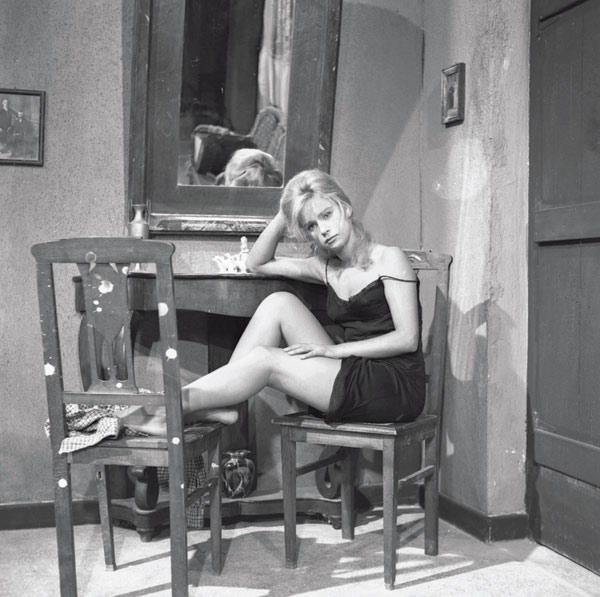 Right: Greece's national treasure, rags to riches
© ΤΑΙΝΙΟΘΗΚΗ ΤΗΣ ΕΛΛΑΔΟΣ
For nearly half a century, from the 1950s until the 1990s, she was the Greek everything: massively loved and an outrageously versatile film star/theatre diva/singing star/comedienne/sex symbol/nostalgia symbol/national symbol.Say her name in the UK and – well, nothing. People look blank and shake their heads, or look vaguely scared at the too-foreign sound of it. Say her name in Greece and people shrug "of course", or smile fondly, or get a faraway sad look in their eyes, or look at you amazed before saying, in perfect English: "But how do you know about Aliki Vougiouklaki?"She was born not far from Athens in the mid-1930s and brought up with her two brothers by her mother, pretty much in poverty. Depending on which website you consult, her father was murdered when she was a small child in the early 1940s, either for being a member of the Greek resistance or by the Greek resistance for being a collaborator. A tiny flashback in a 1964 film called To Doloma (The Bait) depicts a small filthy girl in rags standing next to a street vendor.
Its audience will have known to associate it with the now immensely wealthy star, and as usual the storyline plays on this knowledge, with Aliki acting the poor-girl-pretending-to-be-a-lady. A lot of her films deal in versions of the rags to riches storyline, and to some extent Aliki must also have found herself standing, in one way or another, for the contradictions, splits and reconciliations in Greek politics and economics after the Second World War and the ensuing Greek civil war. (But I'm guessing here. See three paragraphs down.)At 18 she took herself off to the National Theatre Drama School in Athens without telling her family: acting was a really unsuitable career for any girl. But by her early 20s she was getting reviews that seemed almost surprised by the freshness and the contagious warmth of this bright young thing on both stage and screen. She played ingénue kitteny girls, pure and unruinable; then intelligent runaways; then fiery buxom passionatas. She played happy endings one after the other; she played storylines full of communal survival, hospitality, generosity and reassurance, for a country in turbulent times.
Comedy, tragedy, musical, farce, neo-realism, fantasy, thriller, Nazi torture schlock, Greek spaghetti Western: in the 40-odd films she made from 1954 until the mid-90s (she died in 1996), she played everything.Laurence Olivier was a fan of her stage acting, and her cinema career wasn't just a shot in the arm for the Greek film industry in the 60s and 70s, it was a quiet political force that worked to unite disparate elements of the country. If this sounds like a mighty claim to be making for what aren't great cinema masterpieces by any definition (her films are quite happy, for the most part, to be throwaway pieces of light entertainment), at the time of the Greek military coup, she typically self-scripted and starred in Aliki Dictator, a film about theatricality and blindness, in which, dressed as Chaplin, she takes the piss out of all forms of dictatorship. The film, cut to ribbons by the censor, still toured the country, and a scene of the actress standing in tears outside an empty Athens government building still has clout – in fact probably has new clout now given the tragic demise of the Greek economy.She dyed her dark hair bright yellow fairly early; she was one of the first Greek actresses to make and control her own contracts. She was canny, chameleon-like, a deft reader of the needs and shifts of fashion. In the 50s, in a Grace Kelly way, she had an apparent romance with a Greek prince; then in the 60s, in a Burton-Taylor way, she married her handsome co-star Dimitri Papamichail. After this their films tended to be stories about marital power struggles or who could punch whom hardest, and while there's a great deal of slapping (and slapping down) of women by men in these films, her name consistently, and maddeningly to Papamichail, topped the bill throughout their careers. They're the opposite of radical, these films, but their conventionality is chemically changed by something mischievous and unbreakable in Aliki's onscreen spirit. After 10 years of marriage, her acrimonious split with Papamichail became one of the staple heartbreak romances of the Greek entertainment industry.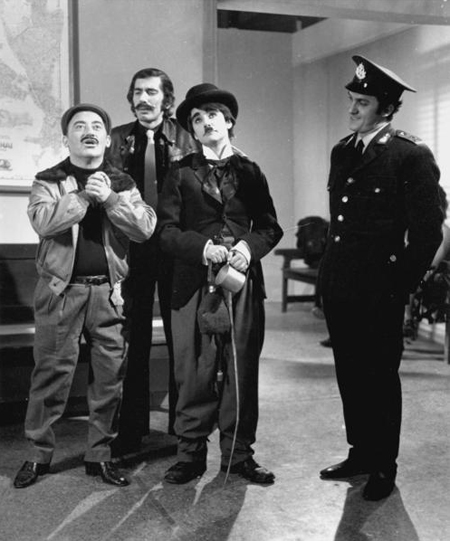 Above: Aliki the Dictator
© ΤΑΙΝΙΟΘΗΚΗ ΤΗΣ ΕΛΛΑΔΟΣ
At least, I think all the above is true, but I can't be sure because I don't speak Greek and I only know all this from talking to Greek friends and digging about on the net via Google Translate, and on the few sites that exist in English. Because even in this digital Age of Information when we think we know everything, there are some things that we know almost nothing about. I only know about Vougiouklaki at all because I tend to go on holiday to Chania in Crete, and about 10 years ago I was idly flicking channels on the hotel room TV when I came across a film. It was obviously made in the early 60s and the soundtrack, a warm jazz and Greek bouzouki/piccolo fusion, caught me by the ear.
It starred a woman who looked like Jean Shrimpton and acted like a gorgeous uncool clown. She was so full of life and what seemed like real gaucheness that even though I had no idea what was happening in the film (a boat-load of young shiny men in uniform and this blonde ingénue have what seems to be a drama about a beach ball, then she stows away on a ship, dresses up as one of them and gets so charmingly drunk that they're all persuaded to do a song-and-dance routine on what looks like the world's cheapest ever film set), it filled the room with joie de vivre and I couldn't stop watching it. Back then it was almost impossible to find out anything about this good-natured romp of a film (Aliki Sto Naftiko, or Aliki in the Navy). Try looking, even now, in the BFI shop in London or in any DVD outlet in the UK for a Greek section at all. For a while there was nothing but American forged copies of badly damaged old prints. But things have changed a little since: there are a lot of Vougiouklaki clips, even full-length films, available now on YouTube; and many of the classics of Finos Film, the production company with which she made the majority of her movies, have finally been transferred onto DVD with added subtitles.For anyone who's interested, I recommend Mantalena, for which she won the Greek equivalent of an Oscar for Best Performance at the first Greek Cinema Festival in Thessaloniki. It's a beautiful film about poverty, survival and the problems of being a girl left in charge of the family. After her dad dies, Aliki's character is left with a dozen siblings to look after in a village where the inhabitants are too superstitious to travel in a boat captained by a woman. And To Xylo Vgike Apo Ton Paradeiso (Maiden's Cheek), a sweet, irreverent, politically incorrect as hell, film, and the only one featuring Homer's Odyssey that's ever (yet) moved me to tears.Like Aliki Sto Naftiko, both of these films have fantastic soundtracks by the great Manos Hatzidakis. "Never let anything bad come out of your mouth about Aliki Vougiouklaki," Hatzidakis is reported to have said. "She stands for all our innocences."
Ali is a British novelist and playwright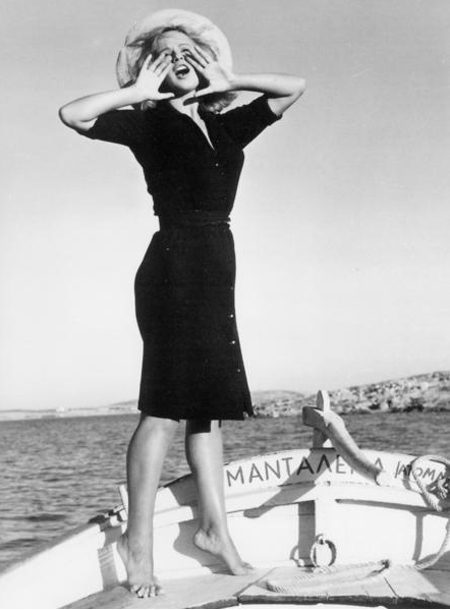 Above: Aliki in Mantalena
© ΤΑΙΝΙΟΘΗΚΗ ΤΗΣ ΕΛΛΑΔΟΣ