Curator of the ICA's Elio Petri season, Nico Marzano, introduces a selection of the director's seminal works and charts their influence on subsequent generations of filmmakers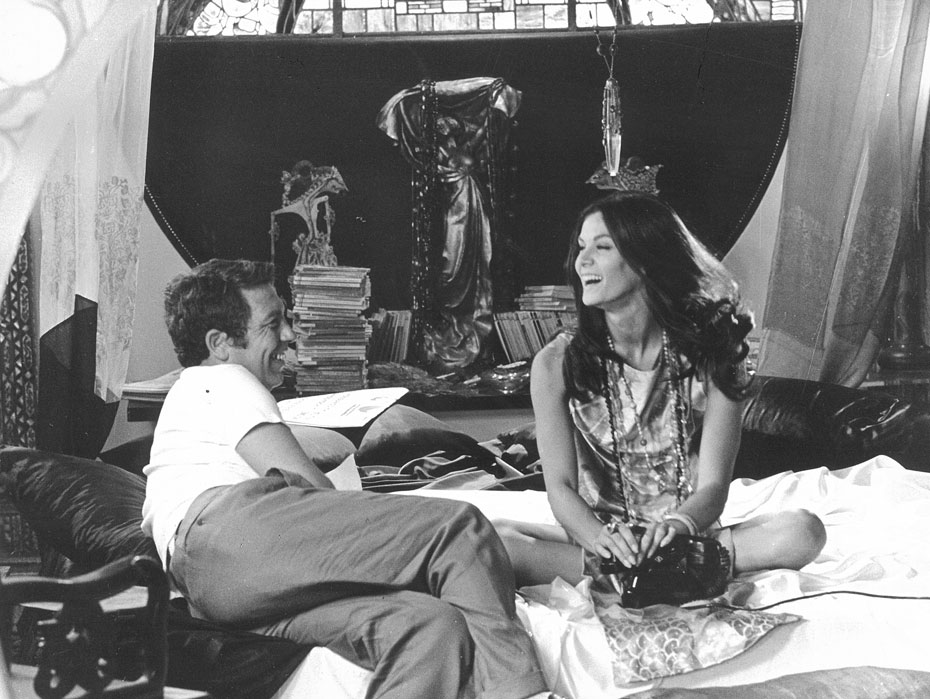 Elio Petri's films are popular art for the people. Depicting Italy in the 70s, they still feel very modern and relevant, a lens through which to see reality, to enable us to feel social injustices and provoke a call to arms. As a director he was daring, never afraid to speak up against the corrupt establishment, which at the time created a lot of controversy.
Petri's versatility as a filmmaker is astonishing. Each of his films are vastly different in style and content, yet this also meant his stamp as a filmmaker didn't have an instantly recognisable identity.
Above: On the set of Investigation of a Citizen Above Suspicion, with Florinda_Bolkan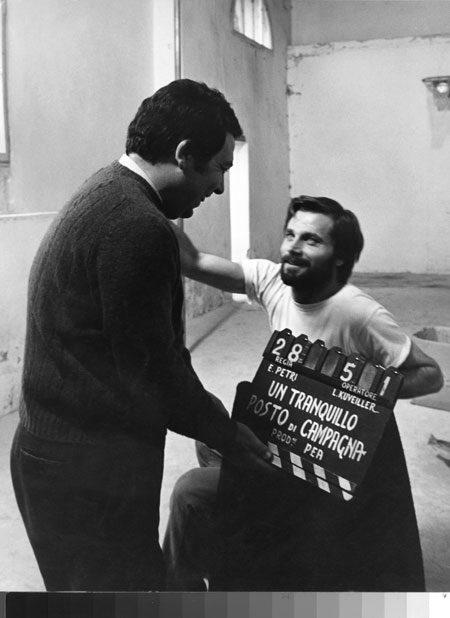 In the end, all of these elements may have played against him, as his brilliance and contribution to European cinema is often overlooked not only around the world, but also within Italy. That's why I am proud to bring Elio Petri to the ICA.
Investigation of a Citizen Above Suspicion (1970)
The first time I watched Investigation was about 15 years ago. A friend passed me a VHS tape recording of its broadcast on Italian TV and the impact it had on me at the time was immense because of its focus on authoritarianism, politics and corruption. Investigation feels very much of its time, but also has a timeless sense of vitality and a haunting energy. Seeing it for the first time as a 20 year old living in an Italy that was (and still is) plagued by corruption, this film was confronting and exhilarating to watch, and I was particularly fascinated by its anti-conformist sentiments.
As a film, Investigation represents pretty much who Elio Petri was, his essence as filmmaker. It is a breathlessly crafted meditation on the ability of perceived absolute power corrupting everything around itself. Also this film represents the perfect collaboration between the director and the leading actor Gian Maria Volonte. Volonte, left-wing and highly politically engaged, is amazing. The film taps into his charisma that turns his performance into something truly remarkable as a man so taken over by his sense of absolute, God-like, power.
Apparently, when the film came out there was a strong fear of censorship amongst the producers of the film. Definitely the political content of Investigation was even more heightened by the reactions of the cinema audience. In one of my conversations with Elio Petri's wife Paola, she mentioned huge queues outside cinemas in Rome at the time of its release. Some film screenings were starting at midnight due to the overwhelming public response.
Definitely traces of Investigation can be seen in the cinema of Paolo Sorrentino and specifically with his interesting film about corrupt Italian politician Giulio Andreotti: Il Divo.
Left: Production still of A Quiet Place in the Country (1968). Elio Petri and Franco Nero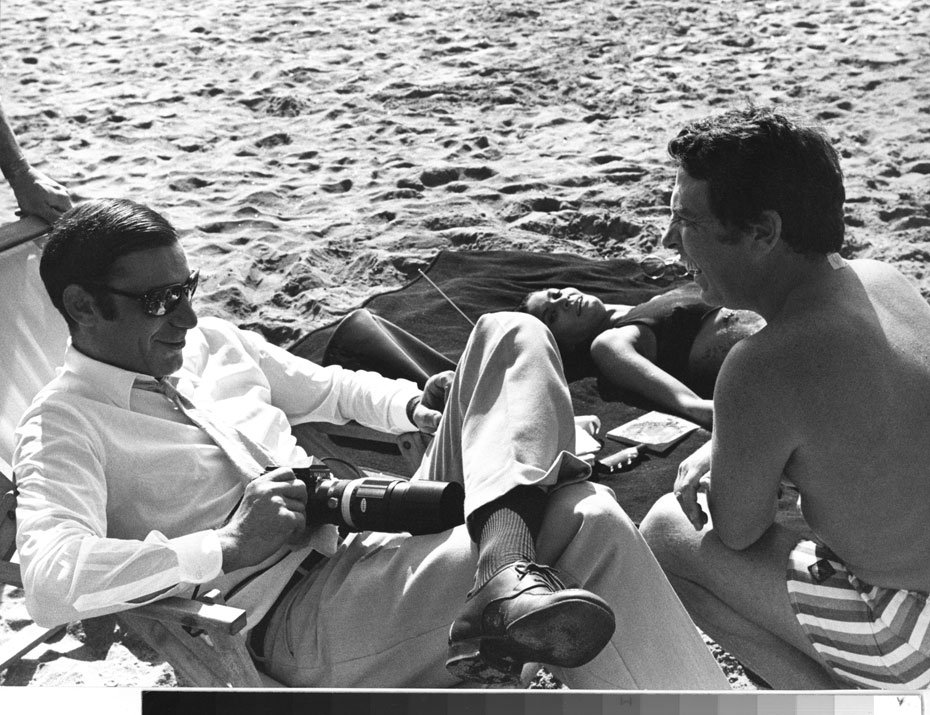 The Tenth Victim (1965)
I actually saw The Tenth Victim pretty recently, when the idea of creating a season about Elio Petri at the ICA was suggested to me by Roberta Licurgo, founder of Shameless Entertainment. It's based on the short story 'Seventh Victim' by Robert Sheckley, and is an extraordinary film, today classified as a classic example of 'Italian lounge cinema'. Another quality of this film was to make it all seem very believable despite the absurdity of the story Petri was telling.
Above: Elio Petri and Gian Maria Volonte on the set of Investigation
Petri was an eclectic filmmaker with a vein for surrealism as well as other cinematic social inclinations that is very much demonstrated in this film.
Carlo Ponti was the producer on this film, and at the time was very powerful. Apparently, his relationship with Petri eventually soured and as a result he didn't want to spend any more money on the production or promotion of the film. I think this played a very important role in the fact that it never really gained any astonishing success in terms of box office.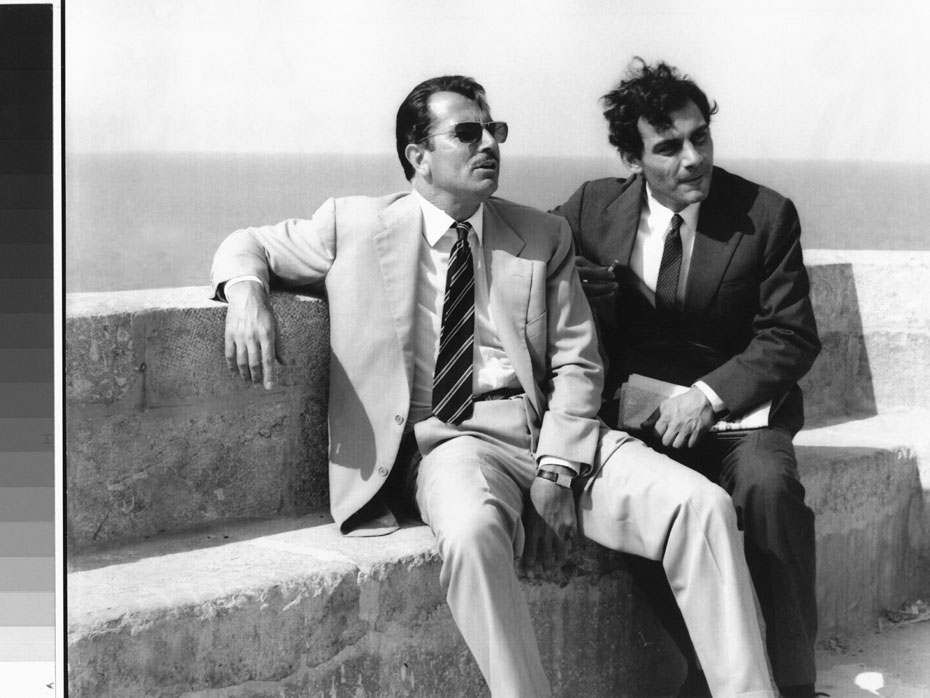 We Still Kill The Old Way (1967)
During the time that We Still Kill The Old Way was made, Italian cinema, the audience and even the critics were looking for a kind of film that was not politically engaged. In this context, We Still Kill the Old Way was a bit of a risk, but precisely because Petri went against this general tendency, the film was a huge success.
I was especially impressed by the amazing camerawork, which as it turned out was executed by Petri himself. Unlike The Tenth Victim, the producer (who was a novice in the film industry) gave Petri total freedom. As a result (and according to Petri himself) he was able to make the best film of his career.
Above: On the set of We Still Kill the Old Way
I had the chance to see this glorious film on a very sunny afternoon two steps away from the Trevi Fountain in Rome, exactly 10 years ago as part of a week's worth of screenings celebrating the immense actor Gian Maria Volonté, on the 10th anniversary of his death. I love the sense of mystery in which the whole film is wrapped.
The film was in competition at the 20th Cannes Film Festival where it won Best Script. It also won many awards in Italy and glowing reviews from the critics. We Still Kill The Old Way brought to light one of the themes that was most dear to Petri: the occasional intellectual inability to understand reality and society, in this instance the Sicilian reality depicted in this beautiful film. This theme can definitely be seen for example in some of Gianni Amelio films, another great and overlooked Italian director of this era.
Elio Petri: The Forgotten Genius runs from 5-11 September at the ICA. Click for more details and to buy tickets