The world's funniest man stays classy – our feature interview from issue 8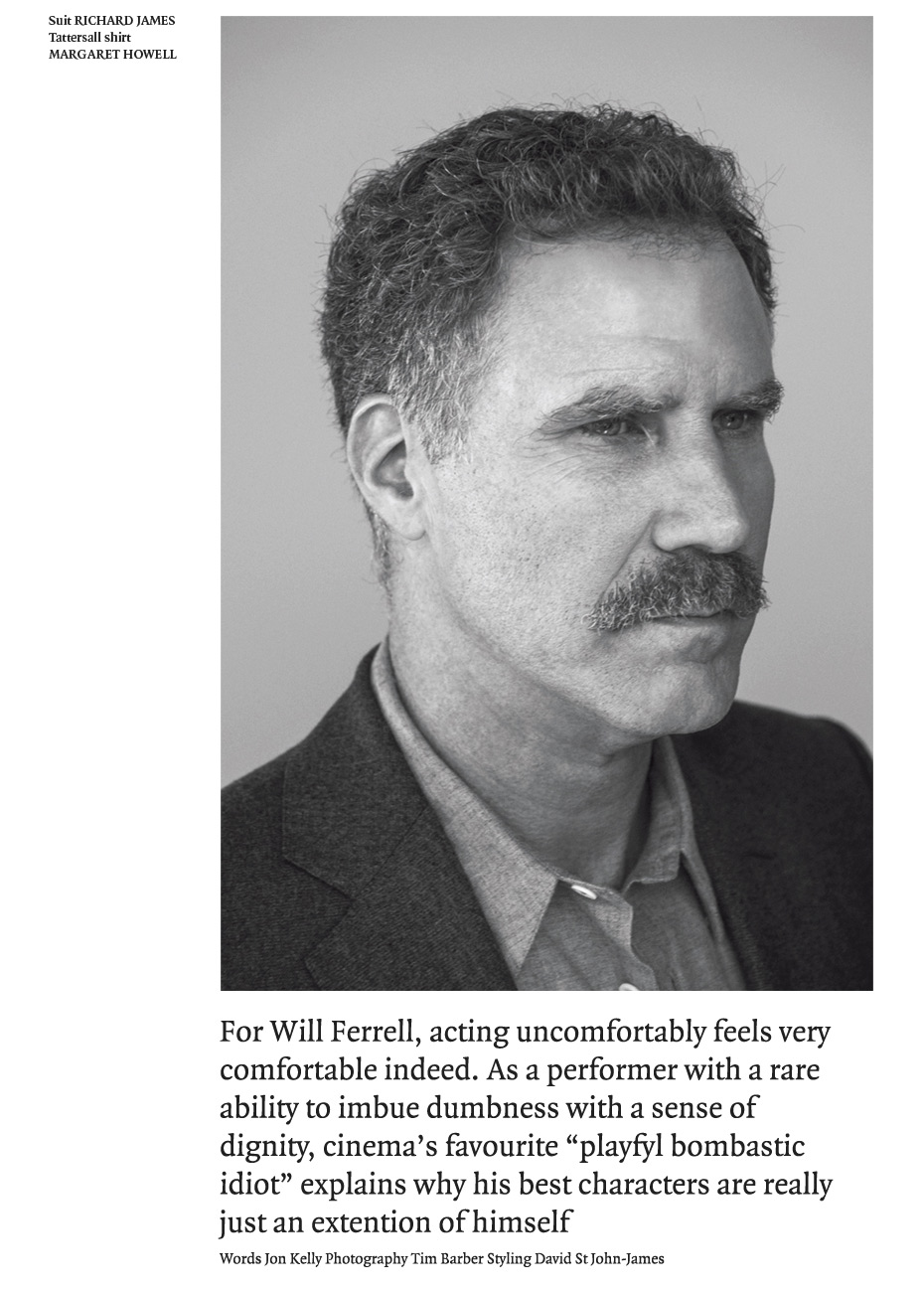 It can feel a little disconcerting to stand next to someone you've never met but have already seen naked. Will Ferrell, however, thrives on this sort of awkwardness. On one recent afternoon, he stood in the nearly all white art deco lobby of a West Hollywood hotel wearing a Uruguayan soccer jersey, shorts, and a ketchup-colored track jacket with a glittery Obama pin. His New Balance running shoes were red, navy, orange, purple, and possibly one other color. White socks were yanked many inches above his ankles. Ferrell sported a Burt Reynolds mustache, a reprise of the one he introduced in "Anchorman," his 2004 hit about the libertine 70s broadcaster Ron Burgundy. Ferrell had just finished a table read for Anchorman 2. He gripped the script snugly under his arm.
The first thing you notice about Will Ferrell is just how tall he is. He's around 6'3'', which seems even taller in Los Angeles. He also moves with the graceful gait of an athlete. And he even seems preternaturally comfortable walking around posh hotel in a somewhat ridiculous mustache. As a sea of hotel employees parted for him, I wondered what it was like to get back into character. Was the facial hair helping him with some method technique? Was he beginning to channel the character who once explained that San Diego meant "whale's vagina" in German? Ferrell paused and thought for a moment. "It's not like a huge transition or anything," he said thoughtfully. "It's really just a playful bombastic idiot. So that's really easy for me."
Ferrell, 45, has quite literally made a career out of playing bombastic idiots, like Burgundy, who are delightfully immune to their own absurdity. As a Saturday Night Live standout during the late 90s, he famously portrayed George W. Bush, the "Inside the Actors Studio" anchor interviewer James Lipton, and the original El Hefe, Fidel Castro. His film career includes turns as a puppy-stroking fashion mogul (Zoolander), a clownish Nascar driver who runs naked around a race track (Talladega Nights: The Ballad of Ricky Bobby), and a middle-aged frat boy with a penchant for streaking (Old School). This summer, he portrayed a presidential candidate who secretly dreams of being vice president (Campaign).
The week before meeting Ferrell, I went down a rabbit hole of his work. I started with Semi-Pro, the joyously juvenile comedy about a small-time basketball team owner/washed-out soul singer who wears a cape. Eventually, I worked my to Everything Must Go, a rare dramatic role in which he plays an alcoholic watching his life decompose. In the process, I developed the theory that Ferrell's real success—the one that has made him one of the most sough-after actors of his generation—isn't his uncanny gift for impersonation or timing. Rather, it's his unique ability to imbue all his characters with dignity. At times, this is a careful balancing act. During one scene in Everything Must Go, for instance, Ferrell's character drinks himself into a stupor and falls asleep on his front lawn only to be awoken, the next morning, by his sprinkler system.
As a bleary-eyed Ferrell ran from the spraying water, it seemed like the scene had been written for any number of his comedies, like Anchorman, or maybe even Semi-Pro. The only difference was that Ferrell eschewed the punchline. The audience is instead forced to empathize with a sad man as he begins another mirthless day in search of some honor. It was a shrewd turn of acting.
The creative instinct that underlies these moments – whether he's running naked through the street or falling asleep on his lawn – is Farrell's nearly pathological appreciation for what makes people uncomfortable. And, as we roamed through the hotel lobby, I noticed that this seems to be a real life fascination, too. When we reached our lunch destination, a swanky Gordon Ramsay restaurant off the lobby, we were told that the restaurant did not indeed serve lunch. "This restaurant does not serve lunch," Ferrell repeated delightedly, and slowly, as if he was filing it away for a future script, as if we were at a car wash that didn't service cars. A moment later, he politely told the maître d' that it was no problem at all. So as we headed to the hotel's other restaurant, on a rooftop overlooking Hollywood, he launched into a story about another delightfully uncomfortable moment – a reading he once conducted at The New Yorker magazine's annual festival while wearing a giant foam cowboy hat. "I just knew it would be a nice change of pace for The New Yorker crowd," he explained, suppressing a chuckle. "People laughed. At first."
"Ferrell's success comes from making audiences
feel awkward without being uncomfortable. In
some sense, he may actually be the most
well-adjusted comedian alive"
When we finally sat down, as I stared at this man who I had seen naked on screen – in a track jacket, a Burt Reynolds mustache, and those shoes – I had another realization: in person as on screen, Farrell's success comes from making audiences feel awkward without being uncomfortable. In some sense, he may actually be the most well-adjusted comedian alive.
From Andy Kaufman to Gilda Radner, comedy has often been a province of the tortured. This is notably not the case for Ferrell. In person, he comes across as kind and circumspect, with the easy charm of a Southern California kid fully grown. He talks softly. In fact, Ferrell sounded like most parents that I know who are in the practice of speaking affectionately to their young kids – patient, lots of enunciation, sweet. Ferrell has three young boys of his own, and his mornings, he says, are filled with the exigencies of school drop-offs. On weekends, he helps coach his eight-year-old's soccer team. As he told me this, he smiled between his sentences.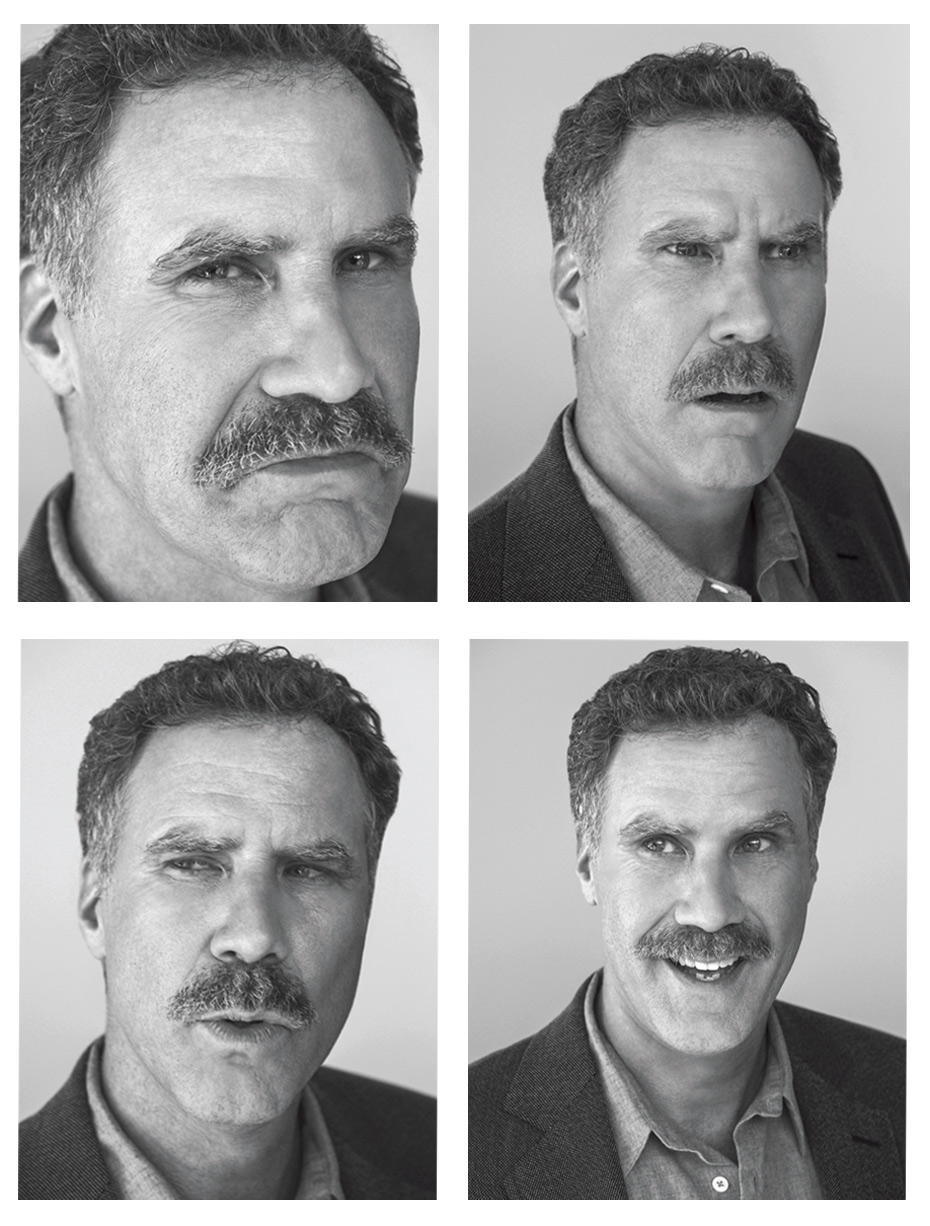 Jacket GIORGIO ARMANI
Tattersall shirt
MARGARET HOWELL
Ferrell's own childhood was a happy one. Though he came of age in the 70s, and though his parents divorced when he was still a kid, it wasn't an angst-ridden upbringing. He seemed to embrace the values of middle class Irvine, California. (He even moved back in with his mother after college.) Oddly, it was this mild-mannered temperament that brought him to comedy. "I remember loving comedy from as little as I can remember being," he said. "Sitting in a movie theater and watching an audience laugh and thinking it'd be so fun to do that. But my rational side was like, 'that's impossible, that's hard to do. So I'm going to be a businessperson. I'm going to be a pediatrician. I'm going to be normal person and have a normal life." He continued: "I wouldn't walk in the room and say, 'Excuse me, everyone, my name is Will. It's great to be in second grade. I can't wait to begin these developing friendships.'" Yet he had a natural entertainer's gene. In grade school, Ferrell taught himself to do a pratfall or walk into a door. When he was asked to write a paragraph, in fourth grade, about what he wanted to do as an adult, "I said that I was going to be to a professional soccer player and a comedian in the off-season."
Though it turned out to be something of the exact opposite, sports have been a driving theme in Ferrell's work (Talladega, Semi-Pro; the TV series East Bound and Down, which he executive produces). As teenager, Ferrell was the captain of his high school basketball team, and a kicker on the football team. His first unofficial comedic performances took place at pep rallies when teachers asked him to say a few words to get people to come out for the game. "Instead of saying, 'Hey guys, we're gonna kill 'em,'" Ferrell recalls. "I tried to be funny." He eventually perfected these miniature performance monologues. At the University of Southern California, during an informal pep rally, jokingly tried to urge on his frat brothers to "go gay."
After graduation, Ferrell wasn't sure if he wanted to do the comedy thing. While trying to put together a tape, Ferrell moved back to Irvine and took a job at a local news station. And it was here that he encountered the first in a series of seminal moments. A station editor at the station announced the chance to interview John Robinson, the former USC and current Raiders football coach. It was a dream assignment for a group of young journalists, and Ferrell remembers watching hands around him shoot up. He also remembers thinking, "Ugh, I'll have to lug all the equipment around. This is going to be a pain." As he recalled the moment, Ferrell paused and smiled. "Then I thought, Oh, that's not good! I should have been like, 'I gotta get that on my tape and send it to Yuma, Arizona to get a job!"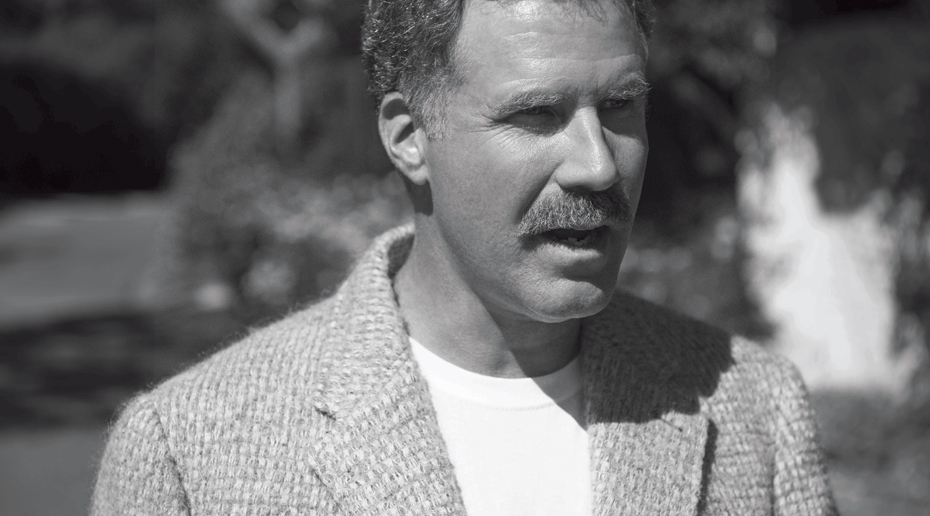 Linen wool overcoat
JOHN VARVATOS
T-shirt HANES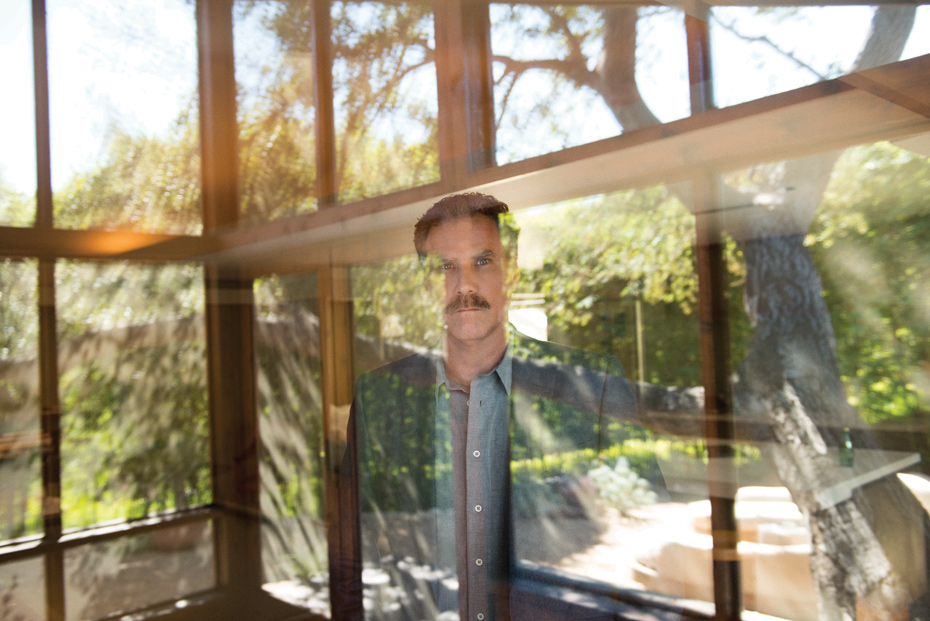 Suit RICHARD JAMES
Tattersall shirt
MARGARET HOWELL
Instead, Ferrell bailed on the station and, with his mother's blessing, began doing stand up, taking acting classes, and working with the Groundlings, the renowned LA comedy troupe. Stand up was hard, but his sense of humor was a natural fit for the sketch work. "I wasn't a very good joke writer, but my strength was in set-ups, premises, and then going into observational humor," he said. "With stand up, you're given five minutes, and I'd get maybe two chunks out before my time was up." He began those early routines by humming the theme song to Star Trek, which was in heavy syndication in the early 90s, but nonetheless an unusual gambit for any aspiring comedian. At times, audiences laughed; often, they did not. "I found a perverse satisfaction in alternatively torturing and entertaining the audience," he recalled. It was a professional lesson that would serve him well.
Still, Ferrell concedes, these were not the easiest years. "It's the single hardest art form there is," Ferrell said. "There were nights when I came home and my mom would ask me, 'How did it go today?' And I'd say, 'Thank God I went to college.'"
What convinced him to go ahead, however, was a lunchtime conversation with his father, a career musician. "He gave me this talk, which, if you read the transcript, you'd think was the most depressing thing ever," Ferrell remembers, half-laughing. "He told me that there's a lot of luck. That if making it was solely about talent, he wouldn't worry." If it didn't work out, his dad said, he should not view it as a failure. "It wasn't a rah-rah speech at all," Ferrell recalled. "It was just really honest and loving, and for some reason that took the pressure off. For some reason, it made me not worry about succeeding." Then, for some reason, he laughed hysterically.
Los Angeles in November can also be a little disconcerting. As Ferrell ate a cobb salad and drank cranberry juice, a tanned fat man jumped into the rooftop pool and waded around in the midday heat. The US presidential election, a few days in the offing, couldn't have seemed further away. There were commercials to be shot, syndication rights to be negotiated, and scripts to be greenlighted. The tables around us buzzed with attractive people in taut, dark skin. Everyone had their iPhone on the table like a piece of cutlery.
The table read had put Ferrell in an expansive mood, and we began talking about the creativity process, where his ideas come from, where they go. "In the middle of the read through, I go into a haze," he said. "I'm making sure that I'm literally reading everything correctly, the way we'd written it. Some people make notes as they're reading, but I'd lose my place." It made it easier that he was working with his longtime partner, Adam McKay, and Judd Apatow. The read-through had been taped and, as usual, would be reviewed later for ebb and flow. "We know that this is a learning tool. We've had enough things in movies that have killed in read-throughs and then, when you put them on screen, they get nothing." Ferrell paused for a moment and put his hands together like a baseball player gripping a bat. "Baseball players never get too high or too low because it's a long season. That's what a read through is like. Because there are times when you're thinking, Oh no, should we even do this movie?"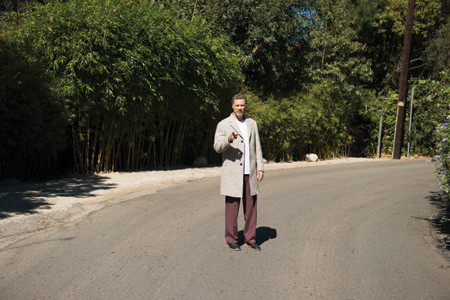 Linen wool overcoat
JOHN VARVATOS
Jogging trousers
MAISON MARTIN MARGIELA at MATCHES
T-shirt HANES Socks and clogs worn throughout Will's own
Ferrell was kidding. Sort of. Earlier this spring, he had released perhaps his most unusual film, Casa Mi Padre, a send-up of a Latin American telenovela shot entirely in Spanish with subtitles. Ferrell, who knew a bit of high school Spanish, crammed for three months to learn the language. "Things just hit me," Ferrell said. When I asked how, for instance, he came up with the notion of a movie in Spanish, say, or an amateur basketball team owner who sings bad Motown songs and wears a cape, he answers: "It can be a trigger of listening to a song on the radio" – Ferrell had had one such idea listening to NPR on his way over – "to seeing something on the Internet to watching TV." One common denominator, he said, were the annual trips he takes to Sweden each summer with his kids and wife, Viveca Paulin, the Scandinavian actress. "For some reason, being out in Sweden – I don't know if it's unplugging or not answering emails – but I'll have the craziest dreams." He went on: "I'll often make a note to myself. A lot of times, though, it just keeps nagging at me and I won't forget. Casa Mi Padre – that was an idea that I think I had for five years. And I thought: I had better do this or someone else will."
The most unusual idea to hit Ferrell in Sweden, to my mind, wasn't about a Spanish language movie, but rather an outgoing US president. While listening to soundbytes of a political debate on his vacation about a decade ago, Ferrell was amused by the hollowness of rhetoric. He started playing with the idea of doing a one-man show that would take the form of a town hall in which a vacuous candidate presents positions designed to get him elected. For years, scheduling conflicts kept coming up. Then, on a whim, Ferrell's manager suggested that he reprise his role as George W Bush from his Saturday Night Live days and launch his show on the day that Obama took office. Ferrell holed up for four weeks and wrote the script. McKay, who would direct the one-man show, collaborated to the writing process as usual. "Adam would just send me non sequitor ideas, like what if George Bush is so excited about not being in office that he shows a picture of his penis to the crowd?" Ferrell put it in. McKay suggested that Ferrell make more of the section in which Bush gets trapped in a coal mine. It became one of the show's most memorable sketches.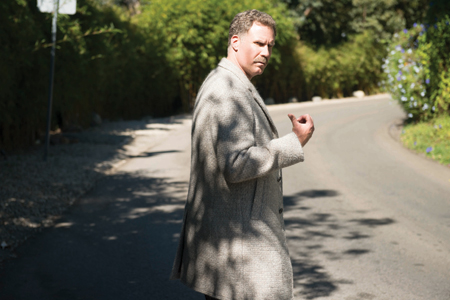 "'The only country that wants Romney is Pakistan,' he deadpanned. 'So if Romney wins, we'll have good relations with Pakistan. So that's a bonus'"
"You're Welcome America: A Final Night with George W. Bush" became an immediate smash hit. But as much as Ferrell remembers the excitement, he also remembers the agony of performing live every night. Even his years of stand-up and Saturday Night Live were no match for the physical and psychic demands of a feature-length live show. The show began with Ferrell being lowered from the ceiling in a harness, just like George Bush had years earlier on the USS Abraham Lincoln, to announce "Mission Accomplished" in Iraq. The live performance also required Ferrell to memorize 80 minutes of dialogue and stage directions. "The first time we did it on stage," he recalled, "in full dress rehearsal, with an audience, I thought that it went really well. I came off stage and I went to the two stage managers. I said, 'That went pretty well.' And they said I skipped three whole ages. If they did not tell me, I would have never known." The most famous part of the show ended up being the final minutes in which Ferrell played off Bush's penchant for nicknaming his friends and staff members. The comedian would stand on stage and ask individual audience members to tell him what they did for a living; then he would shoot back with a colorful dig in the form of a nickname. It was a tour de force of improvisation, a completely unscripted moment at the end of a long show, and Ferrell's most direct communication with his audience. It was also his toughest challenge. "When the show was almost over, I'd be like 'oh, shit,' this is the hardest part." He recalls. As the run went on, people began to hear about the nickname thing, which just increased the pressure. There were people, he recalled, who walked out thinking: "we paid $375 for a ticket and he gave me Fruit Loops?"
Ironically, the biggest break in Ferrell's career came from a joke that he was never able to make. By the mid-90s, Saturday Night Live, the beloved and long running NBC sketch comedy show, was in need of new life. Mike Myers, Dana Carvey, and other stars who had defined it for an era were moving on to Hollywood features. As a result, the scouts were on a nationwide hunt for new talent, which led them to a Groundlings show one Friday night.
Ferrell recalls that he must have had a good night because he was flown soon thereafter to New York to audition for Saturday Night Live's legendarily mercurial creator, Lorne Michaels. After entering the famous Studio 8H at 30 Rock, Ferrell took to the stage where Saturday Night Livehosts had delivered monologues since 1975. He delivered his routine to an empty audience. The only thing in the room was a video camera, which would make a tape for Michaels to eventually watch. It was a terrifying creative experience, but also a useful one. "You just have to do comedy in a void," he said, still seemingly spooked by the experience. "Which Lorne purposely does because he wants you to feel the pressure of live TV." Ferrell got called back again, but this time Michaels wanted to meet him in person. Eager to impress his would-be boss, Ferrell devised a strategy: "I thought I would be funny with him. So I brought a briefcase filled to the top with $100,000 in fake money. I was just gonna open the briefcase and spin it around and say, 'Lorne, look, we can talk till the cows come home. We all know what really talks. Money. So I'm gonna leave this on your desk and you can take it or leave it.' Then I would walk out."
But it didn't exactly go according to plan. Intimidated by Michaels' presence, Ferrell sat in his chair clutching his briefcase during the entire interview. On the plane ride home, he agonized. Had he blown his chance? What comedian goes to an audition with a briefcase?
Ferrell feared that he bombed his next audition, but a Saturday Night Live team emerged at Groundlings two weeks later. The troupe had a good night, and Ferrell was summoned back to New York. This time, he was determined not to blow it. "I said to my roommate, 'Fuck it, I'm bringing my briefcase." But as Ferrell entered Michaels' office a few weeks later, his assistant told him to leave the briefcase. Michaels offered him the job anyway, and as Ferrell left his office, right before calling his parents, he explained the joke to Michaels' assistant. Michaels eventually got the fake money, and he got the joke, too. As Ferrell recalls the moment, though, "the universe had conspired to prevent me from telling that joke." It worked.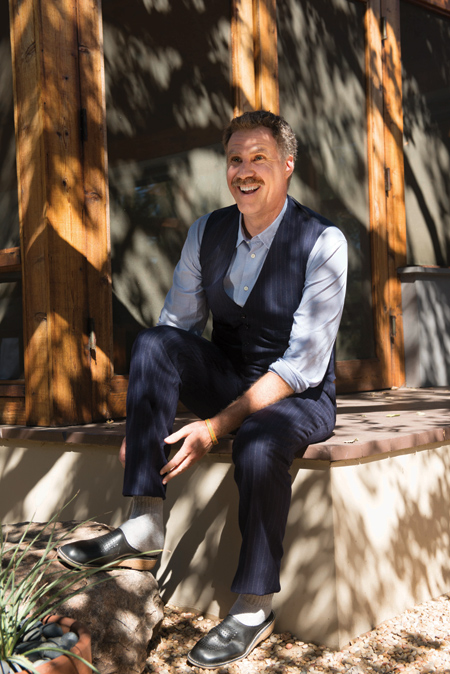 Pinstripe waistcoat and trousers RALPH LAUREN PURPLE LABEL
Shirt JOHN VARVATOS
Grooming Catherine Furniss at Celestine Agency
Photographic assistant Drew Bienemann
Styling assistants Sue Choi, Sara Golfetto
As Ferrell left Michaels' office, he called each of his parents to share the wonderful, and somewhat bizarre moment. "It wasn't a jump-up-and-down moment in a parking lot," says Ferrell. "It just felt surreal." Ferrell is a direct talker, but as he told this story, he had a habit of looking off into the distance – beyond the fat man in the pool, the roof itself and Laurel Canyon. "It just felt weird," he said. Perhaps, but it was clear that the comedian felt, in some way, it wasn't. It was clear that Ferrell felt his parents were in that room with him. That his triumph was theirs, too.
In the final weeks of the election, the Obama campaign leveraged some of its celebrity appeal in the form of viral videos featuring Hollywood stars. A few days earlier, Ferrell had filmed one such short advertisement in which he was dressed in a smoking jacket, referring to himself as the founder of Facebook, and soliciting voters to get to the polls. Like so much of Ferrell's work, it was hard to explain the exact humor of it beyond the fact that it was just so ridiculous. The character that Ferrell had created, a dopey rich guy making physically awkward entreaties, could have appeared in any number of his movies.
As the check arrived, we started to talk about the election. "In my opinion there's just no doubt that if Romney wins, there will be unforeseen heights of comedy in front of us," Ferrell said. "He can't walk and talk and chew gum at the same time." Ferrell cited a recent poll conducted by the BBC in which, of 22 foreign nations polled, 21 preferred the re-election of Obama. "The only country that wants Romney is Pakistan," he deadpanned. "So if Romney wins, we'll have good relations with Pakistan. So that's a bonus."
I posited that Romney, and his sidekick Paul Ryan, both seemed like natural Ferrell characters. Romney, after all, was a multimillionaire CEO who, like the character in Ferrell's video, seemed so eager for the voter's approval. Besides his tax plan, his running mate had become famous for his chiseled physique. In an odd moment of hubris, he'd even been caught fibbing about his marathon time. So I asked Ferrell bluntly: for comedy's sake, who would he choose. "I'm for Obama, he said. I think that he's pushed the rock halfway up the hill. Comedy wise, I'd rather this be unfunny."