Having perfected the art of sock making over four generations, FALKE has built a loyal following from sheiks to stylists alike. Helena Fletcher traces 125 years of inherited heritage in Germany
Open the pages of any well-established glossy or luxury weekend supplement and you'll be sure to find a FALKE credit tucked into a corner somewhere. In 2018 their socks and tights have appeared in WSJ, Vanity Fair and W Magazine, as well as in numerous international editions of GQ, Elle, Esquire and Vogue – a list any high-fashion house would be envious of. They've also appeared on the legs of everyone, from supermodel Cindy Crawford, in the 1980s, to her daughter and muse of the moment, Kaia Gerber. Yet, despite their hosiery's undeniable presence in the fashion world, it's the long-established craftsmanship, handed down through generations, that marks FALKE out.
The company can trace its origins to roofer Franz Falke-Rohen, who would knit in the cold winter months and, in 1895, founded a mill. Following the turmoil of World War I, Falke-Rohen – together with his oldest son, a trained umbrella maker, Franz Jnr – purchased a wool- and hair-yarn spinning mill in the small bucolic town of Schmallenberg, north-west Germany. Two years later, they would formally lay the foundations of FALKE with a new factory, and the company has continued to operate from the same location to this day.
Led by two cousins, Paul and Franz-Peter Falke, since 1990, the company remains in the family. "FALKE was always part of my life," Paul Falke tells me. "I saw my father and his brother in their roles as leading managing directors and wanted to continue what they and my ancestors built up." He laughs: "There was no specific moment when I decided to join the family business; it was just a matter of time."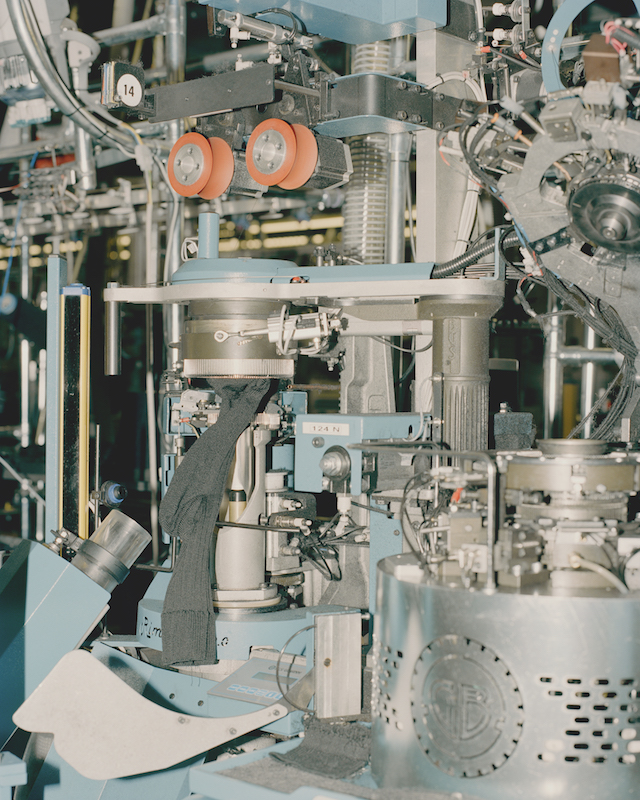 The family atmosphere has been infectious and, over the years, infiltrated every level of the group, right down to the factory floor. "It's not unusual for someone to have 45 years of service under their belt at FALKE," says John Woodfield, a sewing machine mechanic and chirpy British expat, also based in Schmallenberg. Having worked at the factory for 27 years, he is considered a 'new boy'. "Most factories have a group of long-term employees, what we call 'lifers' – but the labour turnover here is non-existent. People retire, and only then are they replaced."
Aside from the haute couture houses of Paris, you'd be hard pushed to find another fashion company whose employees have as much cumulative experience as those at FALKE. "It makes me proud, not only that my cousin and I are the fourth generation here, but also that some of our employees are in the same position," Falke continues. "It is interesting to see that in the beginning there were only a couple of dozen pairs of socks a day, and now, with commitment and hard work, we operate internationally."
Although socks and tights still play an integral part in what FALKE do, their output has evolved to encompass everything from foundation garments to men's seasonal collections and technical sportswear. As well as their own-label lines, FALKE have worked with brands like Armani, BOSS and Kenzo since the 1980s to develop and produce knitted leg wear and hosiery. More recently they have collaborated with and produced capsule collections for the designers Manolo Blahnik and 3.1 Phillip Lim, and Liberty London. The group also acquired the British brand Burlington in 2008, to attract a younger audience with a fun quality take on classic styles of socks and leg wear; think argyle or fair isle reimagined, socks fabricated from glittery lurex or trimmed with faux fur.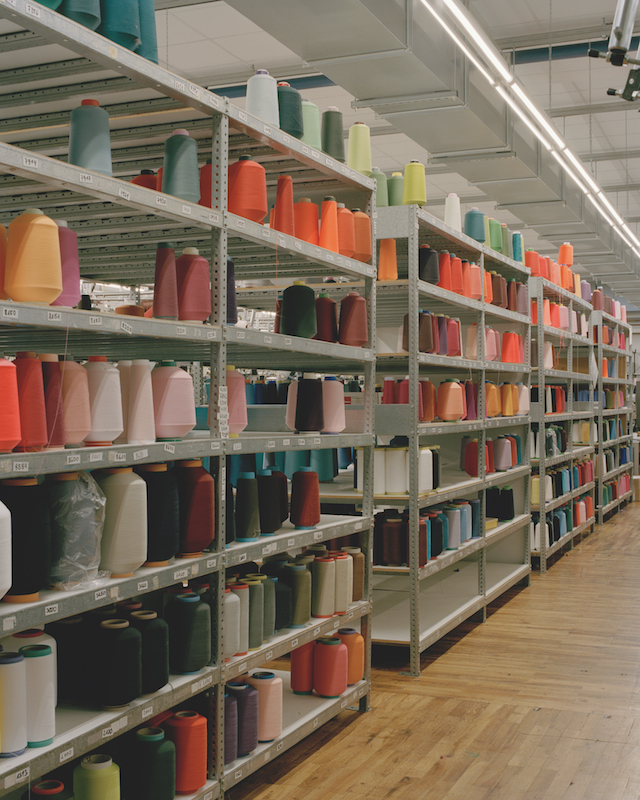 "Quality and design are characteristic of FALKE, and craftsmanship and innovation are at the core of our ethos", says Falke, and it would be difficult to argue with that. Although industrial knitting machinery is responsible for much of the production, human interaction remains an integral part of the process. The panels of tights and the ends of the toes are sewn together by people on sewing machines, as the sensitivity of the human hand cannot be replicated by a machine alone.
Even the most traditional products are continually being tested and redeveloped in the Schmallenberg factory, both technically and in a variety of the finest materials, to anticipate and fulfil the needs of their cosmopolitan customers: cashmere, piuma cottons, camel hair and silk, Merino wool and fil d'Ecosse. Online customisation services allow customers to personalise their socks with embroidered initials or a company logo, but for an elite few they go a step further: Made-to-order socks fab- ricated from the wool of vicuñas, a South American camelid – a once endangered species, which resides in the alpine peaks of the Andes. The wool itself is kept under lock and key in a safe, hidden away in a secret corner of the factory and only brought out once payment has been pro- cessed. Less that 20 pairs of these rather exquisite socks are made each year, at 860 euros each, usually for customers based in Russia, China or the Middle East. Hand sewn, the socks come presented in a wooden box with a signed letter from Franz-Peter and Paul Falke. It's the definition of quality and luxury for your feet.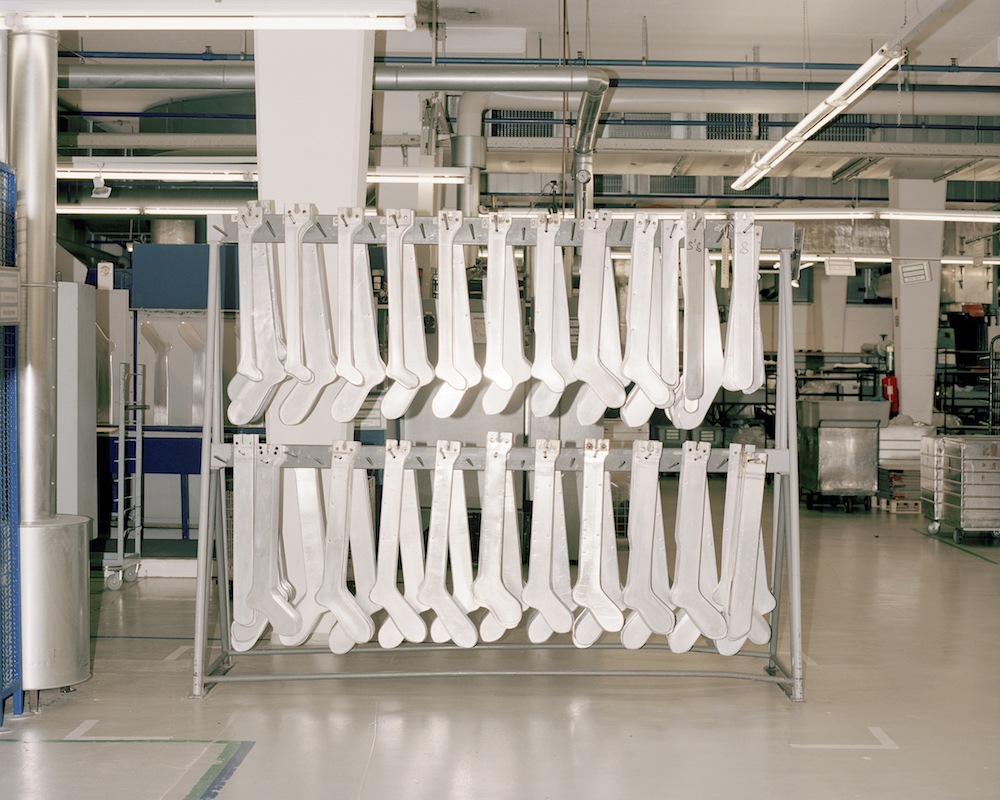 "I've been working in the sock industry since I was 16, and I've never seen attention to detail like it," Woodfield says. "There are quality checks at every stage of the operation, from when the raw yarn comes in, right up until the product is put in its box. There's even a spot check to make sure that the packing conforms to the FALKE standards."
The experience and commitment of the employees, and the group's unwavering attention to detail and passion for innovation, are what set FALKE apart. "It's a self-perpetuating mission, repeatedly challenging and satisfying," says Falke. "It's the curiosity and lust to dive into cultures, to understand customers and to anticipate their wishes and needs, and translate them into pieces – that is our permanent challenge."
Photography Lewis Khan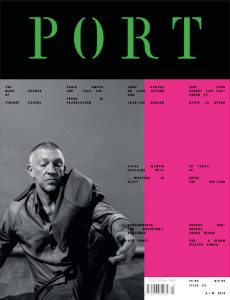 This article is taken from issue 23. To buy the issue or subscribe, click here.