Hoor Al-Qasimi's debut collection honours the urban nomad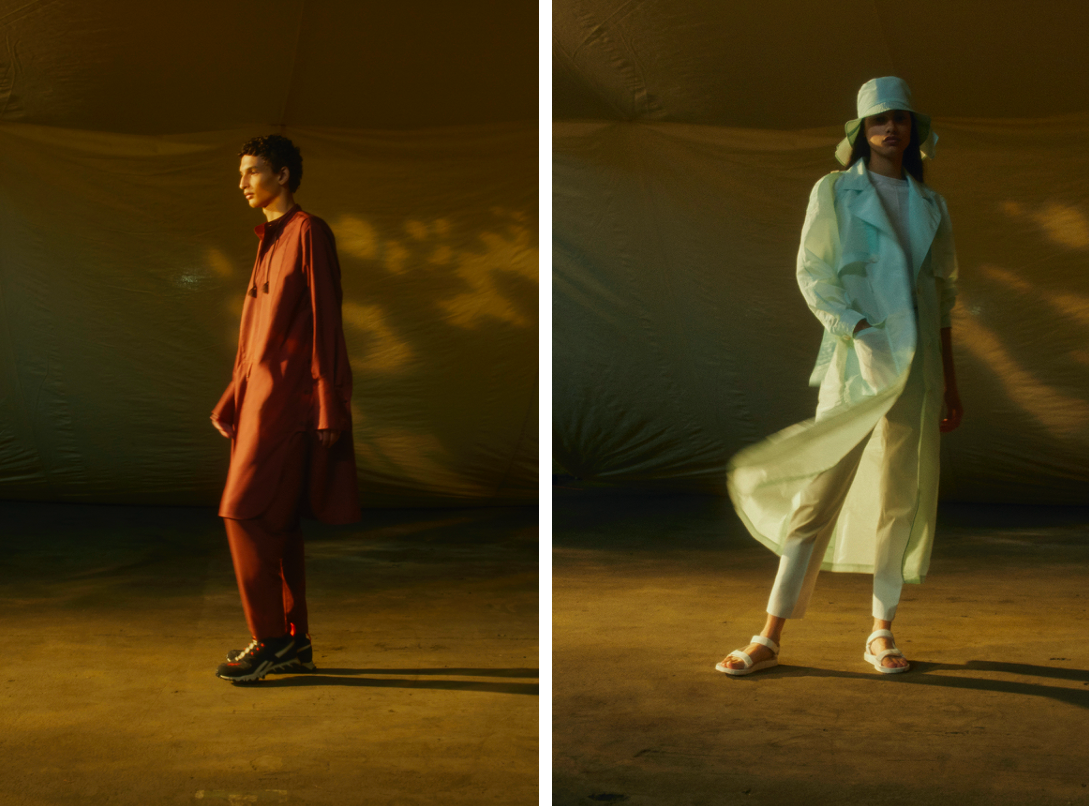 "Knowledge is light – and all who contribute bring light to our world."
– Bedouin Proverb
"We are the messengers," intones Somalian rapper FREEK, as he fluidly switches from English to Arabic. His spoken word performance punctuates Qasimi's latest collection – which has been presented as a short film – floating on qanun strings and nay flutes, while riffing on the US Constitution and Universal Declaration of Human Rights. Appearing as Arabic script, 'We the People' is literally woven into the fabric of bomber jackets, hoodies and shirts, the hanging thread inspired by the artist Nari Ward's 2018 work which saw him subverting the opening phrase of the Constitution using hundreds of shoelaces. Altogether, the message is one of defiant unity and exploration, in-keeping with Qasimi's long-standing tradition of working politics and poetry into its designs.
The brand's SS2021 offering has been created under both exceptional and tragic circumstances. Khalid Al-Qasimi, the charismatic designer behind the namesake brand, passed away last year. Out of this darkness, twin sister Hoor Al-Qasimi has taken helm of the house as creative director, launching her debut collection online just as the world emerges from lockdown. This will be the third hat she now wears (juggling her work as president of the Sharjah Art Foundation and The Africa Institute), bringing her diverse artistic and curatorial experience to the London-based brand founded in 2015.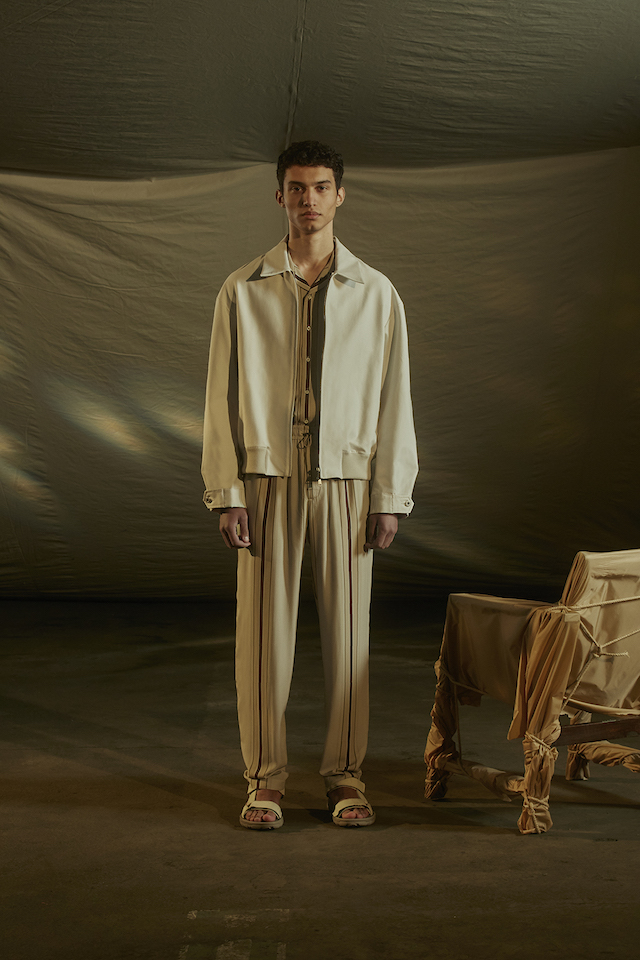 "I'm trying to keep as much of my brother's vision as I can going forward," notes Al-Qasimi. "While much of this is new to me, collaborating with artists, musicians and filmmakers is where I feel comfortable. As a curator, bringing people like FREEK and Ward together – making connections from different threads to create a singular story, is what I'm passionate about. When your job becomes your life it can be amazing, you're surrounded by talent all the time. It's a learning process, but the whole team – designers, factories, suppliers – have been incredible."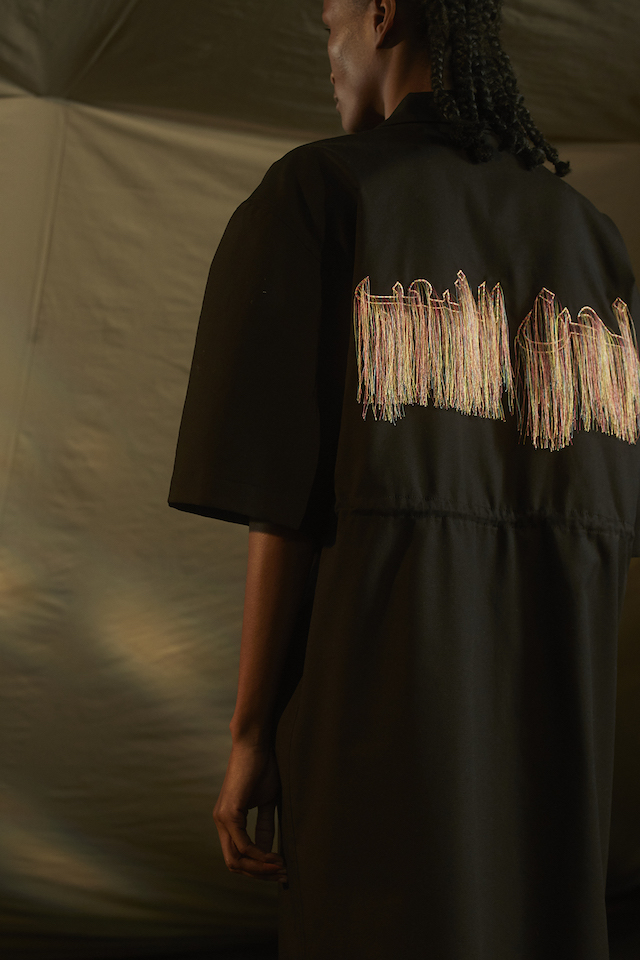 Al-Qasimi studied painting at both the Slade School of Fine Art and Royal Academy of Arts, and her discerning eye is apparent in the stunning silhouettes, palette and craft of the collection. Taking a cue from the natural world (lilac ash, desert rose, marble, obsidian, plums, cumin), as well as the military (bronze and covert khaki), both the men's and women's items are almost domestic in their informality – relaxed, elegant and loose. Rendered from a rich woven stripe and summer wool marling, the collection also takes inspiration from Al Sadu, the Bedouin weaving technique of geometric patterns and symbols usually reserved for tents, majlis floor pillows, carpets and mats.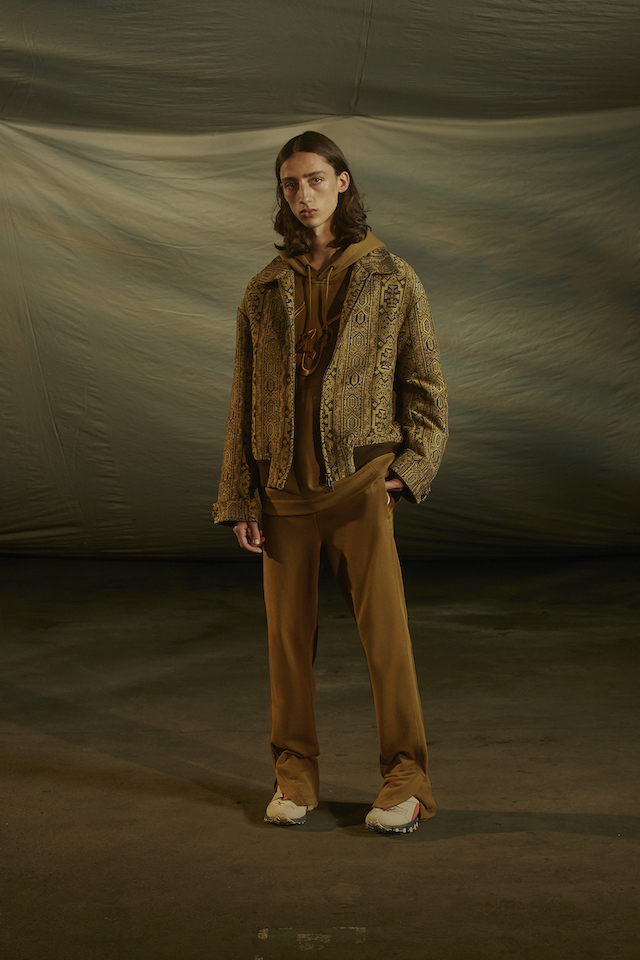 Both the casual shape and contemporary reworking of Middle-Eastern tradition, says Al-Qasimi, ties in with the brand's central identity of the 'urban wanderer': "My brother was always interested in the idea of the nomad, living as he did between the Emirates and the UK. Going back and forth, he always wondered how he could bring that experience of both cultures together, as well as capturing motion. During our research, we were looking at inspiration in Sub-Saharan Africa and nomad Bedouin culture. Al Sadu is normally used with quite harsh colours – reds, blacks – you rarely see them in these tones. The designers did a great job celebrating that tradition, balancing its weight with lightness. We've showcased loose clothing that's comfortable, luxurious, breathable, easy to move in, and with beautiful materials. We want people to cherish each item and wear it again and again, without worrying that they'll have to throw it away."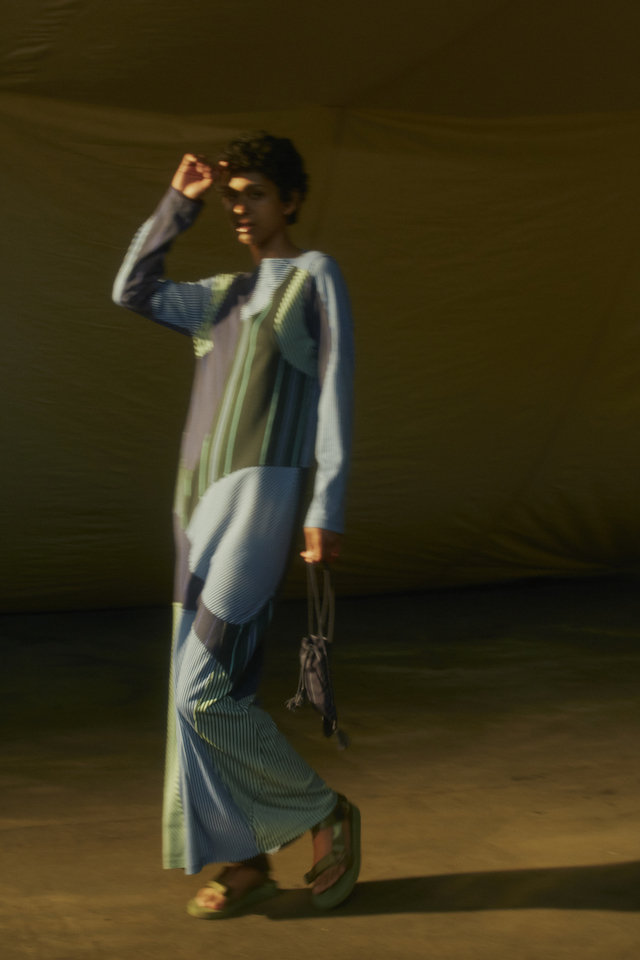 Khalid Al-Qasimi grew up under the shadow of the Gulf War and in addition to working in military details, politics was often at the fore of his Fashion Week shows, with statements such as "Don't Shoot" and "Amen" printed on garments in both Arabic and English. "Coming from the Middle East," he once remarked, "I have a duty to discuss politics. Fashion is my kind of material to work with and express it." I ask Al-Qasimi what role can fashion – and to a wider degree art – play in healing divisions between the Middle East and the West? "In terms of art and culture, there's a lot of strong voices and work coming out from the Middle East. There's a way to bridge these gaps. We see it in the art world and I'm trying to figure it out in the fashion world as well. When we collaborate, we're so much stronger than if we were alone. The Global South is used to being seen only from the Western point of view, but now in the 21st century our voices are magnified. We can define ourselves. It's crucial we support young, emerging artists as part of that."
Few debuts are able to coalesce art, craft, textile and technique with such ease and beauty. Al-Qasimi's confident, collaborative collection clearly demonstrates the power of approaching clothing from another discipline, while at the same time honouring an existing vision. We the people are excited to see what happens next.