Alex Petsetakis on how the iconic writer evoked the elegance of old Hollywood by dressing to impress the beautiful people of 1960s New York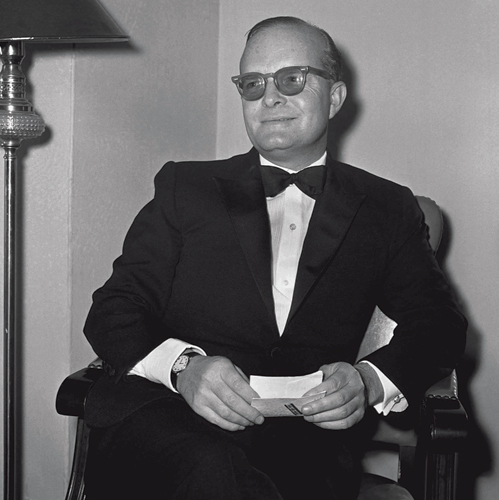 It's 1966, November 28th and the Grand Ballroom at the Plaza Hotel in New York is holding the infamous Black and White Masquerade Ball. The guest-list includes the Kennedys, Rockefellers, Vanderbilts and Whitneys, Sinatra and his new wife Mia Farrow, Tennessee Williams, Marlene Dietrich, Andy Warhol and Sammy Davis Jr. A timelessly elegant affair and the crème de la crème of the city are all in attendance. It may be the dawn of the Age of Aquarius, but the elegance of old Hollywood is back for the Ascot themed evening and amongst them their host Truman Capote. At the height of his popularity having just released In Cold Blood Truman finally has the financial means to throw a party as his "great big, all time spectacular present".
The event granted him the opportunity to transform into the debonair swan he always aspired to be and celebrate his success amongst the flocks of New York's finest. His costume for the evening: swathed in tailored ebony mohair wool and fastened with silk covered decorative buttons and grosgrain peak lapels. Truman's bespoke tuxedo from Alfred Dunhill encapsulated the epitome of his confidence and masculinity, one could not have asked more of a suit for "the pinnacle of New York's social history".
Alex is Port's fashion editor.
Photograph courtesy of Corbis. Taken from Port 9: The Film Issue