We meet East London's only micro-miller Daniel Harris, whose traditional methodology is reinvigorating a dying industry on an individual level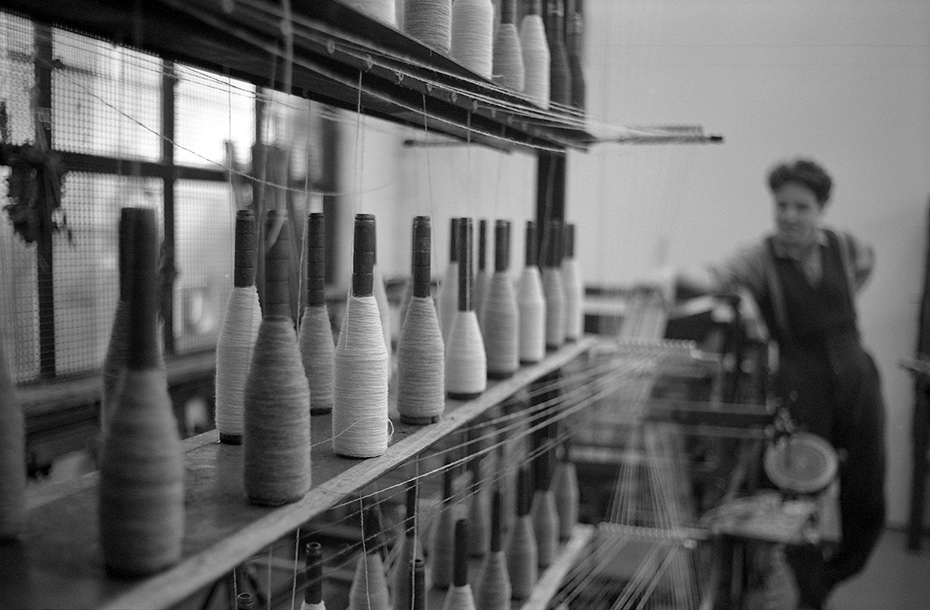 Above: Perls wound with thread are attached to the shelves before being run over the warping mill. This one was bought from a tartan mill in the highlands
Words Betty Wood
Photography Liz Seabrook
Daniel Harris greets us at the door of his East London workshop dressed in a tweed boiler-suit, clutching a cup of tea. "Come in, come in" he says as we move to hover around the wood burning stove. The temperature gauge behind him indicates it's only 6 degrees Celcius despite the fact we're indoors: "it's freezing, right? That's why I wear this," he says, breath hanging foggy in the air as he pats his jumpsuit, "it's incredibly warm".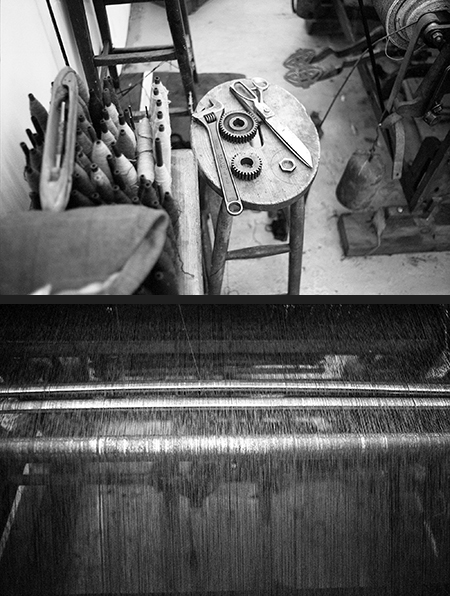 Top: the weaver's toolkit
Bottom: 1300 ends of rope-dyed Indigo are individually tied
It's cold in the London Cloth Co. mill, not that you'd tell from the way Harris animatedly moves between the looms, explaining how each part works. This is his world: self-taught, he's built and maintains the machinist that surround us, many of which can't be seen in working order outside of specialist museums or collections. Daniel talks me through them, one by one, explaining the basic principles of weaving to me at break-neck speed: "you've got your warp and your weft; the weft goes across, and the warp goes up and down". He flicks a switch, and a machine comes to life. "The winder I recently found out dates back to about 1900; I emailed the company who made it (Lessona, they still exist) and they phoned me up from the States. They were like, "'Why are you using this?'" He laughs, "I guess that means I can't get parts for it."
The machines that make up the mill are old – three Hattersleys from the 1920s and 40s, a Dobcross from 1947 and a warping mill from around the 1930s and various winders – "but they're good looms. We use them for a whole manner of things which they weren't originally designed to do." He shows me an example; one of the Hattersleys is weaving a lightweight Indigo cotton for S.E.H Kelley: "these were never designed for weaving cotton. But they work". He demonstrates by peddling; the shuttle clacks from side to side quickly, adding in another row to the twill. The cotton is lovely, lightweight and versatile. "We go through the winding, the warping and the threading" (a lengthy, fiddly process that involves tying off the thread ends manually), "then we weave, weave, weave". The only part they don't do on site is the finishing; the fabric is milled, scoured, brushed, napped, raised, fluffed and finally pressed before being sent on to the client for us.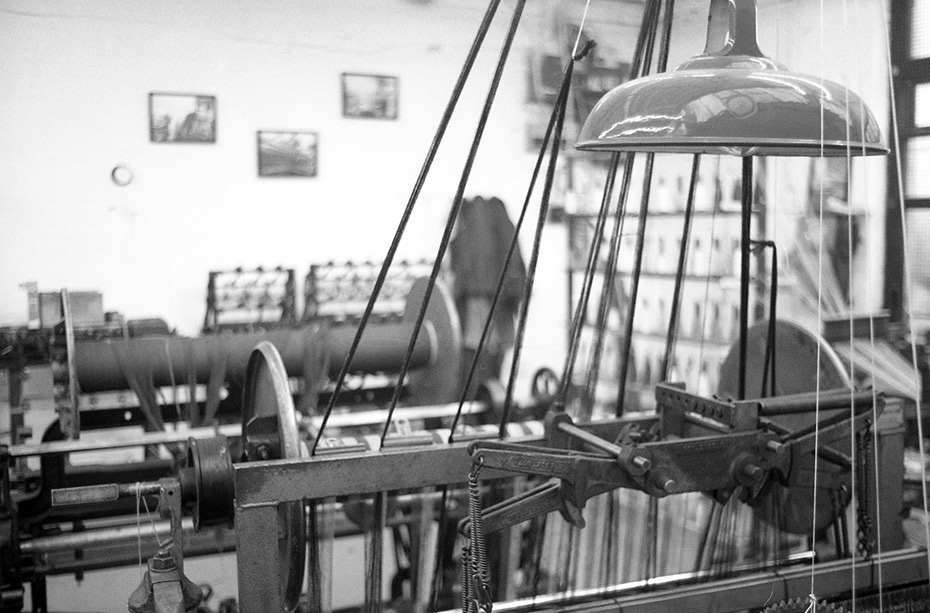 Whilst the machinery is old – most of it has been sourced from retiring weavers, as far flung as the Highlands of Scotland and North Wales – it's not chosen for novelty factor. A machinist by trade, Daniel has financed the London Cloth co. weaving venture through his sewing. "Last week, I worked at Tommy Hilfiger – I work for all sorts of people. And it's funded all of this" he says, pointing to the collection of machines. Bought second-hand, it reduced his start-up costs. But he's not sentimental about his equipment: "to make this work financially, we have to continually make it more efficient. I can't stand things that are novelty: we use these machines as they were affordable, and the only way to keepmaking it affordable is to make it more efficient." Starting out, he could only warp with three shelves; he's added another three now. "I was warping half the width, so doing twice as much work – we're replacing, phasing out and improving efficiency."
Much of the weaving is done manually, though to my surprise, Daniel explains it's not physically as exhausting as you'd expect: "it's all weighted and the machines want to keep running once they've started. Though they're all different, the gearing (especially on the Hattersleys) is incredibly light." Built to last, their adaptability is also surprising and Daniel has his next acquisition earmarked as two more Dobcross looms, which can be run simultaneously. "This is a three and a half ton, 90 inch, 16 shaft Dobcross from 1958, though parts of it date earlier. This'll weave 2 meters wide pick and pick, so you've got much more control over what you're weaving and it's semi-automatic. This'll wave 40 meters a day, whereas the Hattersleys will do 25."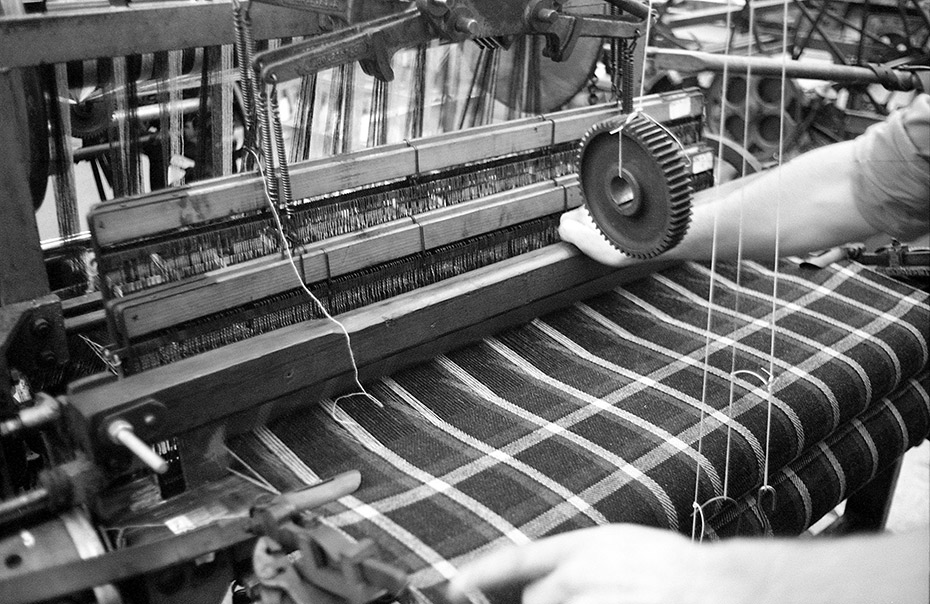 Above: The Hattersley loom weaving tweed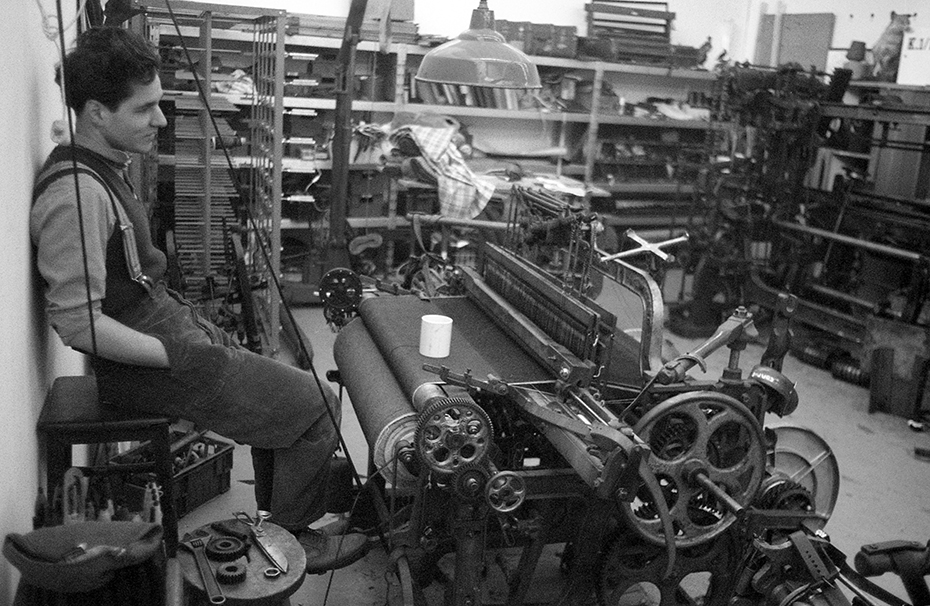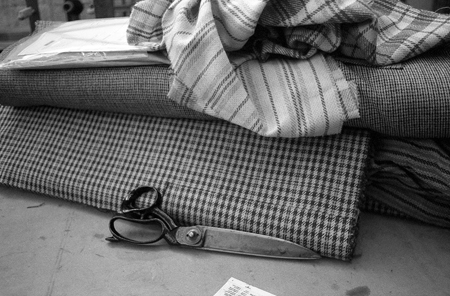 Without a doubt, the final cloths (mostly tweeds and lightweight selvedge denim) are beautiful. London Cloth Co is London's only micro-mill but as Daniel says, "it doesn't have to be expensive : I get annoyed that prices are so high. Obviously, it's got to be more expensive than some stuff because it's hand-woven and our rent is astronomical, but we don't do novelty prices. I'd rather sell more of it and do more work than sell a little bit for a lot more. We'll do 30 meters minimum; we'll be flexible about what we weave. We don't mind".
Looking to the future, Daniel has long-term plans to open the mill up two days a week to the public as a museum, and offer demonstrations explaining how weaving works.  And 2013? "I want to concentrate on doing our own fabrics in line with other people's, and then we'll slowly open up our own vertical menswear brand. It should be quite fun: the laundry bag tweed we're doing now will make suits, jackets and waistcoats."