Status symbols come in all shapes and sizes, especially when they're atop your head. David Hellqvist discusses
Headwear has always been a good way of determining social status, so it's no surprise that hats have played such a pivotal role in charting the rise and fall of menswear over the last hundred years.
At the turn of the 19th century, men predominately wore formal clothes, their suits and ties more often than not accompanied by a hat. They were part of the male uniform, defining you and your place on the social ladder. Top hats showed you were part of the aristocracy, while the working classes wore flat caps. This was partly due to a 1571 Act of Parliament, introduced to stimulate the domestic wool trade, decreeing that all males over the age of six – apart from nobility – wear flat caps on Sundays or face a fine.
The fedora was first popularised in 1889 after Sarah Bernhardt's leading role in Victorien Sardou's play Fédora, in which the actress wore a soft, low-fitting hat with its brim creased lengthwise. It was not until the 20th century that it crossed the gender divide, after Hollywood stars including Humphrey Bogart and Harrison Ford as Indiana Jones popularised them on the big screen.
The only truly modern hat is the baseball cap – a pop art icon as much as a style statement. Available in as many colours as there are team logos with which to emblazon it, the baseball cap is a mouthpiece as well as an accessory; it's a symbol of how we have substituted the demands of strict yet elegant formalwear for our obsession with sportswear. Like the top hat before it, the baseball cap signals an allegiance – albeit a very different one.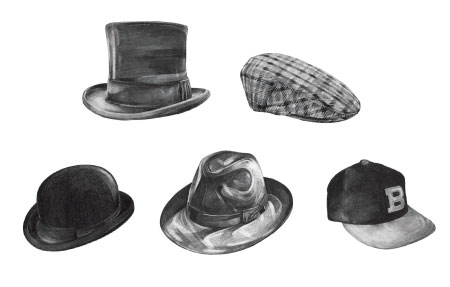 1. Top hats available from HEDDERWICKS OF LONDON
2. Flat caps available from WILLIAM & SON
3. Bowler hats available from LOCK & CO HATTERS
4. Fedoras available from BORSALINO
5. Baseball Caps available from EBBETS FIELD FLANNELS
Illustration Kate Copeland