The artist and designer explores 3D printing for Nike's Feel London expo, creating a four-metre long computer-generated piece of geometry that moves through space and inflates and deflates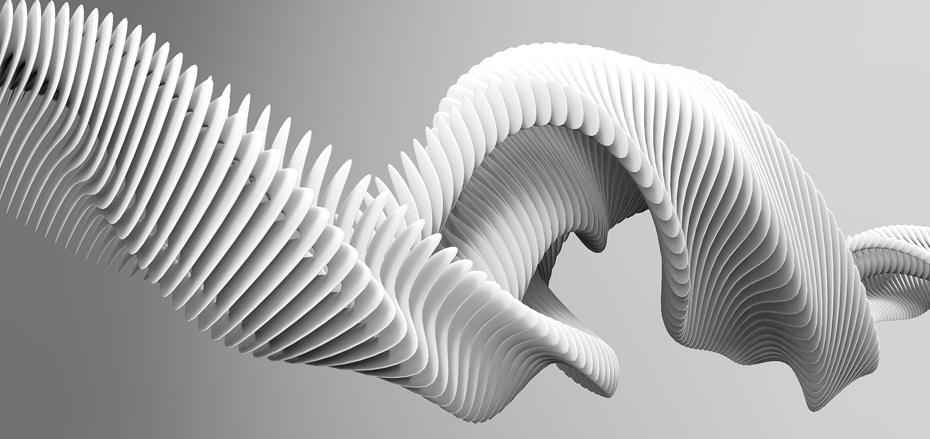 Art and science. Not normally two areas that go hand in hand. It's very much a case of the two different brain halves clashing. That's probably we don't see many projects from either side approaching the other for creative input. The upcoming Feel London exhibition at 1948, Nike's exclusive Shoreditch space, is an example of a project bucking that trend. It makes perfect sense, though, as Nike – almost per definition – is a trainer and apparel brand hellbent on fusing the two. For the 10 day expo, kicking off on October 10th, Nike invites a wide array of artists interpreting the art and science theme of through the festival programme and creative workshops. The line-up includes Hellicar & Lewis, Universal Everything, Quayola Signigaglia and artist Daniel Widrig to mention but a few.
Widrig, a former Zaha Hadid employee, works across sculpture, fashion, furniture design and architecture, but many of his projects also embrace digital systems. Inspired by the Nike's 'Nature Amplified' ethos, Widrig used his "unique approach to digital and generative design to explore the concept of freedom using animation software to create multiple snapshots of an abstract geometric figure". The result, a four-metre long 3D printed sculpture, challenges not only idea of what art and science can create together, but also interprets movement and flexibility in a new way.David Hellqvist: Can you describe what we are looking at?
Daniel Widrig: The original brief was to make a piece that deals with emotion in general, a manifestation of the body in motion. It's basically a four metre long printed object, computer-generated piece of geometry that moves through space and inflates and deflates in a way. It's a snapshot of a piece of geometry that moves through space in 3D and then is materialised using 3D printing processes. It's pretty big, I think it's one of the largest 3D printed sculptures so far, to my knowledge. Normally, 3D printing is used for smaller objects and prototypes.
David: Who did you collaborate with?
Daniel: We did it in Belgium, I work usually with Materialise. They're a company that normally work with automotive industry, they normally do car parts and prototypes for designers. They have the biggest 3D printers in the world that allows them to do this, they also work with furniture in experimental prototype work. They've invented their own software and printing technology, they built their own printers and they have these big 4m machines and they build and construct them.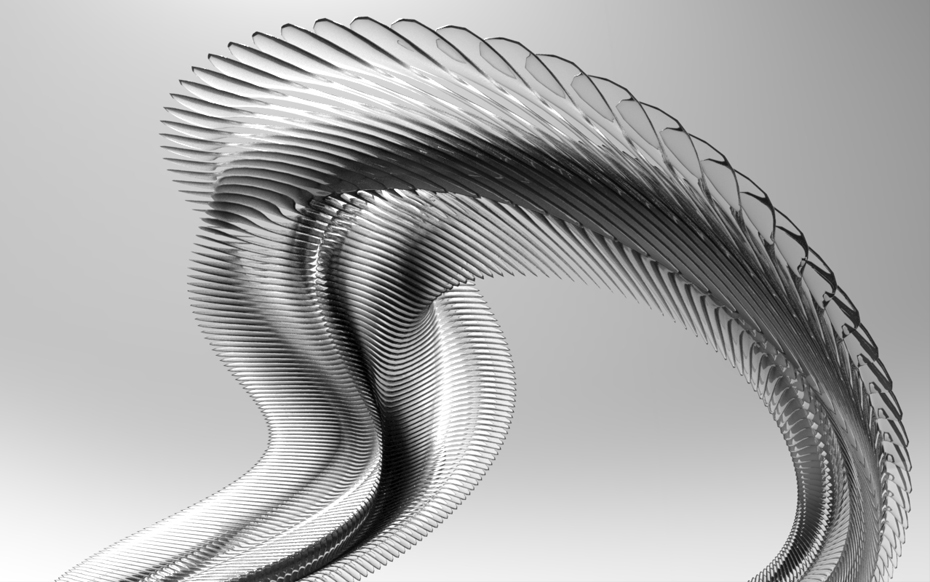 David: So when working with Materialise, what's your role?
Daniel: With the Nike project there was a certain direction with the design needed, they wanted something that referred to visual motion and flexibility. So I proposed this geometric investigation and topology, geometry that flexes and bends and twists. Every project is different, when I was working with fashion designer Iris van Herpen she had the idea to apply some of my sculptural ideas to a human body. Then we took structures and sculptures that I already developed and we developed a composition together on to the body.
David: What was the starting point with the Nike project
Daniel: The topic was motion and flexibility, so I was trying to find a digital process to work within the brief, a process that creates snapshots of geometry. For this particular piece I looked at the research of Etienne Marie Jules who's an iconic 19th century photographer; the body has a certain indication of movement and that is captured through photographic techniques. With today's technology you can simulate similar processes digitally, so that's a source of inspiration here. David: What's the material made out of?
Daniel: It's a resin. The way it works is you have like a bathtub full of liquid resin, like a virtual piece of geometry on the other. You take that geometry and the software slices it into layers, if you look at the growth a tree it's a series of rings, it's a similar process in a way, it's layering. Let's say the object is sliced into several thousand slices, the resin is printing these contours onto its surface, and gradually the piece builds up. So it's a resin that's been hardened by a laser.
David: Can you explain the manufacturing process?
Daniel: This piece took 10 days and we had to move it three times. A third of it took around 20 hours, it wasn't a continuous 10 day process. So it's four metre long and the height is something like 65cm. That was the piece and then we worked with light and there was LED to illuminate changes. Once it's here we'll take photos. It's already been shown in Milan and at Portland at the Nike factory. This is a reference to the Nike flex technology, the way the segmented part with a flexible join that then flexes and bends. This is how it turned out from the brief, there's a reference from the shoe to the brief.
Daniel Widrig's 'The Art & Science of Flex' is part of Feel London, an exhibition at Nike's Shoreditch space 1948 between 11-20th October. 1948, Arches 477 – 478, Bateman's Row, London, EC2A 3HH. More info HERE