Founder Ray Kelvin talks about colourful summer knits, linen chinos and the importance of learning correct social skills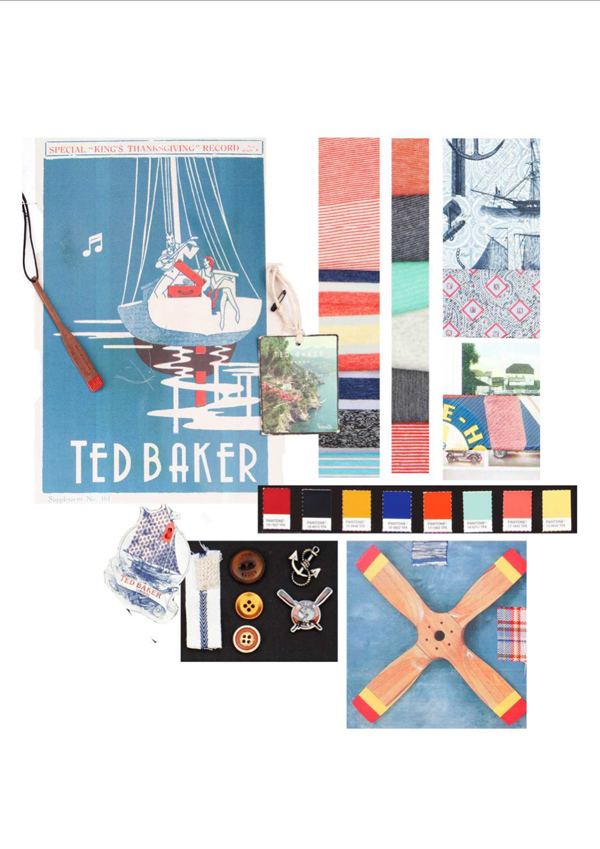 Above: Ted Baker SS13 mood board
Can you be old-school and contemporary at the same time? That's exactly what British brand Ted Baker has set out to accomplish with its Spring Summer 2013 collection. Even though it might sound like a sartorial oxymoron, it actually works, both in theory and practice. What this means at check out levels is a collection of modern clothes, cut with a 21st century lifestyle in mind, but with old-fashioned manners and a mature attitude towards life in general as a moral backbone. Not many brands would dare set such ambitious goals, let alone follow through. Ted Baker, with chatty and affable founder Ray Kelvin CBE at the helm, has been pursuing these kind of fashion goals since the brand's incarnation in Glasgow 25 years ago. The result is an ever-growing style business, evidently untouched by both recessions and fashion whims. "It's down to an honest approach, design details and never short-changing our customers," Kelvin explains." We set out to over deliver, not to under promise!"
Kelvin and his design team are always on the look out for inspiration, whether its when visiting his Hampshire fishing cottage or shopping for Scandinavian ceramics from the 50s and 60s. But it's not only products from that era that influence his work. The SS13 collection looks towards the level of etiquette that ruled our behaviour in the mid 20th century. "I was born in the 50s so maybe that explains my fascination with those decades," Kelvin says. "People just knew how to behave towards each other back then, we don't see much of that today – schools today could do with a bit of that attitude in their education programmes".
Of course, back in the 50s and 60s, such knowledge was actually on the curriculum. "Pupils who needed to learn how to behave properly were sent for a term to finishing school in Switzerland. They were taught how to walk properly and how to behave correctly – basically, what to do and when." This kind of charm school was made famous by the likes of the Château Mont-Choisi institute. But it's a relic of a lost era; today only one such finishing school remains open in the Alps. Kelvin never got to attend any of the courses himself: "No, I graduated from the 'School of Hard Knocks'", he says. But except for his 'degree in life', Kelvin also attended University and got himself a business doctorate from Bath. "I wasn't very good with maths. It was only when they put a pound sign in front of the numbers that they made sense to me – I love business!" Back then, when Kelvin left school, only three percent went on to study at university. "It was more about practical skills at the time," he says.
The charm school idea for SS13 goes beyond the actual products. For Kelvin, this is a behavioural concept. "It's about wearing the right pieces for the right occasion, whether it's a tennis game, the races or the Henley Regatta." For SS13, Ted Baker menswear is all about strong colours and bright shades. "The clothes stand out – people will argue whether it's fashionable colours or not, but that's beside the point… it's all about making a statement and cementing a style. There are no wishy-washy colours this time around, only punchy pop and hot colourways: pink, lemon and orange tones. We don't so much follow trends as make up our own." For this season, the key pieces to focus on according to Kelvin – whose hands-on approach includes checking every single item coming from the design studio – include linen chinos, half-sleeved shirts with detailed collars, mohair tailoring and bright knits. See, who said you couldn't mix an old-school attitude with contemporary style?