Colmar celebrate their centenary in a collaborative capsule with Joshua Vides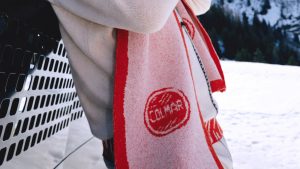 The appeal of skiing – time spent in the mountains, twisting down slopes at high speed – is easy to understand, which is likely why it's been around so long. Mountains, though, are famously unwelcoming, so skiing has always meant layering up.
Colmar know that fact, and ski clothing, very well. In the 100 years they've existed – they were started on October 31st 1923 – Colmar have grown quite a bit from the husband and wife duo of Mario and Irma Colombo, but maintain their core values.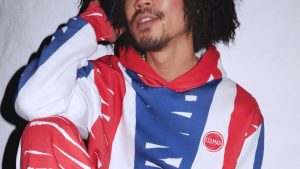 They started at the top, in Monza, with woollen headgear, making gaiters from defective felt. The rest of the 20th century took them to different clothing corners, from cotton suits to jackets for the Foreign Legion, but they're most known for dressing Olympians on the slopes.
Their skiing innovations, in part a result of a close relationship with athletes, include the Thurring – a coat that became a bat when skiing downhil, and the Olimponica, a pioneering poplin anorak. They had already made a mark when Irma, approached by Zeno Colò, thought to integrate elastic (traditionally reserved for womenswear) into jackets. The Blue Avalanche of Italian skiers finding success in the 70s was paralleled by Colmar's work on technical suits down to the fabrics, tested in wind tunnels.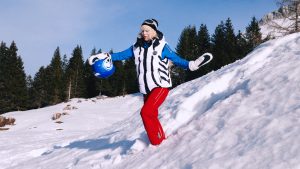 Younger generations of the company have have brought Colmar's technical flair to exciting collaborations, but also kept production closely overseen, sustainably and thoughtfully.
They've done it most recently for this 100th anniversary, which is being celebrated in a collaboration with Californian visual artist Joshua Vides.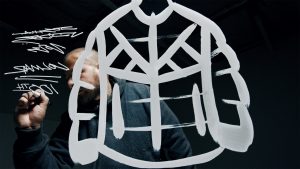 Vides has worked with streetwear extensively, and he's known for stencil-style work on physical objects, playing with the gap between 2D and 3D work.
He's also playing in the space between sport and art:
"I thought about what an artist has in common with an athlete: the idea of constant creativity in finding solutions, the best possible ones, to react to failure. The satisfaction of winning after failing several times, of standing on a podium and getting back up after a defeat."
He brings his flair for streetwear, and playful sensibility, to Colmar's technicality, transforming archive pieces along the way. The resulting capsule feels crisp and fresh, as well as reverent.
The collection is genderless, and available here.