Nancy Tilbury and Ben Males talk to David Hellqvist about making science fiction into science faction with their wearable technology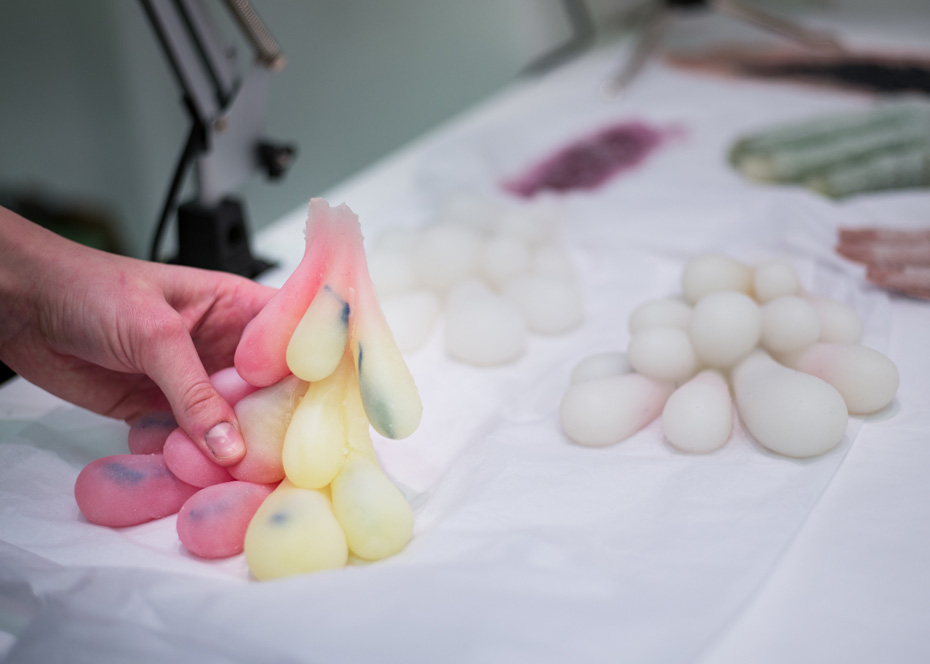 Text David Hellqvist
Photography Robin Sinha
In a clustered studio, a brisk 15 minute walk north of the Finsbury Park tube station in London, magic happens on a daily basis. Here, amid overlock sewing machines and pneumatic drills, between CAD computers and rolls of toile fabric, the XO Studio crew is changing not only the way we wear clothes, but also how we define the purpose of fashion.
Operating at the "intersection of science, technology, fashion and music", founders Nancy Tilbury and Ben Males are busy merging the different creative fields, creating a brand new discipline: wearable technology. Though in theory, and in different guises, the concept has been around for quite some time, it's only now – with Studio XO as flag bearers – that the idea has reached a mainstream audience. In the case of Studio XO, the message has been communicated with the help of world-famous pop stars. Over the last three years, Nancy and Ben have worked with stage artists like Lady Gaga, Azealia Banks and Black Eyed Peas, to mention but a few.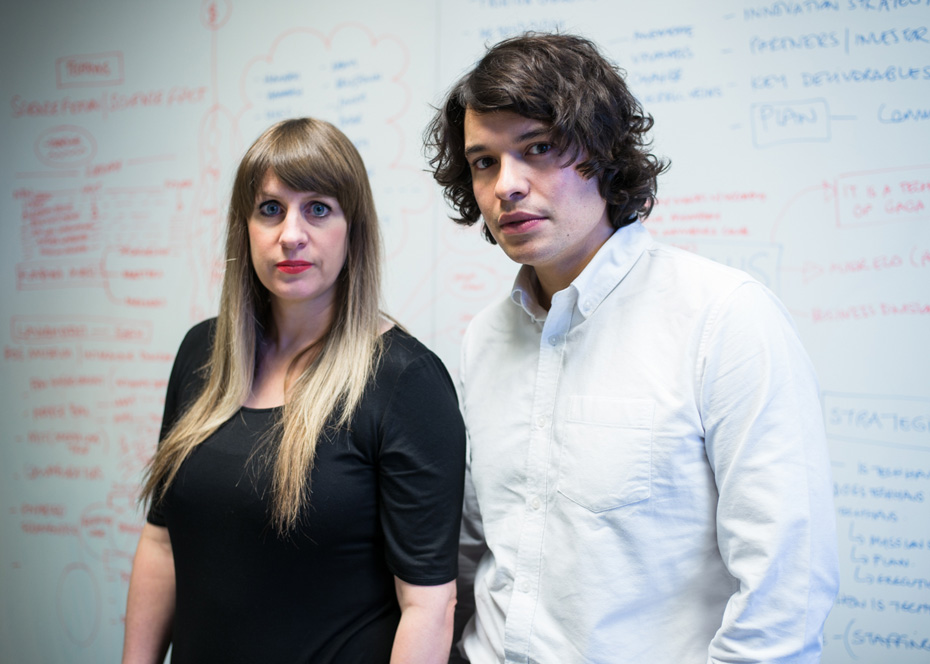 "Yes, music artists are key to what we do here," Nancy explains. "Other companies maybe have couture lines where they showcase their abstract pieces, we're finding that these really innovative music artists are adopting us and our technologies to create these big effects and monumental moments for their fans," says Ben. Recently, the best example of that is Volantis, the 'flying dress' Lady Gaga premiered last year for a packed IRL audience, and an even bigger cyber crowd. But the XO story really began in 2011. The duo met while teaching at two of London's top universities: "Our paths had crossed while I was teaching at the RCA and Nancy was running the MA at Kingston and at the time and we'd talked a little bit about maybe doing some work together. We could both see there was something there," Ben remembers. "I was getting asked by a lot of artists and designers to help integrate technology into their products. I call it the 'grow-space' in between – traditionally there's been a wall between engineers and designers and if you get rid of that wall there's space to grow. I suppose Nancy and I met together in that grow space."
Nancy comes from a fashion background, having studied at Royal Collage of Art herself, but was early on keen on exploring new areas. "I pretty much spent the two years at RCA navigating away from fashion, focusing in on engineering, trying to understand if our clothes can do more. After I graduated I went to work for Phillips, the electronics company, while my peers all went to the ateliers in Paris and to the studios in New York. Most of my friends thought I was bonkers: 'why are you going to go and do that?' I felt that before I did my own thing and moved forward I needed to have some depth and breadth," Nancy says, looking back.
Ben, on the other hand, emerged from a technical environment. "I studied mechanical engineering. Very, very theoretical, very old-fashioned engineering. I studied at Imperial College. We did a lot of modelling of things; we didn't really do much design. I specialised in nuclear reactor design. But I also had an ambition to make clothes. I was interested in fashion.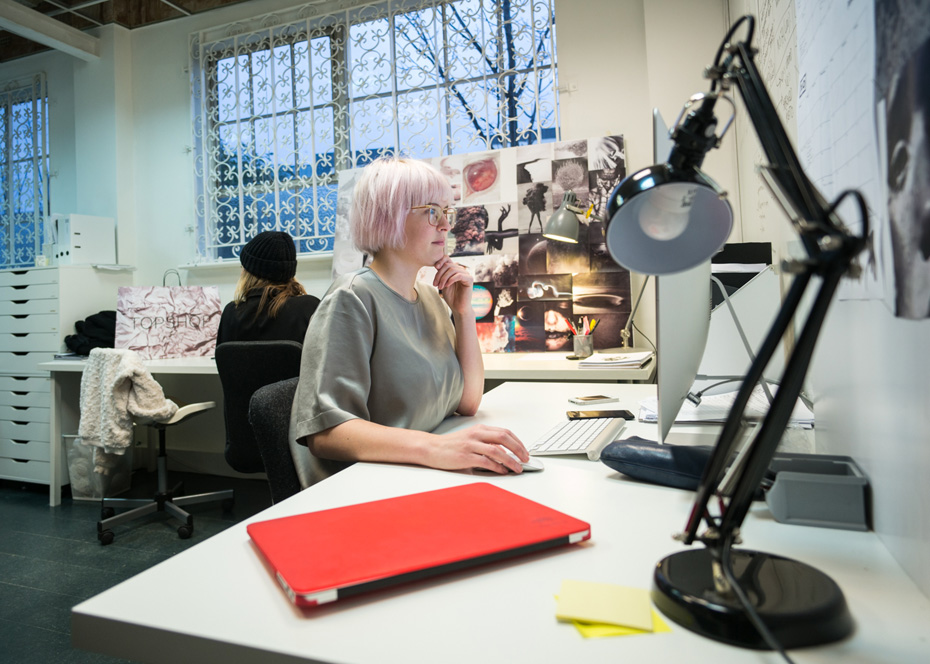 I bought a lot of stuff from charity shops, I was into the process of fashion." So, through Ben's desire to work with fashion and product design and the niche market they were both honing in on, their two career trajectories were bound to meet at one point. Meanwhile at Philips, Nancy had started fusing fashion with technology. "I was essentially working with designing pure fashion, it just happened to integrate product design and engineering, and functionality – what we call 'embedded functionality in wearable tech'. It wasn't traditionalist and we weren't doing seasons; they were putting out product lines every 18 months so we were looking at much longer cycles. I suppose what I did there was hone a methodology and navigate away from fashion."
Once Nancy and Ben had joined forces and XO was formed there was no going back. As mentioned, the most accessible platform for XO has always been the music industry, and that's where they got their first break. "We got a call from the Black Eyed Peas' stylist in 2011. She was like 'I want to make robots'. We knew that we needed a sponsor to do something really grand. I went back to Phillips and said to them, 'let's do this, let's embed some of your older technologies and bring them up to date'. We took those things and merged them. I had a small collection of students who'd been working with me and we kind of merged our consultancy and came together." All of a sudden, the small Finsbury Park crew was playing in a whole new league.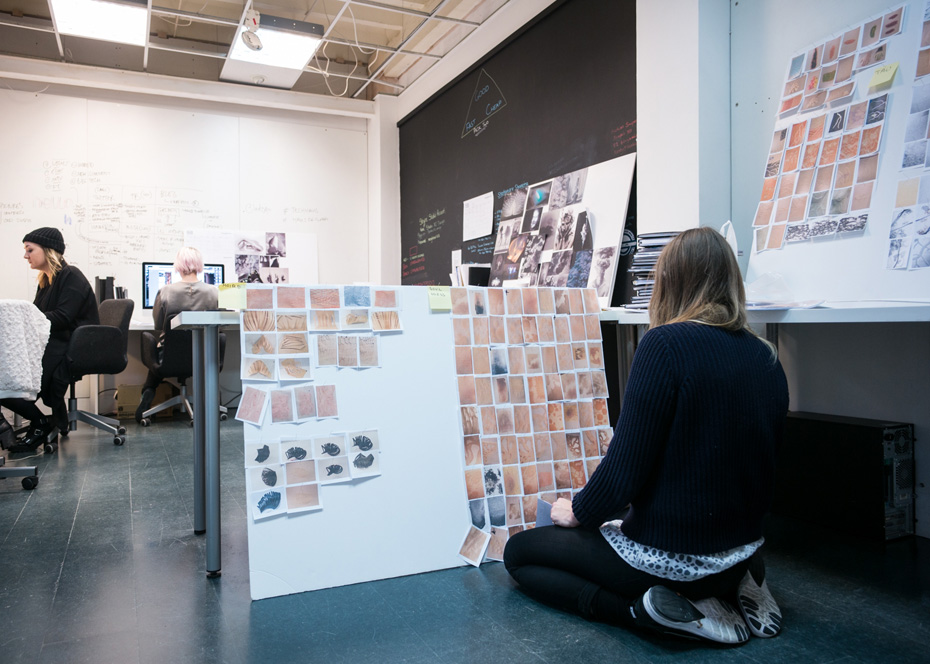 But it wasn't until the Black Eyed Peas were on stage, wearing the XO-built costumes and projecting their LED-driven lyrics, that they knew it was a success. "When you build fashion technology for the stage, the first thing you do is look towards the stage to see if everything's working. The you look towards the audience and make sure they're having a good time," Nancy says. "We had this moment at the side of the stage – there was 80,000 people at the Stade de France – and everything was lit–up and operating as it should. We looked towards the crowd and everyone had their phones in the air, taking photos!" This, for both Nancy and Ben, is what it's all about: "Yes, there was a sort of gasping – it's what we call 'intimate emotional technology moments', which is what we're in the business of. We looked at all these fans and were like, 'well, that's fantastic'. We want to continue to make couture, but our ready-to-wear can be all these fans that are navigating around the world and want to take a piece of this magic away with them," Ben says.
Having worked with ex Dazed & Confused fashion director Nicola Formichetti on the Gaga projects, Studio XO is no stranger to high-end fashion. But they are very aware of the challenges that the industry faces, and what the fashion stalwarts need to look out for in the future. Formichetti, now the artistic director of Diesel, have always been good at thinking outside the box, but it takes more than one person to change the landscape. Nancy's point of view is coloured by realism: "I think the fashion industry are going to wake up like they've come out of a pool of water and go, 'wow, how did we not see that coming, it's like a fashion tsunami.'"
Going forward, Studio XO plans on taking their ideas beyond the stage and to the general public. "We want to move on from couture to ready-to-wear, looking at how we can take our couture from the stage and launching it as more mass products. That's what you'll see from a company like ours over the course of the next couple of years," Ben says. Nancy agrees. "Yes, the X and O is our identity and it's starting to take shape. And it's really interesting to watch that evolve; the digital space is inspiring what we do in the physical space. In the course of the next year we are going to design and render some of these pieces that will be more of a focal point for fashion people to grasp onto." Whatever the future holds, be sure that XO Studio will be on the barricades, wielding both sewing machines and computers.