We visit Wouter and Amber in their studio to talk about fur lined coats, boucle suits and down jackets in see through plastic
Down Bomber Jacket In See-Through Plastic
This is our technical master piece for this season; it's a feather down quilted bomber jacket in a translucent plastic… it almost looks like a snow globe! You can see the down through the plastic; every feather has had its spine removed which is a quite laborious work, but it had to be done so that the feathers didn't pierce the fabric. We thought of the concept several seasons ago, but has taken years to make it happen. Mixing the internal and external, we asked ourselves how we could merge craftsmanship with technology. We wanted the main achievement of the product to be the main appeal, marrying that with a cut, finish and treatment that we felt reflected the technical craft. We pushed our manufactures for some time, but it took a while even though they are experts; they make the Moncler jackets. So this is our medal piece in a way. The plastic is made by a Swiss and Italian company that specialises in novelty and performance based materials, but this one also has functional fashion elements to it… it's breathable and water resistant. It's Wouter's dream piece; he can die happy knowing that even the jet pockets and zip lines are stuffed with down – it was the highlight of many years of hard work!
Aubergine Boucle Suit
It's got a very domestic feeling to it, you think of toweling, carpeting and interiors… it makes you think of your grand parents! It's an unconscious appeal. If we were to sit down with Freud he'd say the idea came from my grandma's house, and her feeding you your favourite dish. But whether that's true or not, a lot of our garments are made to trigger a sensory interaction; visually, physically, a connection between the wearer and the product. That's characterised by the fact that you just want to touch it, and the that it has a very warm and mellow hue.
The cut is a sharp but the blow is softened by the colour and fabric. It gives an impression of warmth, but the garment is masculine. Men aren't shy, they are the peacock sex out of the two. The red, which comes in fire engine red, aubergine tones and berry colours, work in two ways this season; it represents a hard, warrior-like masculine approach on the outside, as well as an inner feeling of fragility.
"In a way our motto is 'Wear it well, tear it Well' – these are luxury items but they are made to be worn, not sit in your wardrobe!"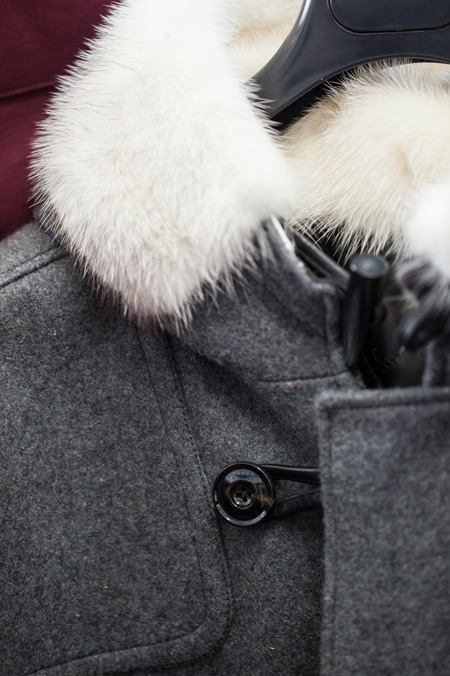 Fur Lined Grey Wool Duffel Coat
It's reminiscent of that feeling when you get your first coat for school. We wanted it to feel like a parka or duffel coat but elevated so that it was aspirational and indulgent as well. It's a timeless piece, it can be worn from boyhood to manhood – a classic garment. In a way that's the mantra for our brand; modern classics. The fabric is a stiff, structured and minimal wool but the inside is all soft and beautiful fur.
The wool is by a company called Haynesworth, they make fabrics for army uniforms. The mink fur comes from a Danish firm called Kopenhagen Fur. We got Cross Mink, they have a black crucifix shape in their white fur. That really comes across in the fur lining of the coat. It's a very masculine look, a bit explorer-esque and Edmund Hillary-like with the hand made leather loops, utility pockets, horn toggles and polished buttons. In a way our motto is 'Wear it well, tear it Well' – these are luxury items but they are made to be worn, not sit in your wardrobe!
Interview David Hellqvist
Photography Robin Sinha