The Paris-based Korean brand gave us their Mode-F produced soundtrack from their SS14 show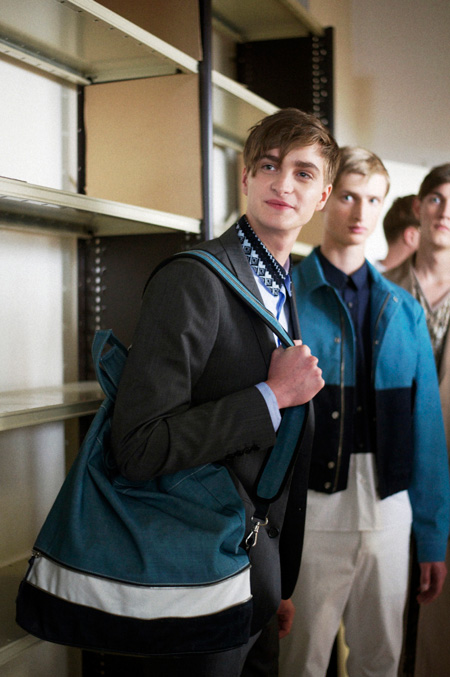 Fashion shows are an expensive way of showcasing the fashions of seasons to come; for months staff plan the event and, of course, work on getting the collection done on time. But with half a fortune invested in 10 minutes, it's important that the experience is right – from greeting buyers and press at the gate to the much-discussed seating plan. But the one element of a show that can make or break the atmosphere of the event – except for the actual clothes – is the music. Good shows become great and poor collections can become bearable with a decent soundtrack.
Wooyoungmi managed to get them both right with their Parisian Spring Summer 2014 collection. Staged in a gallery space close to the Bastille, the Korean-born designer sent out her model army to the stomping sound of a Mode-F produced beat – exclusively premiered on Port today. Using denim on the catwalk for the first time, the collection focused on a blue, beige and green colour palette. Panelling, colour blocking and all-over prints dominated the visual aesthetic and an impressive array of shirts in different shapes, colours and forms perhaps heralded the introduction of a new Wooyoungmi signature piece?
"The inspiration wasn't one particular thing or person. The collection idea came when I walked through a snowy Paris last winter. It was dreadful weather and I just wanted to be in a warmer climate so the collection is about an aspiration to go to the desert! So this season we followed that man to the desert, it's a journey through that terrain. But he isn't just into the landscape, he carefully inspects every living organism. He's interested in the terracota, blue sky, cactus and the beige sand – that's where the colour palette came from. The denim we used isn't casual or rough, I wanted to use sophisticated and chic denim… I wanted it to help create an elegant look," Wooyoungmi said after the show.
Track listing:
Soap and Skin – 'Marche Funebre DJ Koze Marxa Mix'
Original Soundtrack from Paris Texas, Ry Cooder – 'Main theme'
Raffertie – 'Build Me Up'
Byetone – 'Straight'
Original Soundtrack from Dead Man, Neil Young – 'Guitar Solo, No. 3'
Anders Trentemoller – 'Springsteen Trentemoller Remix'
Fthrsn – 'Over you'
All tracks exclusively remixed by MODE-F
Words David Hellqvist
Photography Kasia Bobula