The footwear expert behind the Adidas Originals x Spezial line pays homage to Shaun Ryder and Happy Mondays' album, Bummed
"I had days and days of running over and messing around to write those lines. A lot of work to get those few lines right. And I'd say to people 'they mean nothing' or 'I'm not telling you what it all means', because I'm not one of those 'real musicians' who starts trying to explain what it means from deep in their heart. All I've ever said is 'nah, it all came off the top of my head, that's it'. But, looking back, I admit I took hours, days, weeks. I wanted it all to be right."
Shaun Ryder, 2013
In the late summer of 1988 I was 18 years old and moved 25 miles south to live in Manchester. Bummed is an album that stands for pretty much everything that I loved (and still love) about those times. I listen to it regularly. Nothing has sounded remotely like it since – it cannot be emulated. I wouldn't attempt to categorise it. It stands alone. It is unclassifiable. It captures the spirit of an era and place like nothing else.
It is the complete package: I love the songs; the lyrics, courtesy of Shaun; the production, by Martin Zero; the artwork, created by Central Station; the mythology of the record label, Factory Records; and, most importantly, the band themselves.
The Mondays' authenticity is a rare trait in the music game. The Wrote for Luck video nails it. It's a low-budget music video filmed in Legends nightclub with no posturing. Like most of my favourite musicians, Happy Mondays were unlikely candidates for the job. They were clued up. They knew what they were about, as did everyone who crossed their path. They made a mockery of the music industry – touting their own shows, bootlegging their gigs – nothing was sacred. Everything and anything was fair game. Frank, candid, honest in their dishonesty, pure in their impurities. They were bold… They had an inert confidence about themselves and what they were delivering. Great haircuts, La Chemise Lacoste, Armani, Hugo Boss, etc. No attempt to emulate the clichéd styling of indie bands or vintage Rock-n-Rollers. Their look and sound are as relevant now as they ever were.
I would regularly see them and their entourage in the same places my pals and I were going to. I remember watching the video shoot for Lazyitis one Friday teatime, which was shot under the Mancunian Way with rain machines. I lived in a block right by there. After an hour, I'd had enough of standing around and went to get ready for my Friday night at The Haçienda.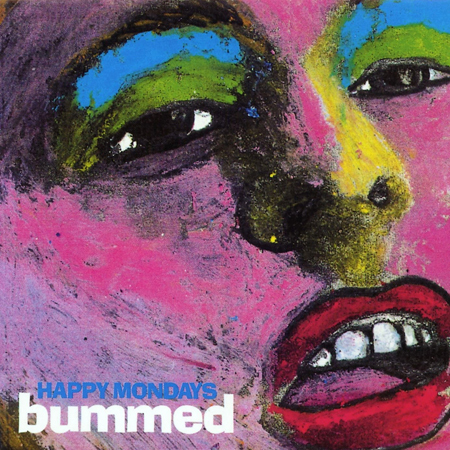 In the bath on the 11th floor with the window open, I could hear that tune belting out repeatedly from the PA below as they carried on shooting. I went to a lot of Happy Mondays gigs. In '88 and '89 we were going to raves, but these events were completely different. Acid house was not for spectators. Watch any YouTube footage of Shaun's interviews from this era and you'll soon realise that he didn't suffer fools. They were older than us and they were so smart, which mattered. When they were starting out, someone from a record label approached the band and told them that they would need an 'image'… Idiot.
They hate analysis and dissection. Their work deserves better than to be intellectualised. Pontificating about this record goes against the grain of what it is and what they are. It is impulsive. It is spontaneous. For me, this is the record that defined their sound. Not as rough as their debut and not as polished as its successor.
Paul Ryder once told me a story about how he would pick up Martin Hannett (aka Martin Zero) to drive to the studio in Stockport to finish the album. On the first morning, Martin got into the car and told him that he was to take a different route every day for the next thirty. I asked Paul if he questioned why Martin would want to do that He replied: "Of course not. I just did it."