In a rare interview, Jean-Paul Goude, the multi-talented graphic artist and photographer who 'broke the internet', discusses his new collaborative exhibition with Tod's in Milan
It's almost the norm for an artist to stick to a single medium after they've mastered it. One reason for doing so could be to avoid spreading themselves too thin, and diluting their talent across various artistic formats. But, for 75-year-old French artist Jean-Paul Goude, this was never the case. The multifaceted Parisian began his career at Esquire magazine in the 1960s, where he became art director. Since then, the Frenchman has worked as a photographer, filmmaker, graphic designer and illustrator across television, fashion, publishing, fine art and performance. In 1989, Goude was given the honour to art direct France's bicentennial parade, which marked 200 years since the end of the French Revolution.
Goude's body of work stretches back over four decades and, to celebrate that achievement, Padiglione d'Arte Contemporanea in Milan is hosting a retrospective exhibition of the artist's oeuvre, in collaboration with Italian shoe and leather brand Tod's. The show includes a number of Goude's sketches, which he draws out before embarking on every single project, as well as other images and photographs produced during his 40-year career, including his powerful and sexually charged images Grace Jones – his muse – and the notorious image of Kim Kardashian that supposedly 'broke the internet'. Here, we catch up with Goude to discuss his upcoming retrospective.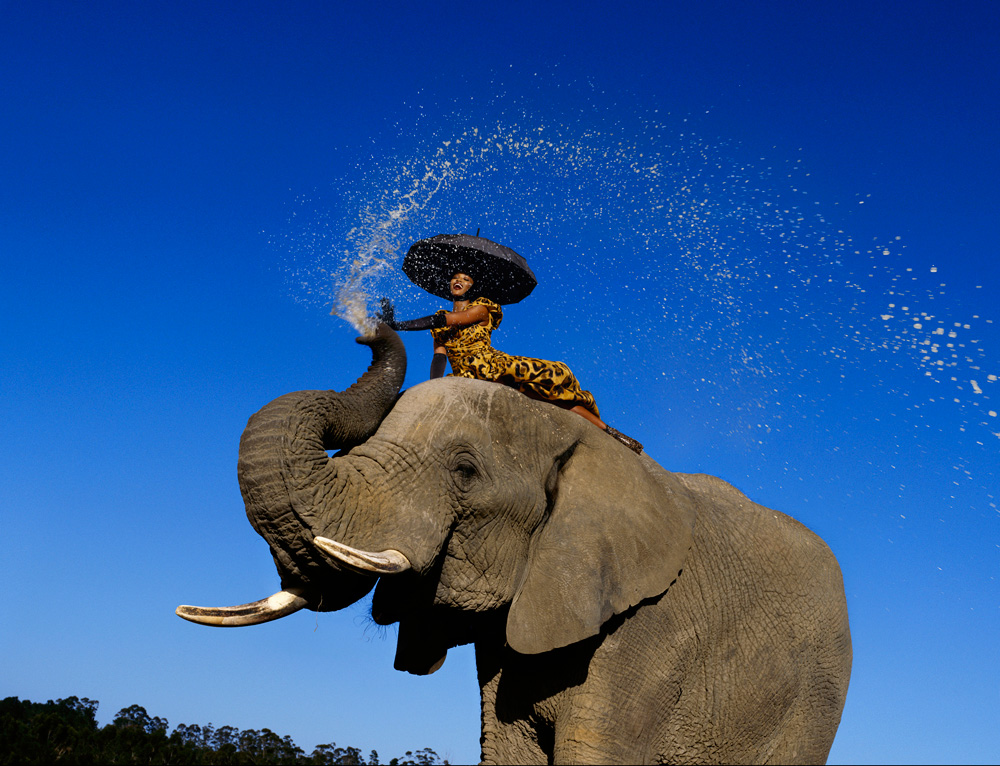 You have been described as an artist, illustrator, photographer and a filmmaker. How do you prefer to define yourself?
I am a graphic artist. That's what I am and that's why I use film, photography and drawings.
Your work is renowned for the careful handmade process it requires. How would you describe the creative journey that brings your images to life?
I try to find an idea first, then I transform that idea into a drawing because I am obsessed by proportions. The drawing can be developed into a script or into a film. Generally, this is what I do also with photography: the pictures are the result of my graphic mentality. You start with a white page and you imagine what you want to put on the page and then develop the idea. A real photographer, instead, is there to capture an extraordinary moment and that is different – that is not my mentality at all. I start from the style and this is why I do all my drawings first. What is interesting is that all of these images go together quite well; my childhood fantasies are still the same at the end of my life as they were at the beginning.
Can you tell us a little bit more about this collaboration with Tod's on So Far So Goude?
This is my first time in Milan and it is wonderful. I was delighted to be invited, it is a great compliment. The exhibition collects a range of my sketches, drawings, photographs and films done between Paris and New York. We looked back in time and tried to determine the roots of my work.
How did the women you met in your life influence you and is there a special meaning in the title of this exhibition?
I didn't meet many women. I really fell in love maybe three or four times in my life and obviously these women became the subjects of my pictures and films. The title refers to the expression, and this is what happens with me. It means the story is not finished yet: I am still alive and I am still producing. So far, everything is really good.
So Far, So Goude runs at the Padiglione d'Arte Contemporanea in Milan until 19 June