Former Comme des Garcons employee, Chitose Abe, on the traditional garment-making techniques and reinterpreted fabrics from her Tokyo-inspired collection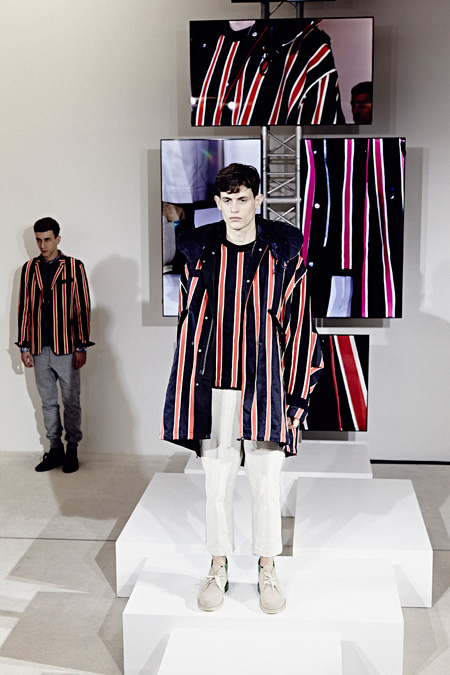 There are three types of Japanese brands showing and presenting in Paris; the streetwear and craftsmanship focused labels, like Visvim, and the old-school masters á la Rei Kawakubo, Issey Miyake and Yohji Yamamoto, plus the type of brands that sit comfortably in between those two categories. The perfect examples of this type of mid-sized fashion companies are Kolor and Sacai. As Kolor showed at Pitti this year, it was down to Chitose Abe – a former Comme des Garcons and Junya Watanabe – to fly the red and white Nippon flag in France:
"The SS14 collection is a study of traditional garment-making techniques and fabrics reinterpreted for a man living in the modern day. The idea of volume and mixed textures was explored through the use of various new fabrics and silhouettes taken from classic menswear items.
"My inspirations have always come from my daily life in Tokyo. It's a city where many different people and cultures co-exist and there are always new ideas that develop in a way that is unique to Tokyo. Living in this city, I'm greatly influenced by the subtle feelings and sometimes even slight discomforts that I experience. I believe that the Sacai collection is what it is because of the fact that I'm living and designing in Tokyo."
"This season the focus of the collection was about the contrasting fabrics, and some of the key fabrications include a very soft and thin nylon with an ink-jet print of a glen check pattern used to create a voluminous military style mod coat. This fabric was also used to create a drizzler jacket and button-down shirts, giving these familiar menswear items a sportier feel. In contrast to the soft nylon, I also incorporated extremely stiff fabrics such as glencheck and houndstooth suiting that has been bonded to create a stiffer fabric that stands away from the body creating volume in a completely different way than the nylon. I also incorporated a resin-coated cotton gingham fabric with Bora embroidery to create a garment that was stiff, but also had a softness created by the embroidery.
"The flower pattern was also very important to this collection and I created a tone-on-tone flower jacquard, which we made to look like a modern version of camouflage. I also incorporated a cotton flower print in classical menswear items such as the Chesterfield overcoat, drizzler jacket, and dress pants to re-imagine these items in a more modern way."
Words David Hellqvist
Photography Katsuhide Morimoto