David Hellqvist talks to Dominique and Francois Gaulme about the "world history of politics and dress"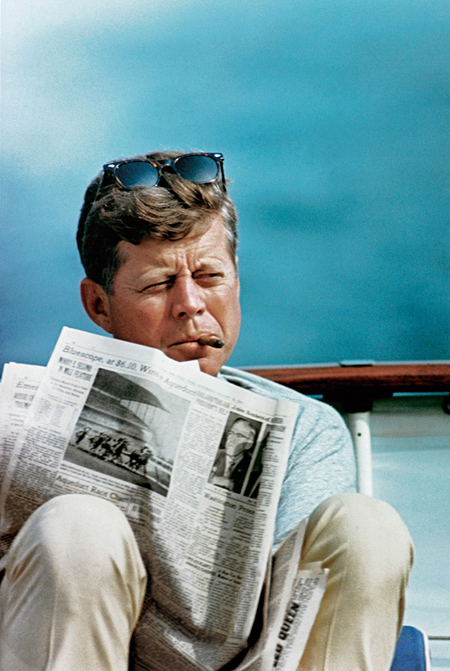 U.S. President John Fitzgerald Kennedy on board his sailboat Honey Fitz, circa 1960–63 © Corbis
Text David Hellqvist
The link between power and what clothes you wear is long established; to sartorially communicate is an ancient language, admittedly one that some speak better than others. But the way world leaders dress have changed drastically over the years. A few hundred years ago, when unelected kings and queens ran countries, outfits were often dramatic and extravagant. Contrast that with 2013 when a politician's worst nightmare is to stand out because of a wardrobe malfunction, be it a male or female leader.
The relationship between fashion – or at least style – and power has only been widely discussed in the last few years. Since politicians became semi-celebrities, with every inch of their private lives scrutinised, it's no wonder that the public, or at least media, soon zoomed in on what is worn by who. This concept, plus a healthy look back in history for context, is the subject of Dominique Gaulme and Francois Gaulme's latest book, Power and Style: World History of Politics and Dress.
For the French duo, power and style go hand in hand: "In traditional societies, style is simply the public and visible face of power. Types of clothing and ornaments are never mere whims adopted by individuals. They have to match the political and social status they are supposed to symbolise," they say. But 21st century mentality has done its fair bit to free the spirit. "In our more liberal societies, an often untold dress code system gives more room to individual tastes: a business suit is power in every country, with a couple of national differences here and there."
The way people of power dress has changed immensely. As mentioned, this is mostly down to the fact that all politicians today are popularly elected; the people need be able to identify with them. "The first to realise the 'power of clothes' was probably sacred kings or priests so power used to be communicated in a very formal way, through a crown or royal garb for instance. Nowadays it has become more understated: sporting a plain charcoal suit under sharp mid-day light either means one is going to a funeral or is 'the President'."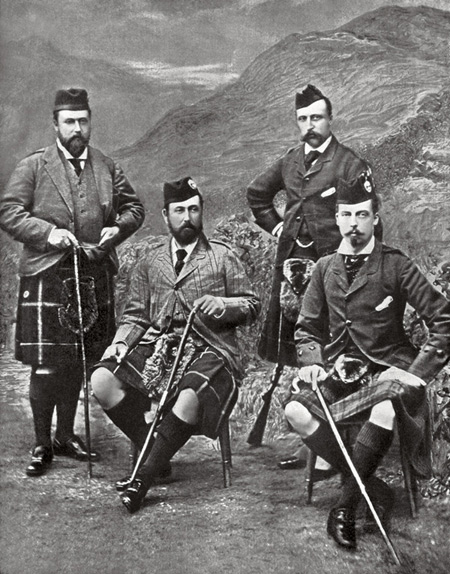 Prince Albert and His Sons: Albert, Prince of Wales, Arthur, Duke of Connaught, and Leopold, Duke of Albany, 19th century. Private collection. © Private Collection / Ken Welsh / The Bridgeman Art Library
Ignoring modern day politicians for a while, and looking back into a not very distant history, it's interesting to catalogue 'good' and 'evil' based on what they wore, even though it's of course a very subjective debate: "Yes, there are no obvious answers. It was supposed to be used for 'good' by the Pope or the Dalai Lama; it was certainly deliberately used for 'bad' and inspire terror by the Hussars of Death and the SS in Germany, as well as by some feathers-headed sorcerers and evil mask-dancers all over the world," the journalists says.
But the notion of power dressing is constantly changing, according to Dominique and Francois Gaulme. Even the modern uniform for career politicians has, in the last 40 or 50 years, been the subject of modifications and updates."Yes, it's an ongoing process of simplification: the three pieces suit gave way to the two pieces; the tie which used to be just the ordinary man's companion is turning now into a distinctive badge for managers and elites throughout the international system." The book maps the development from kings and queens dressing the part to John F. Kennedy charming the pants of the electorate by coming across as handsome. All of a sudden, people were not just aspiring to the lives of movie stars and celebrities, but to the lifestyle, wife and wardrobe of the President of the United States of America. All because of a few polo shirts and pair of Ray-Ban Wayfarers.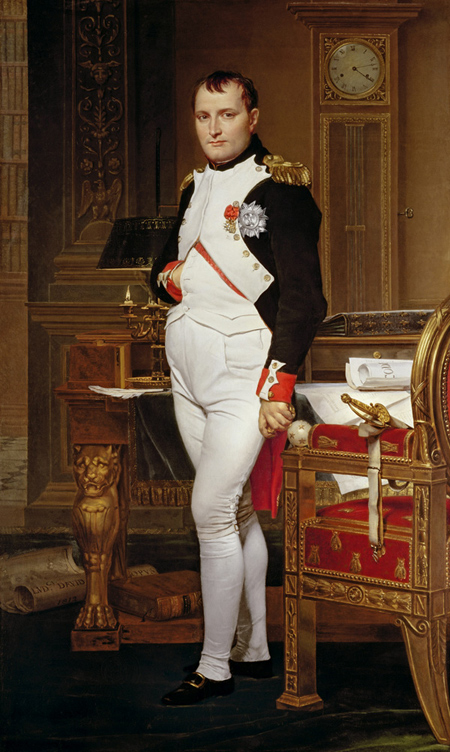 Jacques Louis David, Emperor Napoleon in His Study, 1812. Oil on canvas. Samuel H. Kress Collection, Washington D. C. © Wallace Collection, London, UK / The Bridgeman Art Library
You can buy Power and Style: World History of Politics and Dress here