Port's fashion editor picks the best looks from the Paris Spring Summer 2019 shows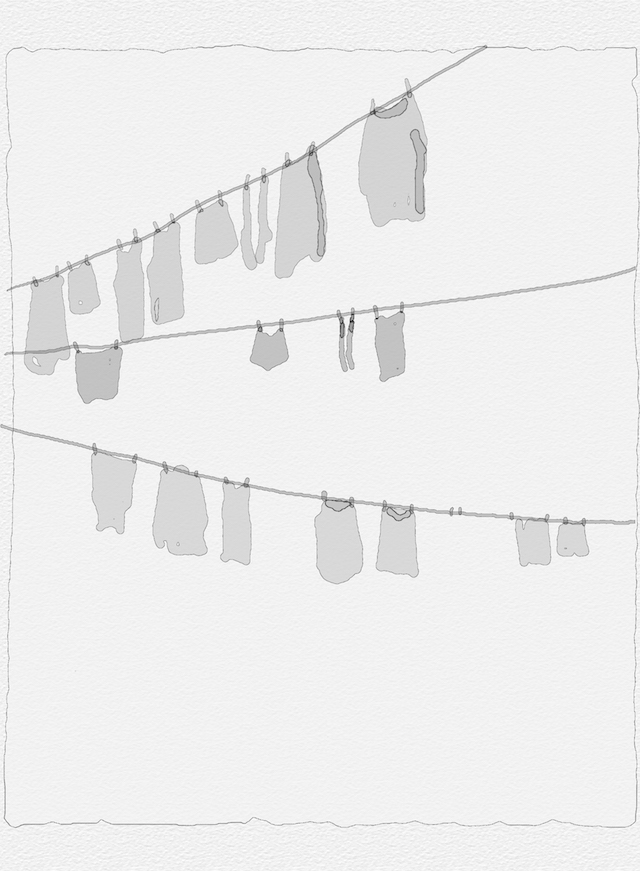 Paris was hot, the schedule cramped and the calibre of designers high. Conversion centred on the clash of titans: Kim Jones v Virgil Abloh – Jones, the fashion darling's master craftsman, launched his debut at Dior, and Abloh, the self-made cult figure of streetwear, did the same at Louis Vuitton. Very good friends, both have the press, celebrity appeal, and the power to drive menswear in two very different directions – Kim pushing towards couture and Abloh humbling luxury fashion by including it in a wider cultural conversation.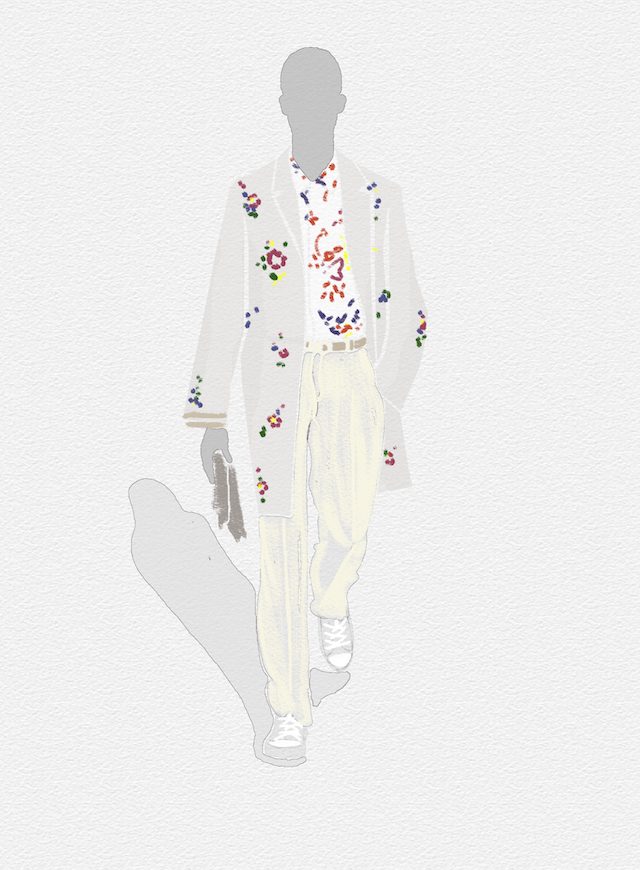 Dior – LOOK 35
The much anticipated debut collection from Kim Jones delivered in abundance; a breathtakingly chic parade of soft pinks, blues, tans and whites that took form in a diverse range of suiting, shorts, shirts and beautifully crafted coats and jackets. Models circled a towering cartoon-like floral sculpture created by Dior collaborator and New York street artist, KAWS. The giant 'BFF' companion mascot seemed triumphant as it heralded a new dawn for the elevation of both menswear and Dior Homme. Accomplishing his self-assigned mission to translate "feminine couture identity into a masculine idiom", here Jones transcends the simple overcoat with a weightless transparency and florals sculpted from feathers. True luxury.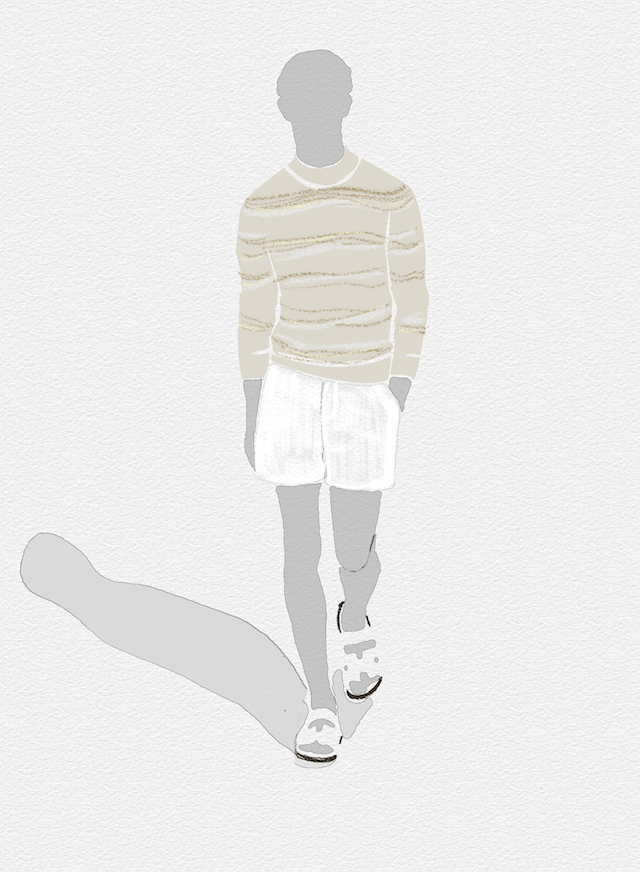 Hermès – LOOK 48
While remaining true to the brand's luxury codes, Hermès's long-standing designer Veronique Nichanian added subtle touches of streetwear and splashes of bold colour to bring the house up to date with modern trends for Spring Summer 19. Set in the historic Cloître des Cordeliers courtyard on breezy Saturday evening, with Hermes' crisp white laundry hanging on lines overhead, models sauntered by nonchalantly, as if holidaying on the French Rivera. The fabrics remained luxury and the collection, on the whole, effortless, but the inclusion of season highlights such as the use of yellow and, in this look, the headline making 'short' short, proved the continued relevance of the brand.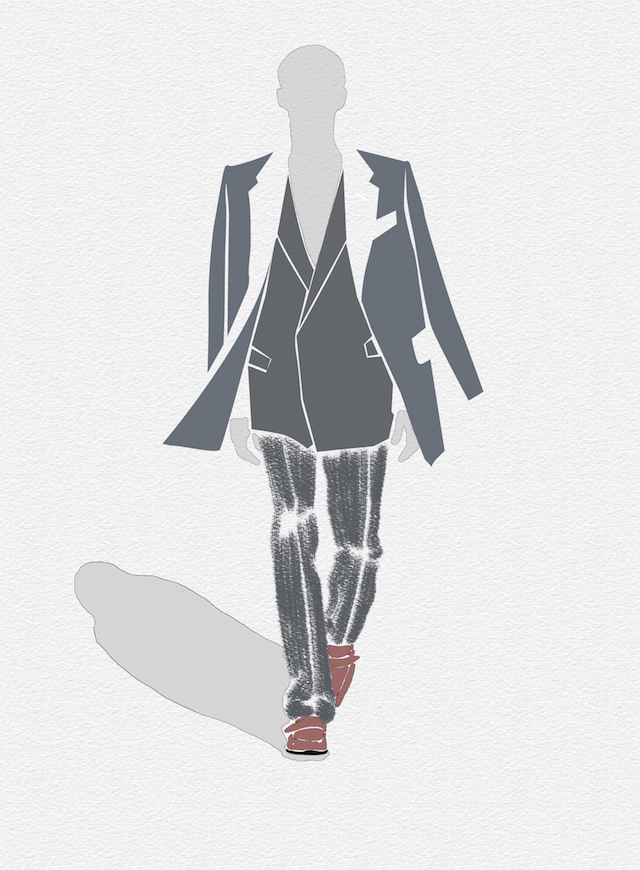 Dunhill – LOOK 25
Continuing to shake things up in his second year at the creative helm of the British heritage brand, Mark Weston presented a collection that was elegant, fluid and subversive. The arched passageway of the Jacques-Decour private school was the perfect backdrop for this lesson in modern tailoring, with Weston questioning "notions of taste and aspiration, particularly those related to certain ideas of British clothing cultures" with looks designed to blur class boundaries – in this instance a sublime suit wore shirtless to increase its street credibility.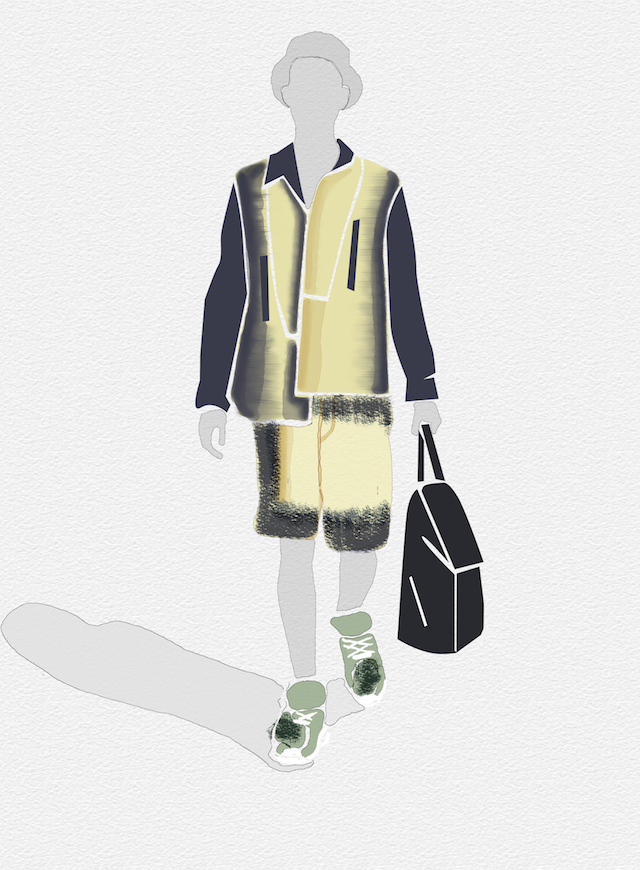 Loewe – LOOK 17
Jonathan Anderson wanted to tell 'intimate stories of bohemian life' through his SS19 collection of oversized knits, casual linens, and hippy-like, eccentric prints, which included the surprise motif of Disney favourite Dumbo. The presentation style was as laid-back as the collection: models rotated, clothes were hung so the tactile fabrics could be touched, and brightly coloured pom-poms covered the floor playfully. The collection was accompanied by images of the models casually placed in and around an empty Madrid mansion – painting, musing or relaxing, and continuing this idea of romanticised decadence. Ready-to-wear was of course accompanied by leather bags, the origin of the Loewe brand – in this look, a practical butter-soft brown rucksack that perfectly compliments a sun-bleached effect tie-dyed shirt and short combo.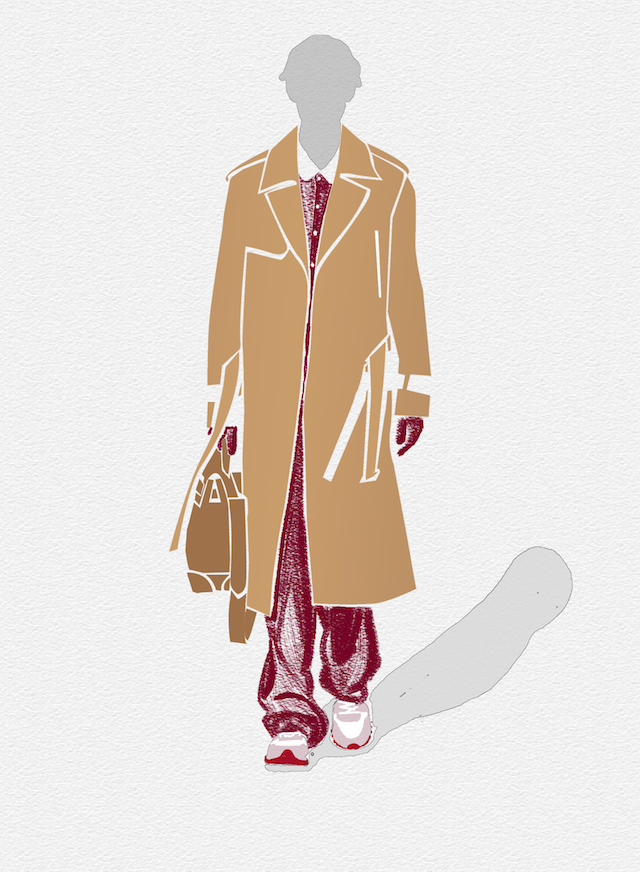 Louis Vuitton – LOOK 37
The fashion industry waited with bated breath for Virgil Abloh's debut at Louis Vuitton, eager to see how the streetwear giant would translate his urban style into a luxury product. As if symbolic of Abloh's meteoric rise, the seemingly endless rainbow runway in the Jardin du Palais Royal gave a sense of optimism and change. A parade of all-white tailoring – neat jackets and shirts teamed with relaxed over-sized trousers – was followed by Abloh's familiar territory of technical wear, harnesses, flashes of neon and bold colours, including this red look: sportswear-influenced in its silhouette yet elevated by styling and an elegant brown leather trench.
Illustration Jayma Sacco