Jolyon Webber talks to the photographer about his first UK solo exhibition at London's Atlas Gallery, exploring imaginary, timeless worlds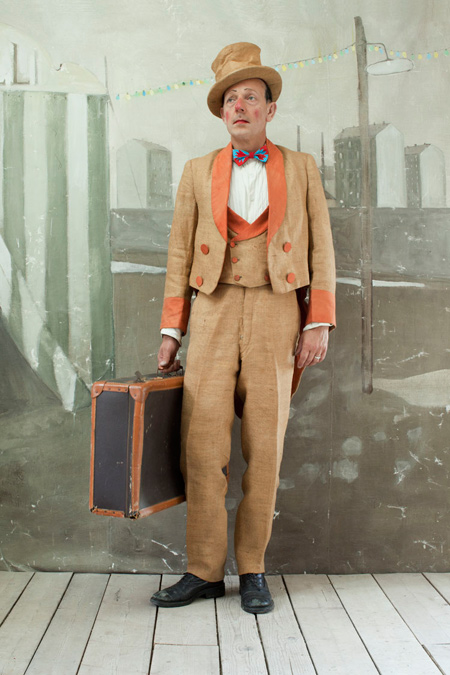 Paolo Ventura's first solo exhibition, at London's ATLAS Gallery, incorporates two different strands of the artists work. One, The Infinite City, is a series of miniature buildings and street scenes, built by the artist, then photographed on Polaroid and altered by hand.
The effect is to present a town either not yet populated or recently deserted, one that exists outside of time and outside of the influence of population. Ventura explains that, "it's almost like a past or future time, it could be either. I didn't want to be specific about time. They're just set in time. A different time. No time". Apart from an earlier work 'War Souvenirs', irrefutably placed in Italy after the Second World War, Ventura's work inhabits a strange hinterland.
The other set of photographs on show is a continuation of his Stories series. They set the artist (and his wife and child) in a three different tableaux – 'The Man in the Suitcase', 'The Knife Thrower' and 'The Bird Watcher'. In the past, Ventura has made dolls and placed them into his sets but has discovered a desire to visit his imaginary worlds himself – "I got familiar with the spaces I created and I felt like I needed to be there myself".
The working process for these stories came about partly by happy accident. Part of his studio roof fell through, giving the space a new light. He fixed some glass into the gap and constructed the stage upon which the photographs were taken.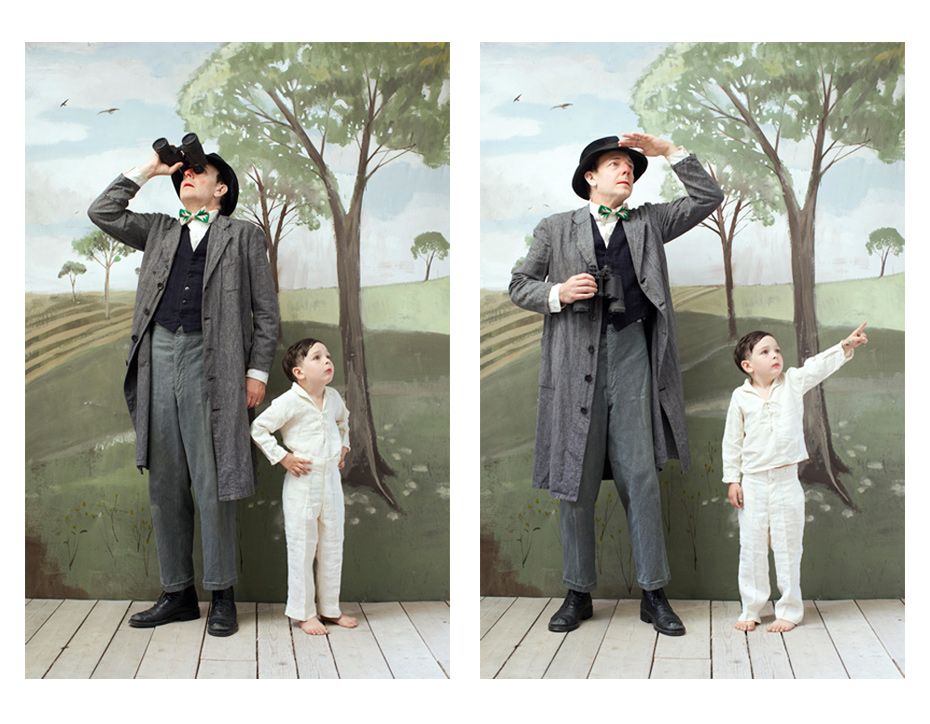 Imaginary worlds, dressing up and make believe are integral to his work. He learnt, as a child, that these things could still feed into an adult's working imagination. "My father was a very famous children's book illustrator in Italy and he had a studio in our house. What we saw was someone working but having fun at the same time, so as an adult I've always thought that working could be fun."
"For me the work is just pure pleasure. I like to involve my family too, though I don't think they get the same amount of pleasure out of it as I do! My son said it was very boring working with me! He also said, 'You look very elegant Papp, but please don't pick me up from school dressed like that!'". And the costumes are certainly something leftover from childhood. "Since I was little I've been obsessed by costume – I used to dress up all the time but no-one appreciated how elaborate they were!"
Despite the sense obvious sense enjoyment the artist derives from the work, there's an undeniable sense of the macabre underpinning them – the lost boy in 'The Bird Watcher', the potential murder of his wife in 'The Knife Thrower'. "I didn't notice this at first but maybe I should speak to my psychologist… Perhaps it comes from the Italian culture, the church especially. Catholicism is quite oppressive. People always ask where my inspiration comes from but to me it's a mystery and I think it's good that it stays that way. Some things just come to me as I'm working".
The Infinite City is at ATLAS Gallery until November 23rd
Photography Paolo Ventura