PORT's fashion features editor, David Hellqvist, delves into the sustainable culture and the musical DNA that lies at the heart of Gothenburg-based denim brand Nudie Jeans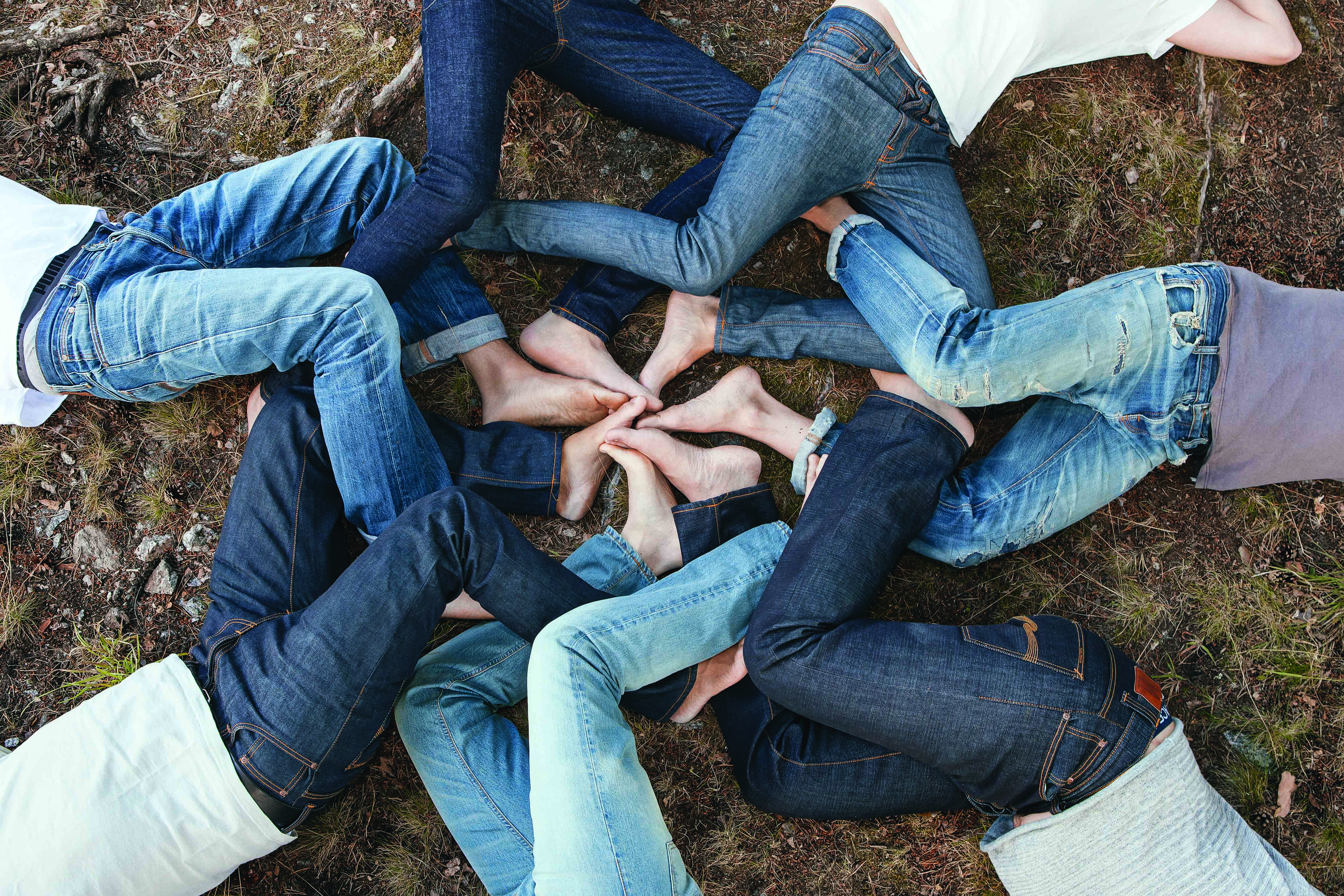 Denim is a universal fabric, worn regardless of nationality, gender, age and class. Its early pioneers were American brands like Levi's, Lee and Wrangler, who used the fabric for workwear because of its functional and durable qualities. These days, due to their obsessive quest to improve denim, Japanese brands are leading the high-tech charge when it comes to fabric innovation. But, at least from a stylistic perspective, a recent Swedish surge has played a crucial role in shaping what jeans of the future look like.
Acne Studios, for example, was a pure denim brand before it chose to focus on the high-end fashion aspect of its business. Today, there are plenty of established and well-known brands, as well as niche startups, selling the Scandi look. In line with the Nordic notion of 'sartorial democracy', there are also affordable jean brands catering for the young and trend-led masses: Cheap Monday, for example, which is owned by Swedish high street chain H&M.
An unusual Gothenburg-based jean specialist sits somewhere between these brands, quietly spreading its denim gospel across the world. Since it was launched in 2001 by creative director Maria Erixon, Joakim Levin and Palle Stenberg, Nudie Jeans has managed to craft a unique brand with a different point of view. Not easy to pigeonhole and with an individual approach to product development, the brand has its own definition of success.
"Nudie Jeans was born out of a dream not to compromise," Erixon explains from Gothenburg, Sweden's second-largest city. "We committed to being independent, and staying independent, right from the start. Doing what we do, the way we want to, is at the heart of our DNA and ultimately what I believe has led to our success today."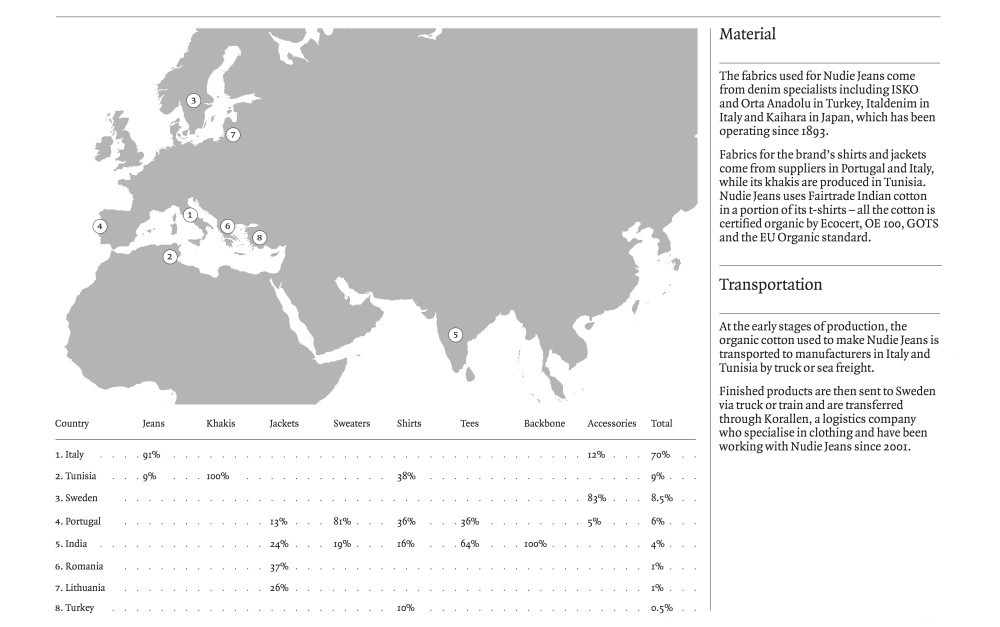 That DNA was, and still is, hugely influenced by music. "Joakim's background was music, while mine and Palle's was denim," Erixon adds. "These influences and experiences were complementary and caused us to be pragmatic." Today the focus is perhaps less on dressing rock musicians (although their jeans are a common sight at festivals, both on and off stage) and more on making Nudie Jeans the best company it can possibly be. Since 2011, it has taken a new approach to the life span of a pair of jeans, which has meant more than just looking at the selvedge and measuring turn-ups.
"There is no fabric like denim that has the ability to reinvent itself within its own domain, whilst also staying true to its original identity," Erixon says. "Denim is an institution and has, as such, a unique ability to form a relationship and alliance with its wearer. No other fabric gets better the more you wear it. And tear it. And repair it!" The 'repair' part is key. Instead of throwing away used and torn denim, Nudie Jeans encourages customers to bring in the damaged pieces to a Nudie Jeans Repair Shop, where they're mended. Either the customer goes away with fixed jeans or they leave them behind and buy a new pair, with a 20 per cent discount. The leftovers are either broken up and used separately or mended and sold as vintage jeans.
"Prolonging and extending the life of your denim is at the centre of the Nudie Jeans Eco-Cycle philosophy, and the Repair Shop concept really is a response to this," says Palle Stenberg, cofounder and CEO. Last year, they repaired over 30,000 pairs of jeans in-store globally. Since the beginning of June 2015, the figure was at just over 20,000, meaning over 40,000 pairs of jeans are expected to have been handed in at the end of the year. The dedication pays off; in the past, Nudie Jeans has received domestic Swedish awards for the programme, and, earlier this year, won the 'Sustainable Style' category at the Observer Ethical Awards.
But Nudie Jeans also looks at what can be done to improve the denim's ethical DNA before it gets to the repair stage. "Conventionally produced denim takes a lot of cotton to be harvested in order to meet consumer demand, and the environmental impact is huge, leaving the earth ravaged and taking years to repair itself," Erixon says. "To combat this we now only use organic cotton in our jeans. The purpose is to ensure Nudie Jeans' customers have the best possible garments, made the best possible way."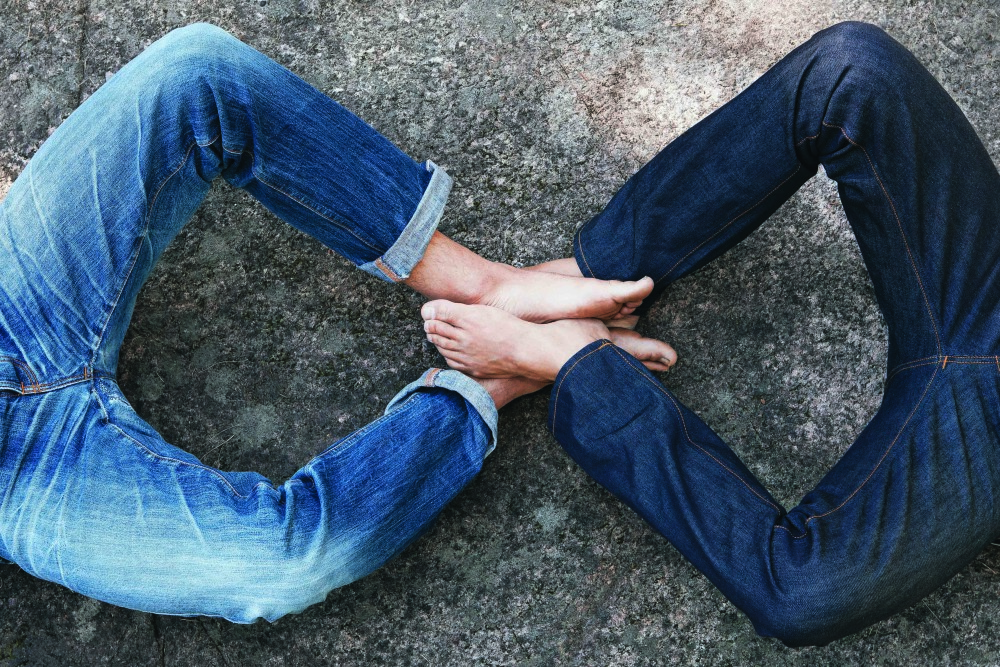 "We want to ensure we do not expose workers involved in the cotton and garment production to the dangerous pesticides, fertilisers and defoliants associated with conventionally grown cotton. We care and are conscious of the environment, and do not want to contribute to the damage on the land where conventional cotton is grown," says Sandya Lang, corporate social responsibility manager at Nudie Jeans. "Finally we want our consumers to see the benefit of using organic cotton instead of conventional grown cotton, and realise it benefits all persons in contact with the organic denim product along the supply chain."
In 2012, the Repair Shop concept was officially launched and Nudie Jeans took its commitment to ethical manufacturing to a new level. The brand started to audit its suppliers and subcontractors globally. Later, all this information was uploaded onto the Nudie Jeans website as a 'Production Guide', where everyone can read up on the audits carried out on mills and factories. Initially, not everyone was convinced.
"Admittedly, at first, the reaction was a bit mixed, depending on where our suppliers were located. For example, it was easier to make the audit in India than Italy at first, as Indian suppliers are used to European companies conducting audits at their factory. Whereas this was a rather unusual request for Italian suppliers," Lang says. "But after we explained our purpose and intent with the audits, it's not been difficult to have them engaged in the process."
Making jeans that are worn by rock stars is one thing, but to do that while upholding integrity and social responsibility – towards customers, staff and nature – is entirely another, especially in a highly competitive environment. But Nudie Jeans has a clear goal, and knows what the ultimate purpose of the brand is: "We want to produce great quality clothing as responsibly as possible to the environment, and to our people. In our brand literature we state there should never be a trade-off between manufacture and environment, or profit and people, and we live by that," Stenberg sums up. "We want to inspire other brands in this industry to follow suit and produce responsibly and sustainably. This is a global effort."
This article appears in PORT issue 17. To buy a copy of PORT or to subscribe, click here