Port's fashion editor picks the best looks from Milan's Spring Summer 2019 show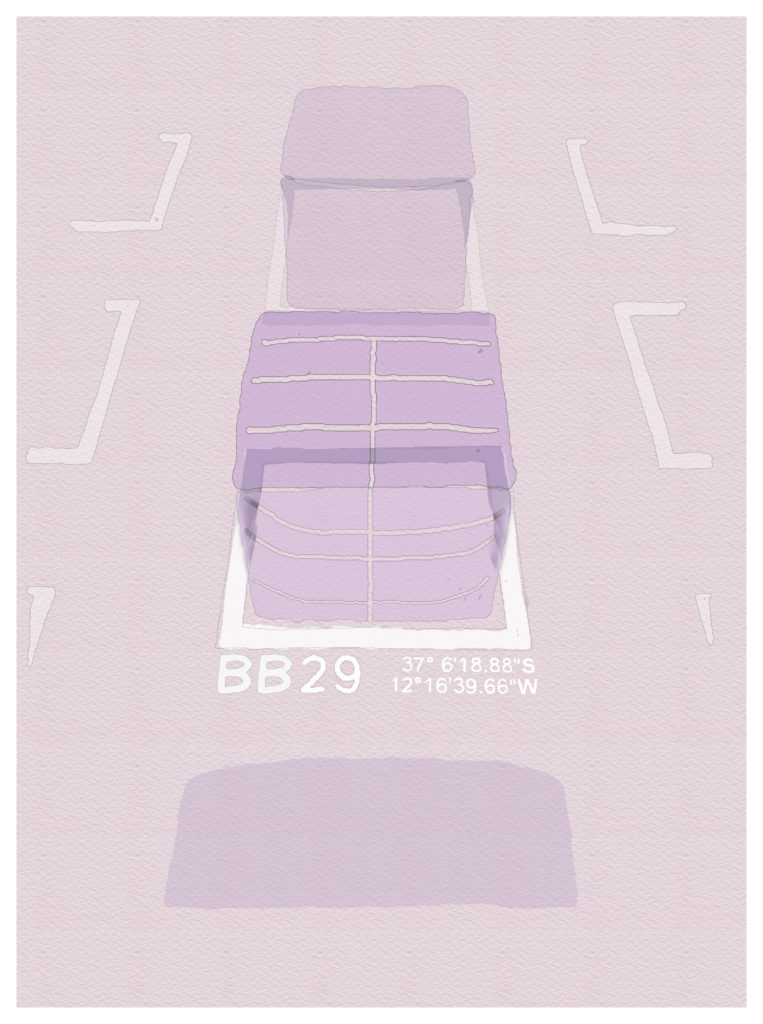 There was as much talk about the mosquitos as there was about fashion this year in Milan, which suggests the agenda and collections were perhaps not as engaging as they have been. Yet, as a relative newcomer to the Milan schedule, I still got my kicks, with Neil Barrett and Ermenegildo Zegna being particular favourites. For me, these two shows are up in the highlights of season that, in Milan, was characterised by the use of yellow, a sophisticated backlash to street-wear, and Zegna's 'new suit'.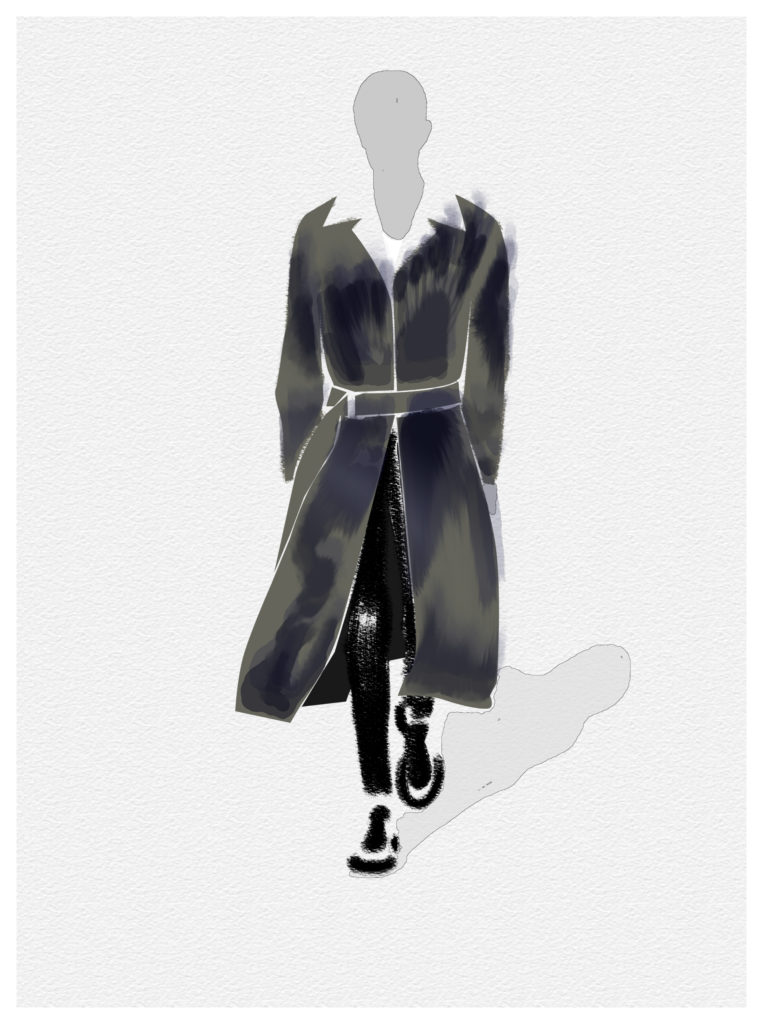 Neil Barrett – LOOK 26
A pioneer of sports-luxe and the go-to for directional tailoring, Neil Barrett this season moved away from his predominately monochrome shows of the past to explore 'Sea/Flowers' in a precise collection that was punchy with yellow and print. The colour play was apparent from the start as guests entered the space through yellow rubber strips hung from the ceiling, diffusing the light in the industrial space and creating a sensation of being underwater. Florals were managed in a modern and masculine way – some printed as if medals and here magnified to create an all over-print on this beautifully laid-back coat.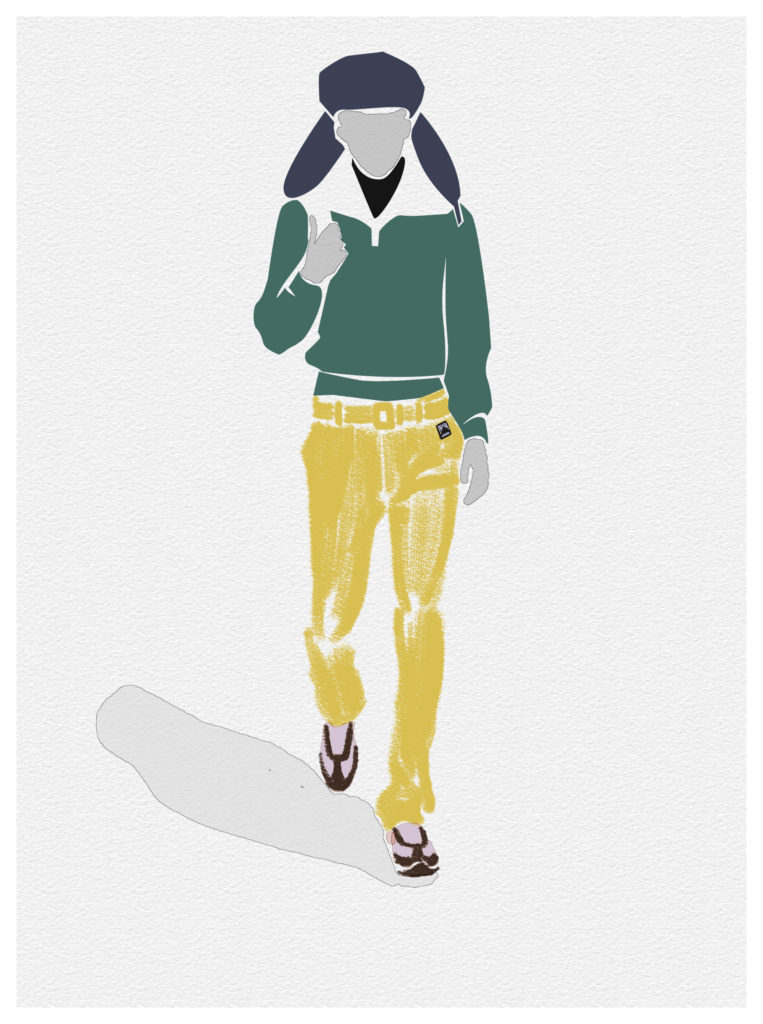 PRADA – LOOK 29 
Taking the mundane and making it desirable, Prada played its card for the reserved rather than the flash-pack this season. Sat on inflatable cubes that were lit with futuristic purple hue, guests saw an army of nerds descend. This zipped knit – reminiscent of retro skiwear and alpine adventures – was paired with the collection's signature high-waisted belted trousers in vivid yellow and an oversized trapper hat, and perfectly captures Miuccia Prada's playful exploration of both character and form.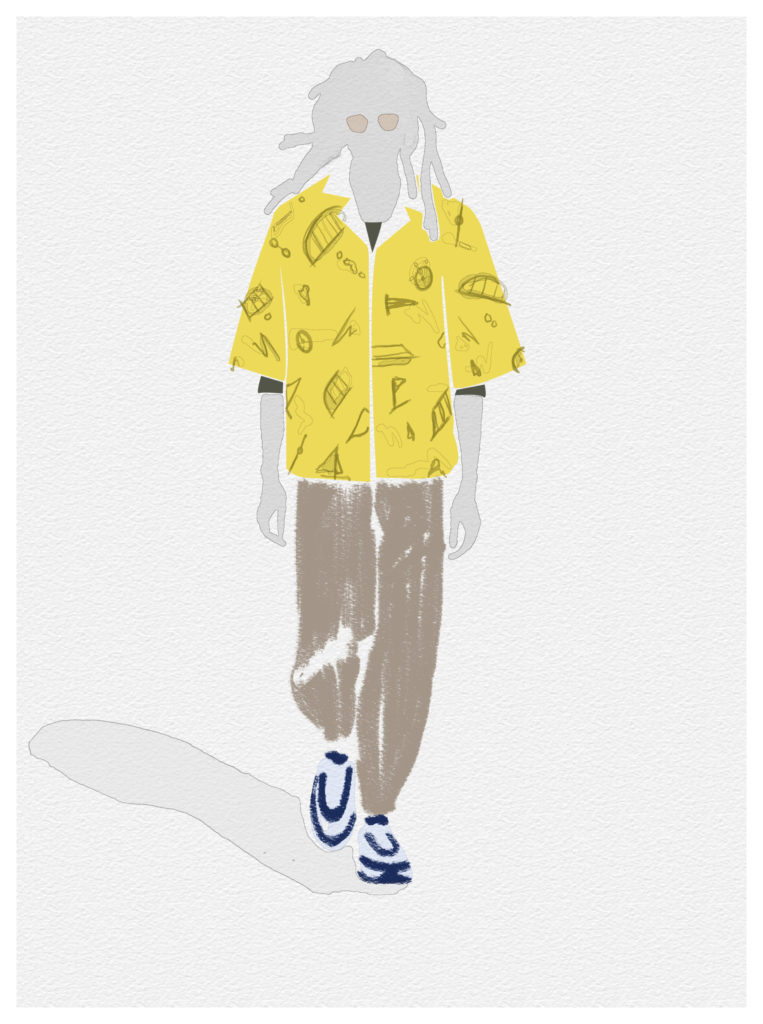 ZEGNA – LOOK 25 
Blurring the line between sophistication and streetwear, Ermenegildo Zegna reached out to the post-millennials without leaving its core audience behind. Set against the often-overlooked grandeur of Palazzo Mondadori – conceived by Brazilian architect Oscar Nieymar – both collection and setting told the story of how sharpness could be married with functional ease. Alessandro Satori's cuffed trousers were once again present, paired here with a printed boxy shirt over a hardly-there mesh top, giving the sense of weightlessness that Satori desired.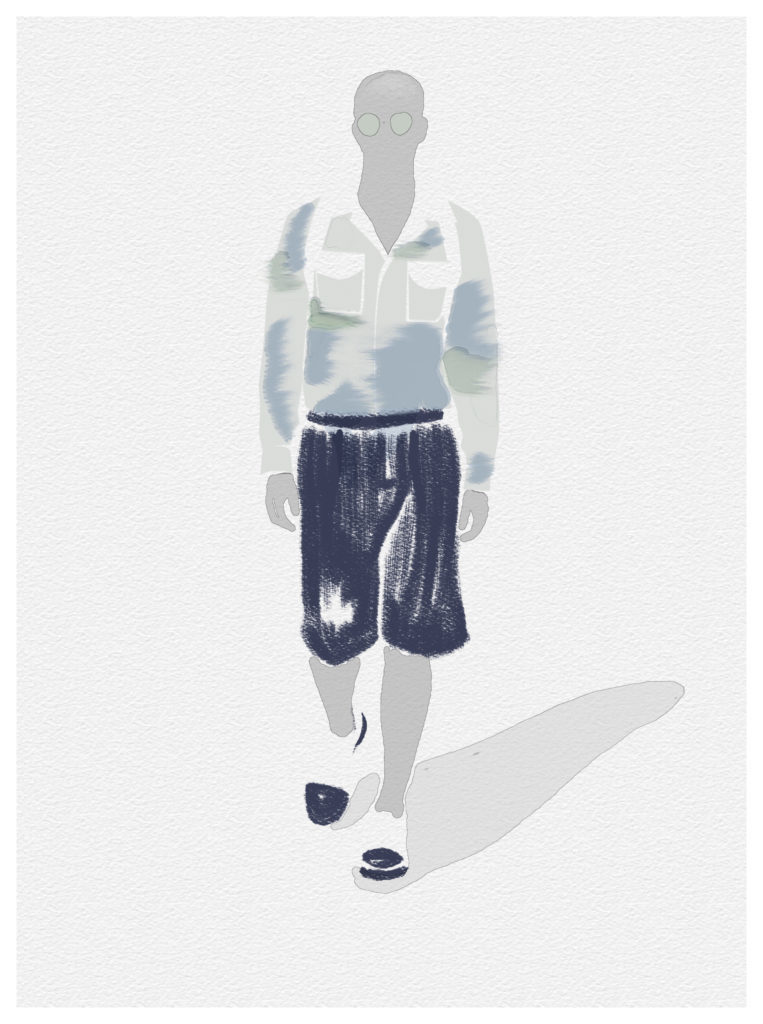 GIORGIO ARMANI – LOOK 71
Proving he is a veteran designer who will not be deterred by the banging of the trend drum for streetwear or influencer-friendly clothes, Giorgio Armani delivered a simple yet fluid collection, which was easy to understand and trust. Taking place in the familiar setting of the Armani Silos, on the usual cast of statuesque models, we saw the return of the double-breasted jacket and a perfect wardrobe for modern nomads, including this relaxed ethnic-printed silk shirt and easy to wear board shorts.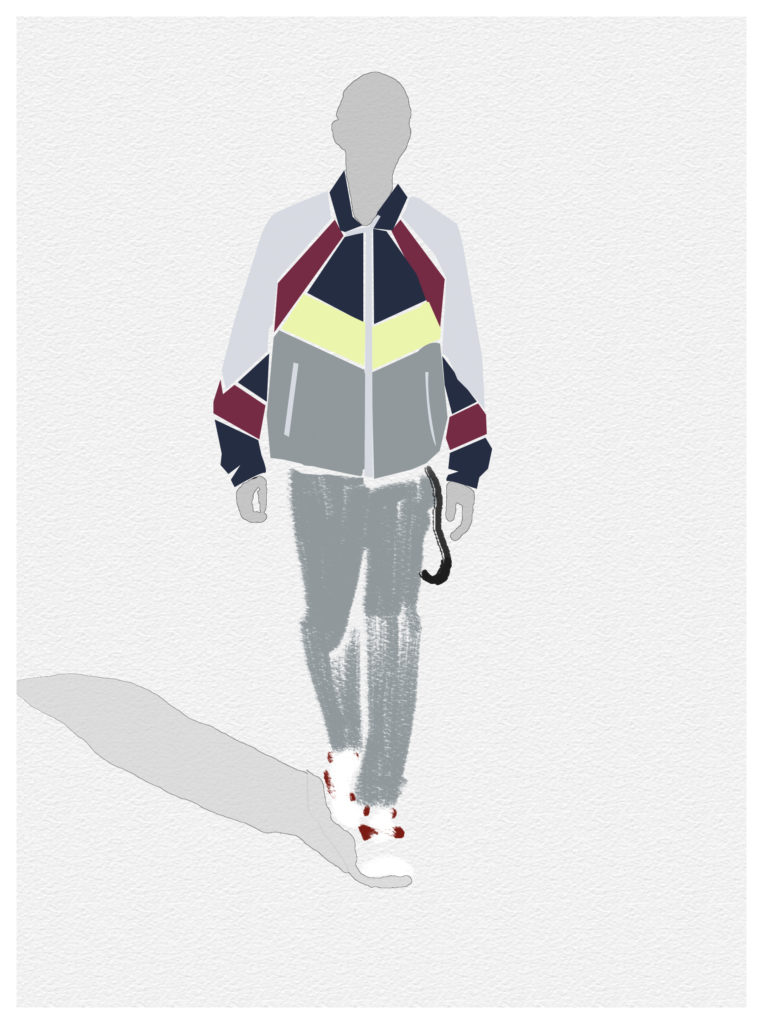 DSQUARED2 – LOOK 32
Maintaining their maverick reputation, the Caten Twins combined an unlikely mix of athleisure, military and undone corsetry to create a collection that felt both very on-trend and very them. Set in industrial warehouse space, with it's ominous red-light runway, it were as if we had been transported to the heart of clubland in some dystopian future, watching the club kids walk by in their heavily layered attire. More subtle looks such as this oversized track-top and pants in heritage checks (which would usually be reserved for tailoring) with highlighter neon stripes, made it both interesting and wearable. 
New Talent
For years Milan has been resolutely focused on the established fashion houses, with fresh graduates in the city being encouraged to quickly join the most esteemed brand they can find. So it was satisfying to see the capital of luxury fashion begin to offer support for emerging talent through initiatives set up to nurture new designers and their labels. There is a new spirit of youth in the city. 
One such initiative is the Camera Nazionale della Moda prize, now in it's fourth year. This season Port sat on the judging panel alongside leading industry figures – including Diesel founder and chairman of OTB Renzo Rossi, Angela Missoni, the creative director of Missoni, and Sara Sozzani Maino, deputy editor-in-chief of Vogue Italia – to decide that Mauro Muzio Medaglia of Accademia Costume and Moda was to receive the mentorship scheme and 10,000€ towards his brand. 
"The prize I received took me by surprise," Medaglia said after the presentation. "It has been an honour to receive it and I will work to transform this opportunity in a solid base for my future. The support I received from Camera Nazionale della Moda Italiana was very important, not only because it helped me in the development of my collection, but also because it is an endorsement for my career."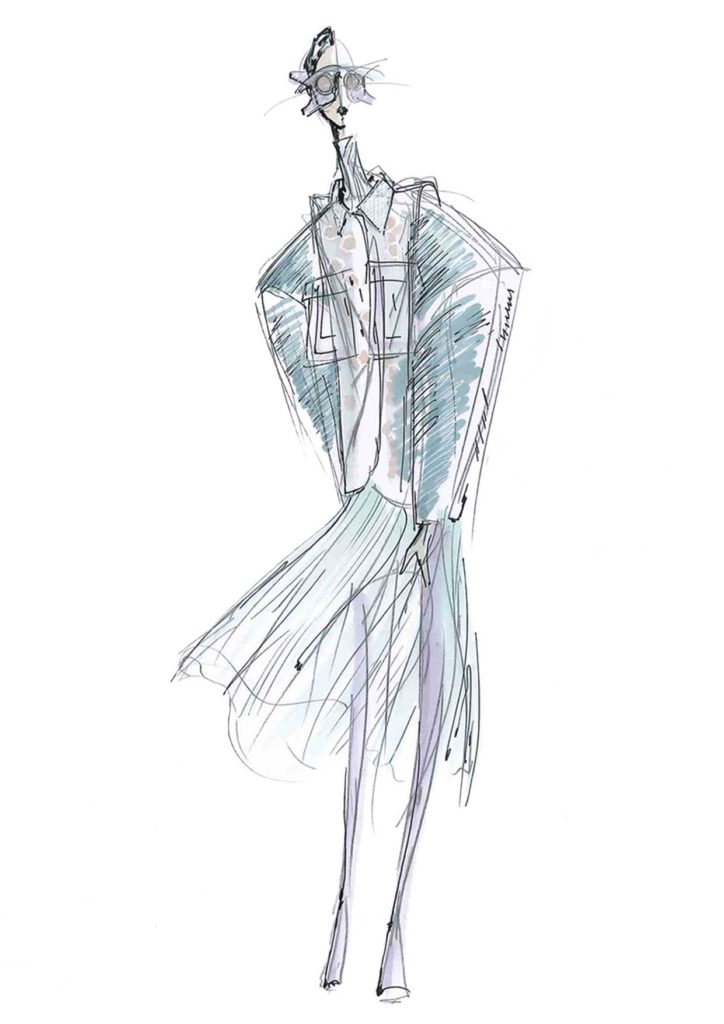 Medaglia's sculptural touch and attention to tailoring swung the decision in his favour. A palette of soft-hues in contrasting fabrics were delicately layered with a finesse the excels the experience of this designer, and the silhouettes, with their exaggerated form, added the final contemporary note to the collection. 
"Growing new talents is part of the mission of the Association and this event has a key role to confer visibility to the work and talent of the future generations," said president of the Camera Nazionale della Moda Italiana, Carlo Capasa. "This year the CNMI celebrated the 4th edition of Milano Moda Graduate and had the privilege to open the Men's Fashion Week. With this, we wanted to underline the importance of supporting new talents, promoting the creativity and capacity of the most merit-worthy students in the Italian fashion schools that are the future of fashion. The event fulfils the CNMI's desire to stimulate a dialogue between the most important luxury brands and the new generation of designers, who bring fresh perspectives to the fashion system. "
Runway illustrations Jayma Sacco