George Ghon and the Italian E-tail pioneer discuss how shops and magazines are merging and what the future holds for online fashion stores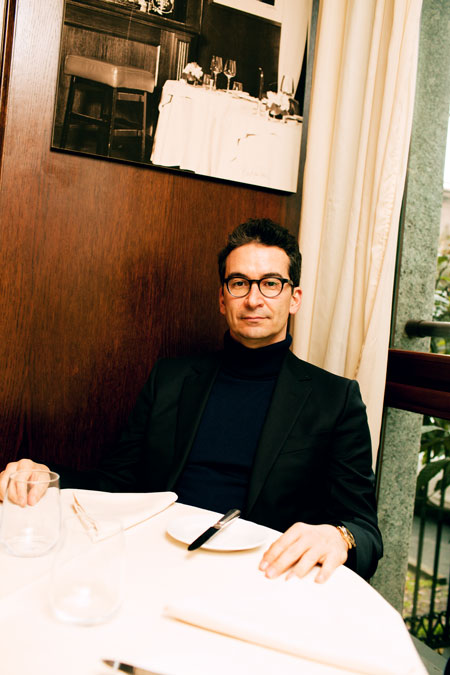 Text George Ghon
Photography Luca Campri
"There will be huge confusion between magazines and shops," Federico Marchetti, the founder of Yoox group, told me when we met recently during Milan fashion week, just before he was co-hosting the evening opening of Vogue Talents Corner with Franca Sozzani, editor of Vogue Italia. His high-end fashion site thecorner.com has been supporting the initiative for three seasons. But he didn't seem to be affected too much by the present perturbations rummaging through the fashion industry, with online shops snatching up senior editors, and publishing houses testing the tricky waters of e-commerce. He laid it out quite clearly, "If you want to be a magazine, don't collaborate with a magazine. We believe more in collaborating with magazines than competing with magazines."
When Mr. Marchetti started up with Yoox 12 years ago, it was a bumpy ride, first, raising the money in a risk adverse environment as Italy that doesn't exactly match Californian venture capital culture, and to convince fashion brands to commit to online retail, too. After the acceptance slowly grew, and the company managed to go public in 2009, as the single IPO issued at the Milan stock exchange that year, both the worlds of fashion and finance opened eyes and ears for the entrepreneur from Ravenna; and when he agreed a deal with PPR, the world's second biggest luxury conglomerate, to handle the infrastructure of all their mono-brand web shops (Bottega Veneta, Stella McCartney, and Alexander McQueen are due to go live in 2013), the fame grew, and the moniker 'Warren Buffett of e-commerce' came to mind. With 2012 net revenues at Euro 375,9 million, up 29,1% from 2011, he only cemented his status as the 'sage from Milan'.
A good week after we met, on March 4, it emerged that Condé Nast leads the next financing round of farfetch.com, the global fashion marketplace, with a stake of $ 20 million, and I reconsidered a question I put forward to Mr. Marchetti. Do you really think there will be a Vogue shop one day, I asked, sceptically. Isn't it a different thing what people want from a glossy magazine than from a shop? "There will be," he replied, without a tick of doubt or hesitation. "The big publishers will definitely go into e-commerce. They will go aggressively into e-commerce, because they will want to monetise their editorial strengths," he said, his knowledge apparently galloping miles ahead of mine. "But it will be a long-term strategy. In the short term it will be difficult; it is a change of culture for them, too." Looking at the circulation rates of UK magazines (Vogue grew 0,3%, Tatler 0,6%, Vanity Fair 0,5%, Elle 2%, InStyle 1,5%, Marie Claire 0,1%, respectively, in the second half of 2012) it becomes apparent that the market is consolidating. The use of digital platform grows, but its monetisation is not yet sufficiently resolved. No wonder then that publishers aim to enter the growing e-tail market, whose business model is straightforward, and promising. Hearst UK pushed ahead with the launch of theukedit.com, a shop-able site that combines editor's picks from various titles that the publisher owns in Britain. Marchetti is convinced that there will be a huge battle between magazine-shops in the future. "But Yoox won't play into this battle, because we have a different strategy. It doesn't make sense to compete with Vogue in terms of photography, styling; it makes more sense for a shop to think a bit out of the box, to differentiate ourselves. The bottom line is that we always try to differentiate ourselves – in the past, in the present, and in the future."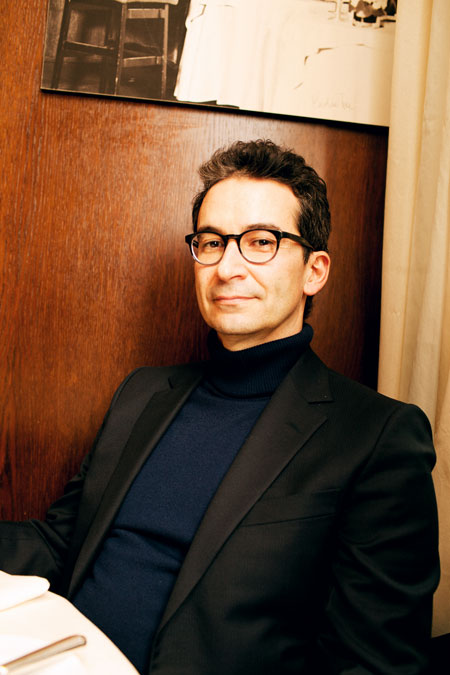 As we continue chatting, no opportunity is lost to bring a Yoox special project to my attention. I suppose that the talk about the bottom-line – the doing things differently than your competitors and always be a length ahead – is not just oratory recited from the MBA handbook (Columbia, in Marchetti's case), but entrepreneurial reality. The latest such venture is a framed postcard by the artist Francesco Vezzoli in an edition of 399. ("A bargain; 399 Euros for a real Vezzoli! The first time he is doing multiples. Mr Gagosian insisted on doing multiples, but Vezzoli is only doing it for Yoox.com!") The fact that the proceeds go to the Italian National Trust, benefiting the reconstruction of the town hall of Finale Emilia, damaged by the earthquake of 20 May 2012, might have helped to convince the artist. Investor's concerns about Mr. Marchetti getting lost in prestigious not for profit projects and forgetting about the business side of things are unfounded, however. Next commercial frontier: luxury services. Differentiating characteristic: An order from shoescribe.com, the latest multi-brand project from Yoox, arrives with a Polaroid in the box – to attach as visual to the monotone grid of the shoe-maniac's closet and retrieve the desired pair speedily. An old trick, conveniently updated.