Folk's founder and creative director argues the case for "non-restrictive and forward-thinking" tailoring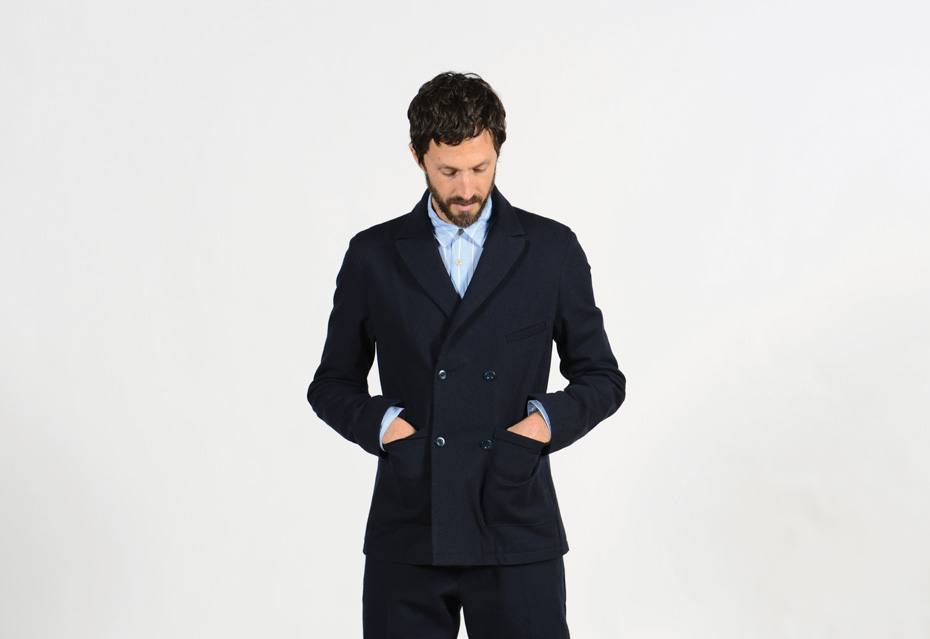 Our new Folk tailoring is an extension of our house style – every element is considered, from thread to toe. We have an introverted design style that has been tuned to making high quality, non-restrictive, forward-thinking designs. There are no set rules, no boundaries… we know what we like.
Whilst we don't necessarily try to follow trends, we make sure we go out and absorb culture – I think we had the whole office at Grayson Perry's British Museum show, absorbing the influences. We don't do this for a purely functional reason or to wholly adopt ideas, but as fuel for inspiration.
We spend a lot of time looking at what we have done and improving on it, looking at texture and colour and then drawing, more drawing, painting, looking at art and then more scrutinising.Our tailoring has Folk signatures but somewhat framed by the traditions of tailoring. For instance our tailoring is rich in texture and detail, but with more of a subdued tone than the separates. It's not classic in feel or cut though. Modern tailoring isn't a suit you put on and feel dapper, like the way vintage or a Harris Tweed suit might make you do.
Tailoring has reached a moment where it's not reserved for a particular people; not just for the rich, professional and the like. Tailoring can now be worn by anyone, produced in varying levels of quality and price. Formal tailoring will always be a limited to certain 'appropriate' situations, but there's always the exception: I sported my new tux to a big party in a field recently, it may end up being one of its very few evenings out.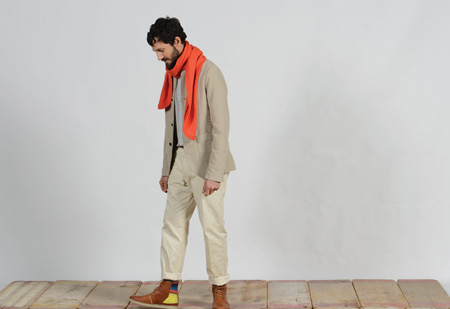 Photography Sammy GreenI think the modern man wants to look smart, but still have an element that says 'I'm individual' and relaxed with this style. It seems like casual tailoring is a popular way of achieving this.
My own perfect suit depends on the situation. Today the sun is shining, so I'm wearing a pair of the navy Folk bag trousers in a dobby cotton with the Cochrane jacket. The blazer is double-breasted but a light autumn style made in a Japanese fabric. Another day it might be an incredible double-breasted suit in a textured grey navy cotton. Perfect for a miserable, drizzly day as you feel really smart and, most importantly, feel just right.
How I think of tailoring and the style of what we do at Folk can be hard to place, but I suppose the saying by Oscar Niemeyer comes to mind, "I pick up a pen, a building appears, there it is. There is nothing more to say".
More info on Folk HERE