Paul & Shark releases SS21 collection and collaborates with the Shark Trust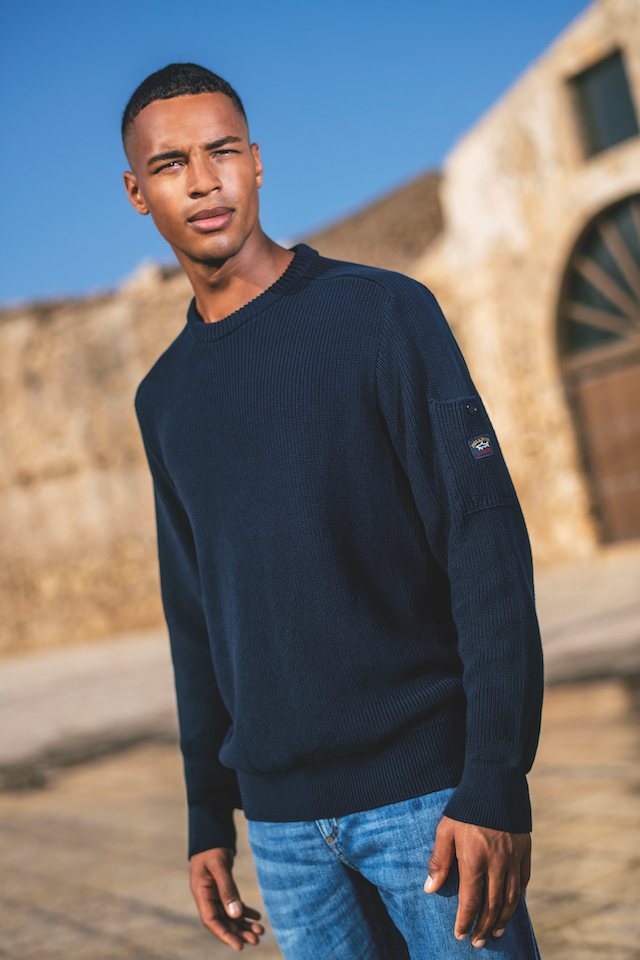 Increasingly renowned for its ocean preservation efforts, Paul & Shark began life at sea with a yachting collection in the early 70s, and has since expanded into smart casual and high-performance luxury sportswear. As ever, the Italian brand's newly launched SS21 collection is a sharp exercise in material innovation, featuring overshirts, jackets, trousers and swimming trunks made from fabrics as diverse as recycled plastic, eco-wool, second life goose down and ECONYL (regenerated nylon). The collection also refreshes its Save the Sea project – garments made by using certified recycled polyester filaments, derived from post-consumer plastic bottles that pollute the sea – creating a blue print fabric that mimics waves for its Typhoon jacket and pants. In addition to its more circular offering, loose nineties fit pieces and smarter silhouettes are available, alongside a nautical-inspired capsule that pays homage to the one of the most historic regattas in the Mediterranean Sea: the Giraglia.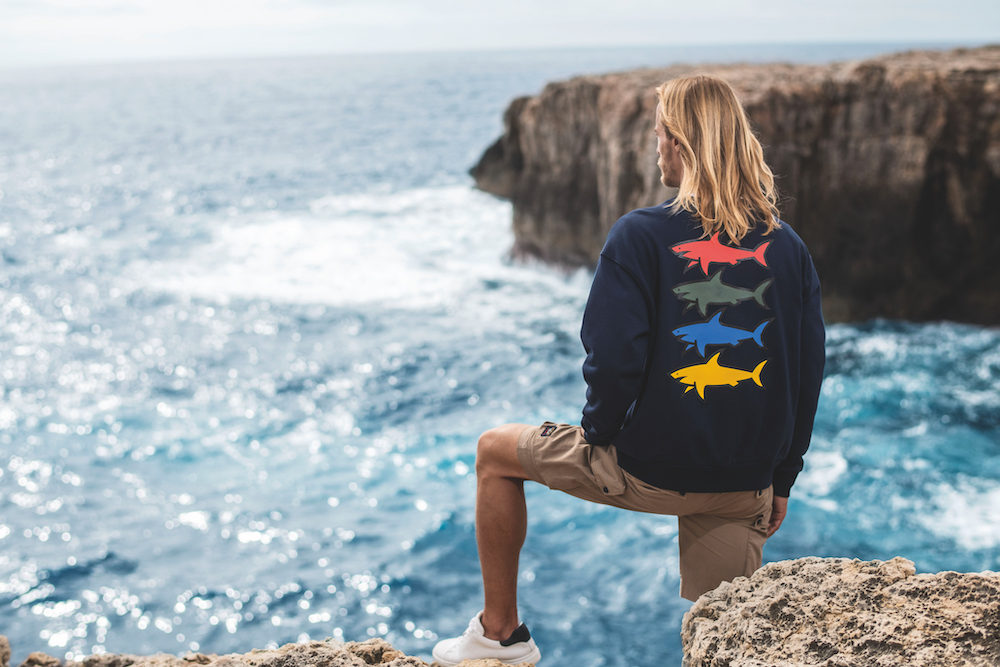 "The aim of the collection is to reach modern, conscious consumers, who are passionate about environmental causes, but also have a discernible eye," notes Andrea Dini, president and CEO of Paul & Shark. "We can help to close the loop and have both: new products and a healthier environment. Paul & Shark was born from its founder's passion for the sea and we intend to give something back to it."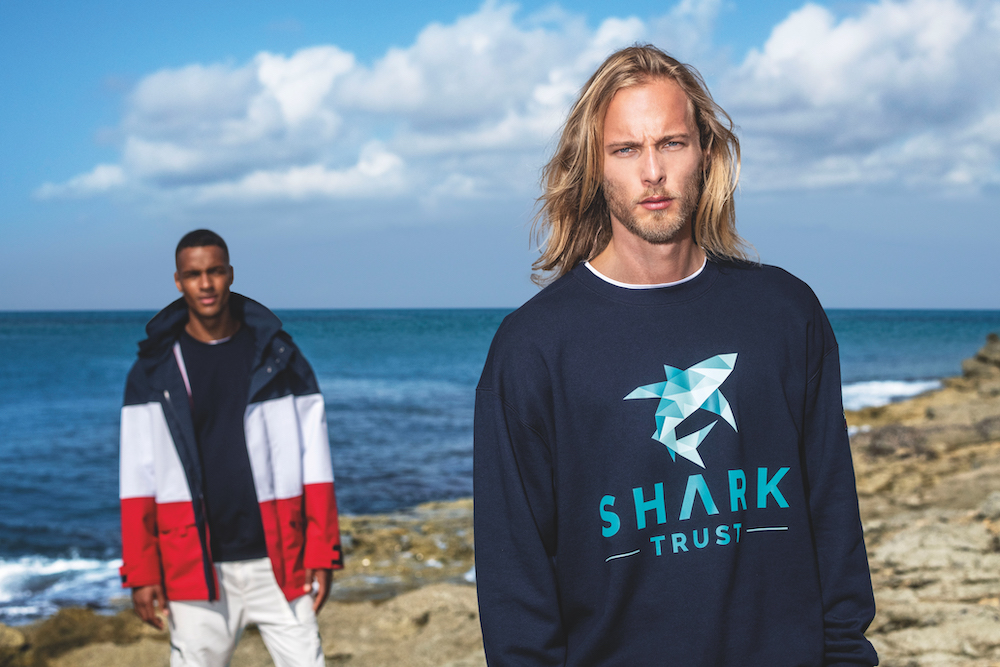 Its latest drop also features a first for the company: a capsule in collaboration with the Shark Trust, with 10% of sales being directly donated to it. Much more than a shared moniker, in recent years the family-run business has partnered with the NGO and become its patron, aiding its work in global conservation efforts. With humble beginnings, the Trust first started on the corner of a desk in Newbury, in 1997. Since then, it has grown to lobbying and working with the UK government and European partners to ban finning, as well as drafting global plans to safeguard sharks and their close relatives (skates, rays and chimaera).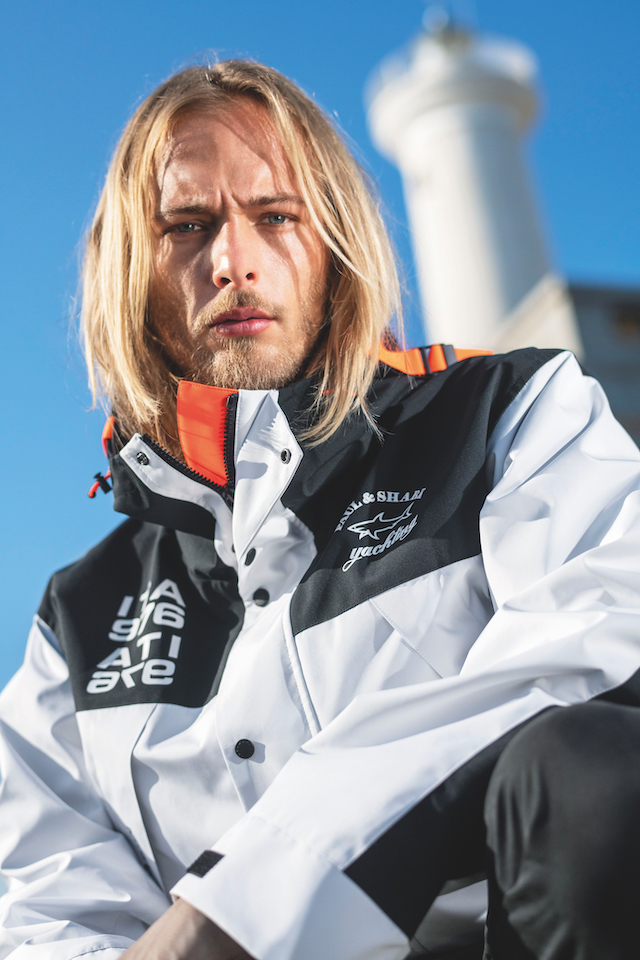 For the ancient creatures who were swimming in our oceans before land vertebrates even existed, conservation efforts have never been more urgent. Populations of 18 oceanic shark and ray species have dropped by 70 percent since 1970, according to a study published in Nature earlier this year. The landmark analysis by Nicholas Dulvy and Nathan Pacoureau makes for a sombre read. Whitetip, scalloped and great hammerhead sharks, as well as a great many tropical fish, have suffered the most from overfishing, offshore fisheries and illicit international trade. At the current rate, and unless actions such as government implemented science-based fishing limits are taken, many species will simply collapse and disappear in matter of decades. This loss, of course, reverberates throughout entire marine ecosystems, its rippling effect also impacting food security for some of the world's poorest countries.
Port caught up with president and CEO of Paul & Shark, Mr Dini, as well as the Shark Trust, to discuss their partnership, dismantling cultural fears and our collective responsibility to the natural world.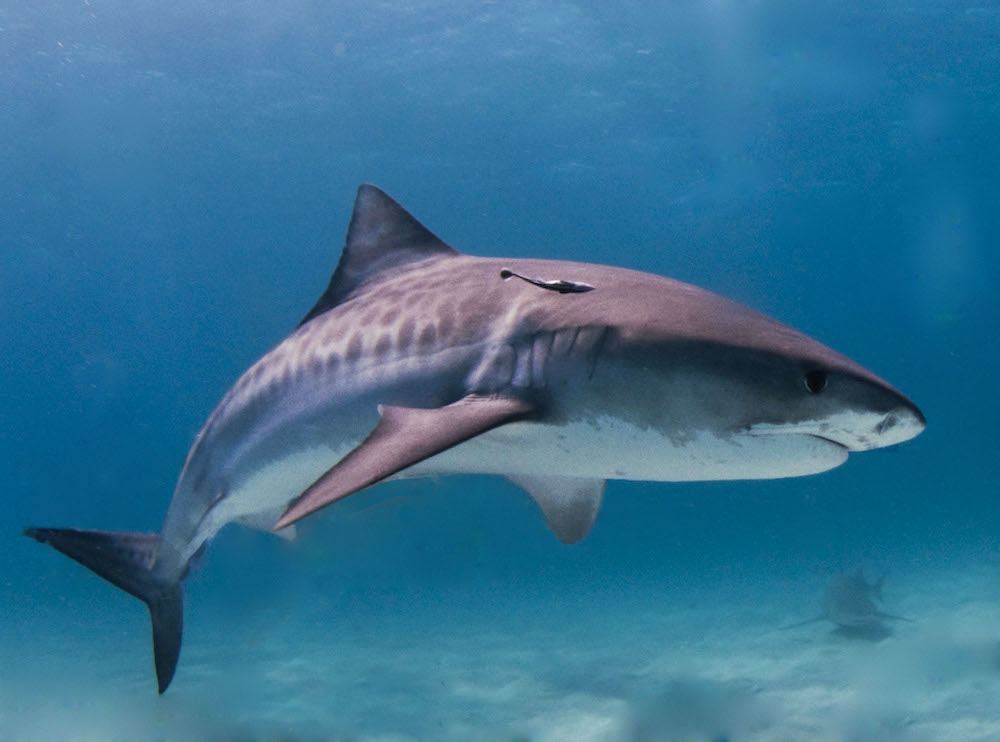 What impact do you think the pandemic will have on how we see the natural world, our resources?
Andrea Dini: The past year has had an enormous effect on how we view the current issues facing our world. Around the world, the pandemic has kept more people indoors and caused a significant reduction in daily human activity and routine. This pause has allowed the natural world to not only recover in our absence, but to flourish, further highlighting the negative impact and strain we place on our environment.
The pandemic has drawn back the curtain even more on the severity of the climate crisis, but has also highlighted the ways in which we can help to make a positive change. My hope is that our new found appreciation for the health of our communities, the outdoors and of the world around us, will be taken forward to work towards a better future.
Why are sharks such striking marine animals?
Shark Trust: They are an animal that represents both elegance and power, strength and grace. They are highly intelligent creatures that contribute enormously to keeping our oceans healthy.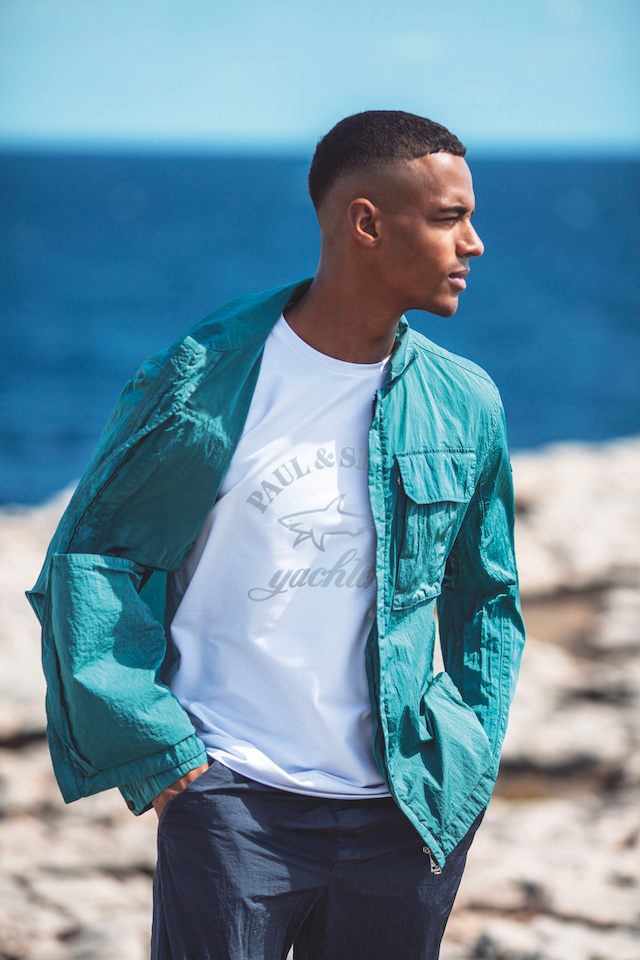 Why did you become a patron of Shark Trust and what work are you undertaking together?
Andrea Dini: Our collections and heritage are strongly connected to the ocean, meaning that we have a special bond and a commitment as a brand to help protect it. The Shark Trust are an impressive foundation making actionable change for endangered species, and together we're committed to changing the understanding and appreciation for sharks through a solutions-based approach.
The SS21 collection sees the first capsule collection designed in collaboration with the Shark Trust. The capsule features a special logo designed in collaboration with the Shark Trust that can be seen on Paul & Shark's iconic Typhoon jacket and a matching swimming suit; a blue sweatshirt, a white T-Shirt and a red polo, all crafted in organic cotton.
The Typhoon Shark Trust Jacket is a particular favourite of mine. It combines the technology of the classic Paul & Shark Typhoon fabric, engineered to be both water and windproof, with a slightly longer length, ensuring full-body coverage in wet weather. It also comes in a tricolour finish, white red and blue, which are the corporate colours of Paul & Shark. Our hope is to bring more attention to the incredible work of the Shark Trust and to inspire people to take action and join our community.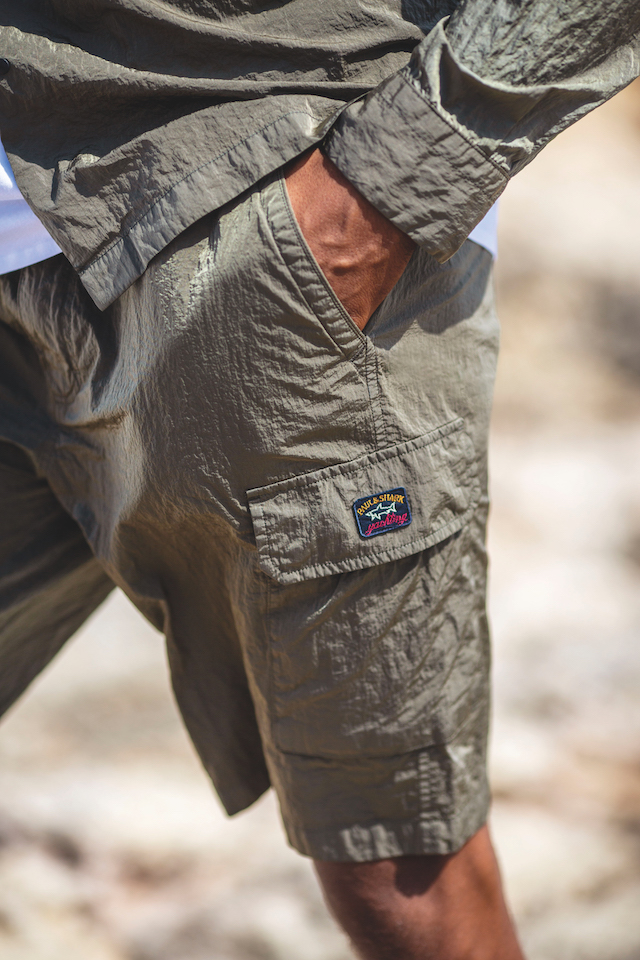 How do we begin to dismantle a cultural fear of sharks, which leads to misunderstanding and ultimately endangers their safety?
Shark Trust: We need to broaden the focus a bit. Learn more about the diversity of sharks. Some sharks are large predators which, just like lions and tigers have to be understood and respected for what they are and what they bring to the natural world. But that's not all sharks. There are tiny sharks, sharks that are sedate, sharks that hide under rocks. We have to celebrate all sharks (and rays). A world without them would be hugely impoverished.
The natural world is a complex network of species and ecosystems. In the ocean, shark species play important roles. To lose them would have serious consequences on marine and freshwater ecosystems, as well as the many human communities and economies that depend on them. It is our mission to drive positive change for these incredible animals and ensure their survival. For us the collaboration between Paul & Shark and The Shark Trust has been a vital part of this mission and makes sense on multiple levels, in terms of both shared image and shared values.
Paul & Shark have the image of a shark as their logo as this is very much indicative of the company's vision and long term commitment to the patronage of the Shark Trust amongst other wide reaching initiatives.
Are there any standout pieces in the SS21 collection?
Andrea Dini: The latest addition to the conscious production of recycled, sustainable fabrics from Paul & Shark is the ECONYL collection: made using a regenerated nylon yarn from fishing nets found in the oceans around the world. The ECONYL fibre is infinitely recyclable and produced through a radical regeneration and purification process so that the nylon's properties are exactly the same as virgin nylon, so the quality of the fabric is extremely high. We chose this material for a highly curated range of overshirts, jackets, trousers and swimming trunks.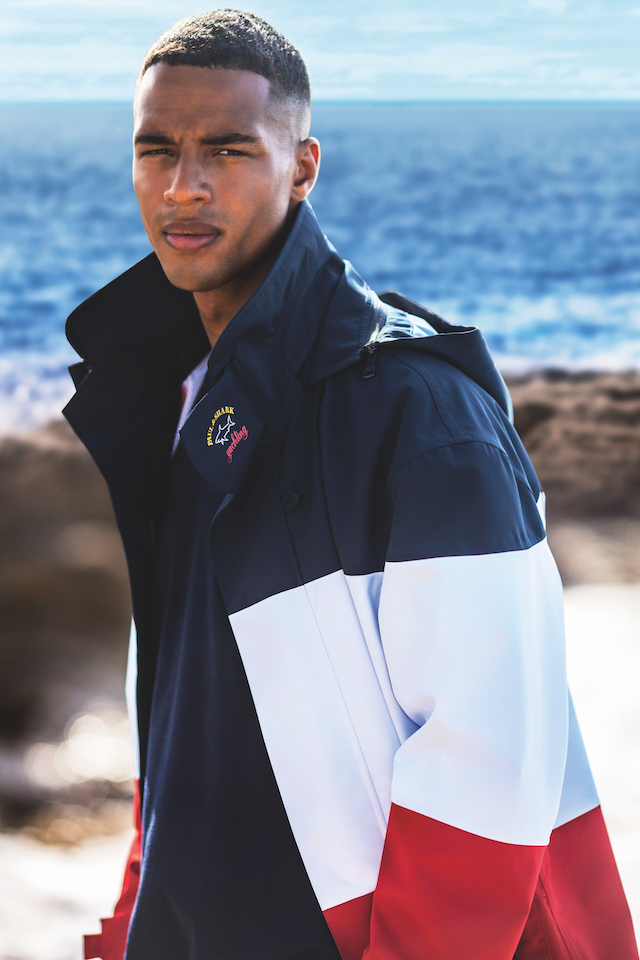 What action is needed on an international level to ensure the protection of sharks?
Shark Trust: Many shark species face the possibility of extinction without urgent action. The single biggest threat faced by sharks across the world is overfishing. This is why we focus so much of our efforts on fisheries management, working to improve, implement and enforce legislation, and to transform fisheries globally. All with the aim of safeguarding the future of sharks. Awareness and engagement is also key and working alongside Paul & Shark to develop the SS21 capsule collection does just that. We worked directly with the brand to create a bespoke logo to help spread the message of our partnership creating clothing that is both technical and stylish, but that also convey an important message.
What responsibility do brands have to play in leading conversations around protecting life on land and below water? Do you think businesses will be left behind if they're seen to not take a stand on these issues?
Andrea Dini: In 2021, it is my belief that sustainability is no longer a novelty, it is a necessity and that all brands should be making steps towards a more sustainable future. Not only is this important for the protection of our environment, but to authentically engage with a new wave of consumers, who are more ethically conscious than ever before. At a time of great change, it is our duty as business owners to provide transparency to consumers and to show how we are evolving to meet new and improved standards. We are giving a tangible commitment towards the sea and its safeguarding.