Exclusive: Brand director Richard Martin and David Keyte on their AW14 capsule collection, celebrating 140 years of the Scottish knitwear brand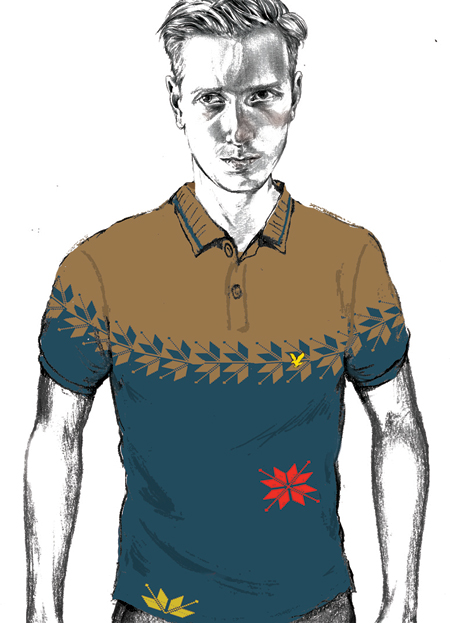 As Lyle & Scott prepare to launch their 140th anniversary celebrations next year, the brand – now designed by London menswear stalwart Carolyn Massey – has decided to give everyone extra cause for sartorial joy. As part of its AW14 collection, and premiered IRL at LC:M in January 2014, Lyle & Scott has announced two interesting collaborations; one with fellow Scot Jonathan Saunders and another with David Keyte's subtle workwear brand Universal Works – of which Port today premiere an exclusive illustration.
For Keyte, who used to work with Paul Smith and Maharishi before setting up Universal Works in 2008, the hook-up was part of a natural and personal progression: "Many years ago, as a young man watching football and dressing in the best clothing I could afford, I wanted to wear the best knitwear I could get and looked longingly at the classic Lyle & Scott knits. Recently I met the guys behind the brand and when they suggested we work together on some pieces I was delighted to re-live that early love of the brand." As two brands who share a "love of traditions but do not want to be defined by them", the capsule collection seems like a match made in heaven. "To me it means quality, it means 'Made in Scotland' knits and, of course, happy memories of the brand from my teenage years. More recently young British bands seem to love the brand too – I've seen many images of the Arctic Monkeys in those classic knits," Keyte says.
The pieces are inspired by old-school golf sweaters and Keyte's football-related memories – but with a modern take. "We took a cross between a snowflake and an Argyle and made a newly formed knit-pattern, turning it into a classic crew and a very 'now' zip-through," Keyte explains. For Richard Martin, Lyle & Scott's brand director and the man who initiated the collaborations, the collection started with a mutual respect for each other's work: "David really liked what we were doing with the 1960 collection and off the back of that interest we started discussing his time as a casual in the late 70s and early 80s, and how important Lyle & Scott was to that movement," Martin says. "The brand is quintessentially British and is rich in personality – it's a direct reflection of David Keyte. His honesty and integrity are very close to our own." All in all, the collaboration continues both brand's design DNA through wearable heritage pieces that are both accessible and aspirational – as such it's best of both worlds…