Designer Lou Dalton and head of menswear at Jaeger, James Jee, discuss their AW16 menswear collaboration and share an exclusive video
Collaborations between respected designers and high street retailers are often shrouded in hype, but don't always match up to expectations. Often though, it's the more understated partnerships that are worth a closer examination, and a great example of this comes from high street label Jaeger.
For its AW16 collection, the UK brand has teamed up with one of Britain's top designers, Lou Dalton, and let her raid its archive for inspiration to develop a new sports-inspired, casual menswear line. Since 2005, Dalton has forged a reputation for excellence that has led to collaborations with Liberty, Dover Street Market, and Opening Ceremony. Here, we chat to Dalton and Jee about being inspired by Ernest Shackleton, reviving Jaeger's heritage, and creating a line for the 'real guy'.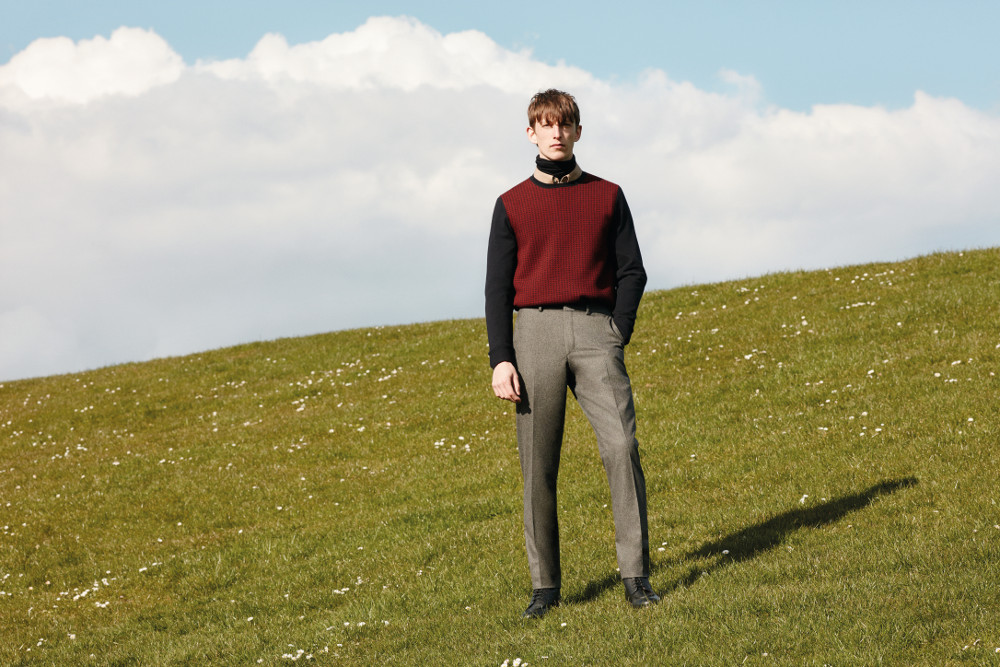 Why did Jaeger choose to work with Lou Dalton on the collection?
James Jee: We wanted to launch a new direction with an exciting collaboration to signify our move into a more diverse casual range, and Lou Dalton is one of the best British menswear designers.
How does the Lou Dalton label relate to the work of Jaeger?
Lou Dalton: Jaeger is thoughtful, considered and well put together, as is Lou Dalton… 
JJ: Lou was a natural link with Jaeger as we have a strong reputation for outerwear – as does Lou – and therefore it made a perfect partnership and a great opportunity for her to delve into our archives and interpret Jaeger's heritage in a modern way.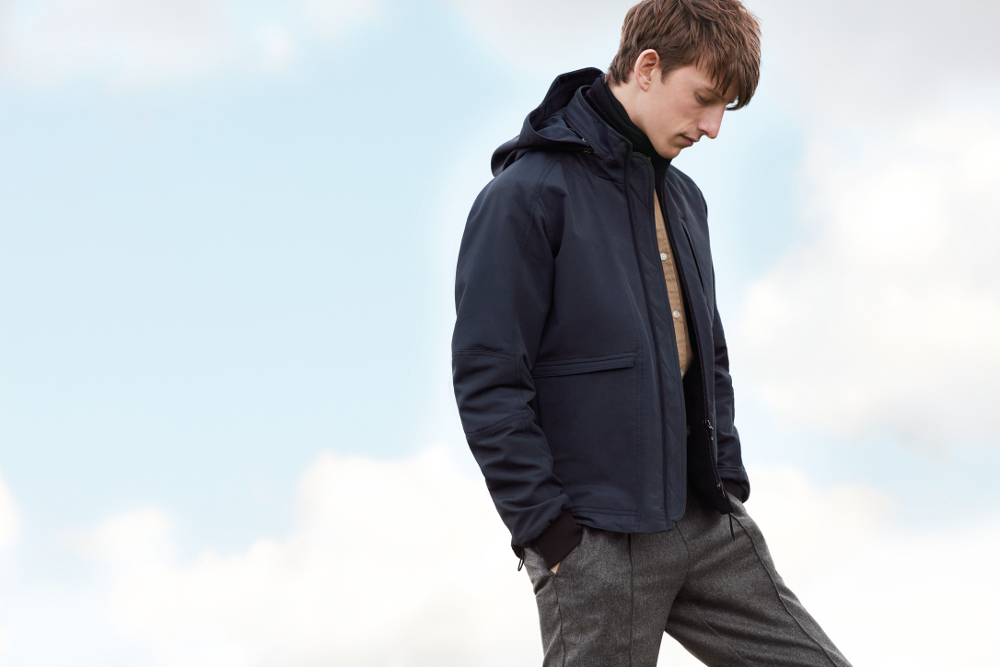 What was the working relationship like between the two brands?
JJ: [It was] incredibly natural as we shared common values when developing a collection. A shared love and buzz for quality and innovative fabrics – Lou named it, we're 'fabric geeks'. When building the collection together there was a real energy and excitement in the room, for example when finding the perfect cotton gabardine or textured nylon weave.
I think the thing that makes the partnership so strong between the two brands is the desire to design and develop a collection that was for the "real" guy. Garments that not only look great, but fabrics that feel great and also make sure they are comfortable and wearable with the right level of uniqueness. Not fashion for the sake of fashion; we wanted these garments to have elements of functionality to really offer the customer more than they expect.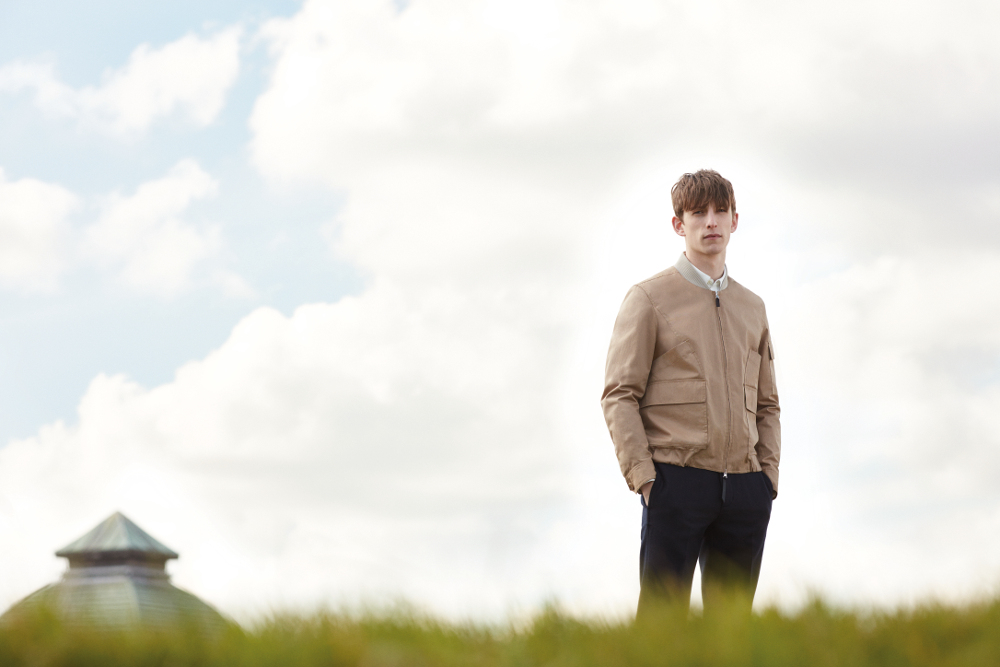 To what extent does this collection reflect both brands' pursuit of innovation?
JJ: The fabrications selected have been developed with yarns and finishes with technical and functional properties, such as showerproof finishes and natural stretch weaves.
We then took it one step further, and engineered the garment to the form of the body so it is incredibly comfortable, whether it be riding to work or commuting to work. For example, the sleeves in our cycling blouson have darts at key points on the sleeve to create a curve to fit the natural curve of the arm.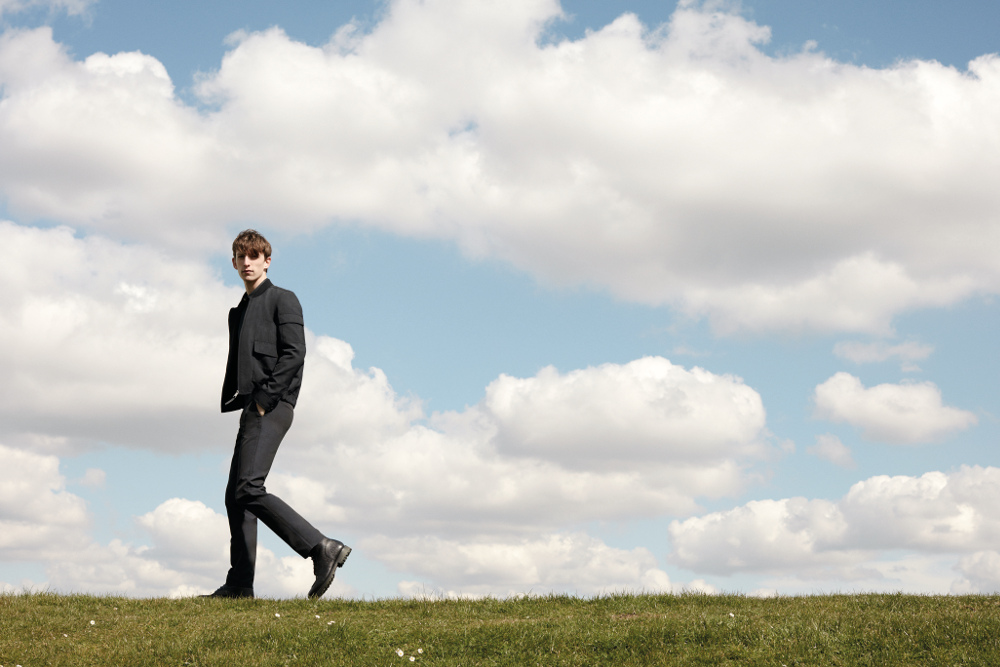 How did you gain inspiration for the collection? What parts of Jaeger's archive can be found in the collection?
JJ: A pure example of this is in the hacking pocket of our blouson, which we have in a showerproof camel compact cotton and woven POW nylon. Lou found these when looking through our archive and linked it with her signature large pockets used on jackets an outerwear.
LD: Jaeger has a vast archive, of which I was allowed full access to. Working through the incredible product produced by Jaeger for Sir Ernest Shackleton was terribly inspiring. It was designed to last and to serve a purpose. That's something I wanted to try and achieve with the collaboration: for each piece to have a sense of longevity. 
Interview Jack Morrison