Why Brioni's avant-garde history allows its design director to dare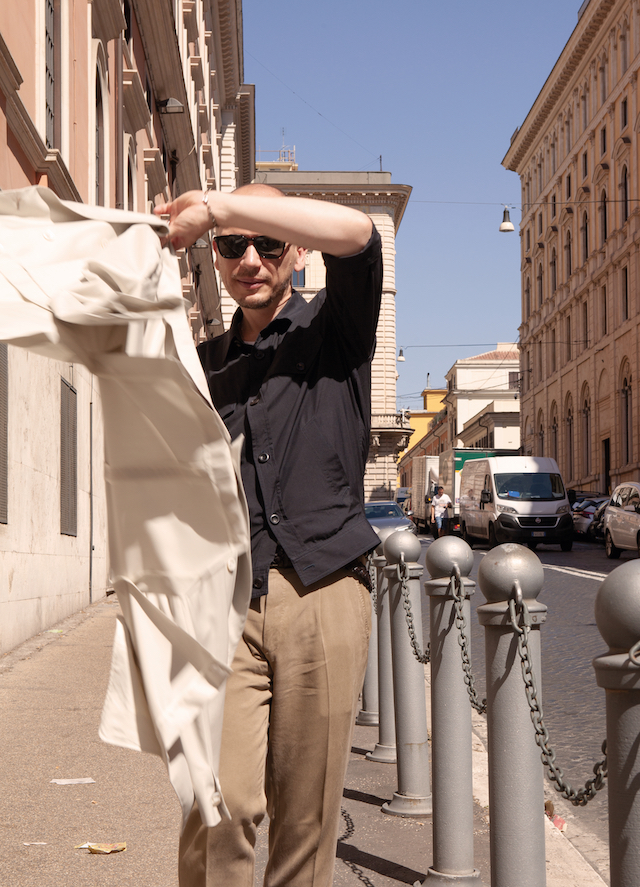 In the wake of WWII, amidst the ruin and rubble of Mussolini's Italy, Gaetano Savini and Nazareno Fonticoli needed a name for their new venture. The savvy businessman and tailor looked north to a collection of Istrian islands – Brijuni – an archipelago that had become an infamous holiday destination for European elites. Their arcadian vision of prosperity and sartorial perfection would be called Brioni, and it would waste little time.
After establishing a boutique on via Barberini, Rome, the pair led an advance guard of firsts. In 1952, they staged the first ever menswear runway show inside the exquisite Sala Bianca at Palazzo Pitti; slim, natural silhouettes and daring colours playing out on lighter fabrics previously reserved for the fairer sex. Its introduction of trunk shows – another invention that indelibly shaped modern fashion – had collections shown directly in stores, allowing customers to adapt garments with a made-to-measure service. It is this heritage, according to Brioni design director Norbert Stumpfl, that gives him permission to be free. "Our founders were on the forefront of a revolution," he reverently notes. "Their fashion was so forward looking, asking, 'why shouldn't a man wear silk?'. We are still the go-to for well-crafted tailoring, but our history means I can be bold."
A solitary childhood spent drawing the flora, fauna and landscapes of rural Austria initially made Stumpfl consider interior architecture, but at the insistence of his teacher, he enrolled in a nearby school with a dedicated fashion program. Effectively acting as an apprenticeship, from the age of 13 he learned how to cut and craft patterns, falling in love with the art of clothing. By the time he was studying at Central Saint Martins he could already sew flawlessly, leading to evening work on Alexander McQueen's runways. A who's who of menswear swiftly followed graduation, with tenures at Lanvin, Balenciaga, Louis Vuitton and Berluti, before he joined Brioni, in 2018.
Stumpfl's keen attention to detail, construction and textile development in the subsequent years has been rightfully applauded, and always begins with a dive into the brand's extensive and often surprising archive. Containing everything from metal ties to a 1950s modular jacket imagined for the 2000s (that transforms into a blouson), the spectrum of garments and fabrics is an invaluable resource. But, this appreciation of the past doesn't mean he gets lost looking backwards. "Our world is so industrial at the moment, so I'm always pushing our mills to show me materials which create a goosebump-like effect. New weights, new structures. This is Brioni for me, it can be very modern or classic, but I still want that tactile 'wow' effect on the skin." This sensuality was well demonstrated in the wonderfully nonchalant SS23 collection, with a precious silk jacquard made on ancient looms by Setificio Leuciano – purveyor to the Royal Palace of Caserta – then tailored into unique evening tuxedos. Soft washed silk, seersucker, satin de cuir, light wools and linen also featured, with supple trenches, field jackets and ethereal suits finished in the hues Stumpfl encounters on his walk to work: cognac brown, pink, earth, orange, grey and baby blue. "You often find a Caravaggio palette around Rome," he remarks, "it might be a fresco or the way the light falls on a wall which gives me the tone for a season."
Alongside Brioni's pre-pandemic changing of the guard have been steady but seismic shifts to the wider industry, as well as who the brand resonates with. No longer the sole preserve of CEOs, it is now also attracting a much younger clientele looking to build their wardrobe staples. The current ambassadors for the brand – the talented Mr Jude Law and his son, Raff – reflects this new range. The biggest change that Stumpfl has welcomed, however, is a more expansive definition of who he is dressing: "Our father's generation had completely different expectations of what a man should and could be. We now have much more liberty to express ourselves, are able to show many more facets. I think increasing equality between men and women – and there is still a long way to go – has led us towards a stronger, more sensitive 'masculinity' that isn't afraid to be 'feminine.'"
This expressive and inclusive understanding of what menswear can be has arguably been a vital aspect of Brioni from the start; Stumpfl has simply brought this subtle verve back into focus, full circle. Another celebrated fundamental is the house's quintessential 'Roman-ness', and despite living in the bel paese with his family for the past four years, the designer still retains a curiosity and critical distance to the native way of life. Often discussing with colleagues what is the essential quality of the Italian man, they have settled on the notion that he is effortlessly enjoying his life. "Clothes are important to him, but they shouldn't look that important to him. There is an ease, a personal luxury… Likewise, if you're wearing one of our suits but want to step into the sea, roll up the trouser legs and get in. Life goes on. You're wearing the most amazing clothes that should live with you, not restrict you."
Photography Nola Minolfi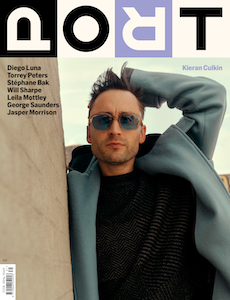 This article is taken from Port issue 31. To continue reading, buy the issue or subscribe here