The Japanese designer and David Hellqvist dissect the completely different worlds of two cardigans from the Autumn Winter 2013 collection
There's two major schools of thought in Japan when it comes to sartorial matters. You have the old masters – Yohji Yamamoto, Issey Miyake and Rei Kawakubo etc – who put Japanese fashion on the map by conquering Paris over thirty years ago. For long, their conceptual designs defined the Japanese 'look', with the rest of the world soaking up a fresh and daring take on contemporary fashion. Of late, though, this avant-garde catwalk approach to fashion has been challenged by a modern streetwear wave, a form of fashion that's more concerned with functional workwear than a dreamy and abstract vision of style. This option has, in the last decade or so, crystallised as a second major Japanese fashion movement, with its very own Yamamotos, Miyakes and Kawakubos at the forefront.
Brands like White Mountaineering, Nanamica, Engineered Garments and Wtaps are all flag-bearers of this aesthetic. As different and unique as they all are, there's a loose red thread running through their output; focused on traditional heritage, smart sportswear, functional outdoors garment and technical solutions, they all obsess over authentic craftsmanship and qualitative fabrics. The missing brand from that list, the one that should – according to many connoisseurs – be mentioned first, is visvim. The 13-year-old label started out focusing on footwear but soon applied its design and manufacturing philosophy on clothes. Founded and designed by Hiroki Nakamura (right), visvim sums up the Japanese approach to street and workwear: whatever other designers have done well in the past, we can do better. And they're not wrong.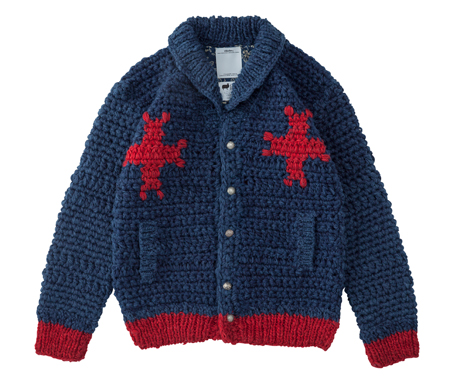 The mentality of these brands is often – but far from always – to look at existing design ideas, preferably vintage Americana, and improve the design and construction. Whether it's a Converse trainer, a M65 jacket or an Oxford shirt, Nakamura adds his own unique quirks and details. When recently visiting the visvim showroom in Paris, I spoke to Nakamura, a genuinely friendly and immensely well-researched designer, about two items from his AW13 collection. Attached to the wall of the loft space, next to an aluminium-coloured caravan from the 50s, were two zipped cardigans. Made with completely different techniques and channeling two clashing cultures, the garments sum up visvim's commitment to not only speak through garments, but also vice versa. Here's what Hiroki Nakamura had to say about…
The Modern Manufacturing Process
"I like to mix interesting products and raw materials from all over the world, using various artisans and techniques. Modern manufacturing is great because you can take advantage of quality and price but at the same time, the output of modern manufacturing increasingly looks the same, and I like to see character. I'm working with different artisans and sources to add character to the product. I believe in using natural colours and dyes – I think the natural dying process still has a lot to offer. You won't get a completely flat dye, it won't be perfect, there's an element you cannot predict – but I like that, it's key to our product."
The Beige Cowichan Natural Dye F.Z. Cardigan
"I wanted to make the cochineal-dyed sweater looking like an old Americana-inspired piece; rough and strong. I really like them because they have a very human feel, they're not perfect. The brown parts are mud-dye, from the Amami Islands in Japan, and the white is the sheep's natural colouring. The yarn is naturally hand-dyed but only in bunches, and that creates an uneven colouring as the dye goes into each bunch differently. The colour is not uniform and creates depth. It's made with Shetland wool, this yarn was spun on an old machine from the 1920s, which gives the material an unevenness."
The Indigo Crochet FR Cardigan
"This one is made by French artisans using a traditional French crochet method using a naturally dyed yarn from Japan. I wanted to mix traditional French fine yarn and Japanese natural dyes. I used natural dyed indigo and red cochineal to dye the yarns. We use a Parisian company called Golden Hook for the crocheting. We've been working with them for a few season – their artisans are grannies! The cardigan is inspired by an old American calico fabric but made with our own techniques, using natural dye. For this one we use a finer yarn, made using a different machine but, again dyed naturally, and crocheted by an old Grandma called Simone."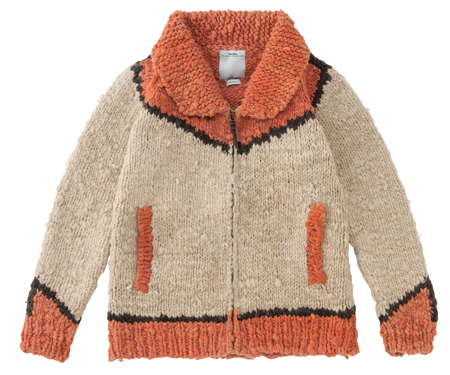 The Inspiration
"In my head, the idea was the concept of old Americana and Navajo. The crosses on the cardigans are from the Navajo. But the cross design is also used in Tibetan cultures. Both cardigans are influenced by Indigenous people using the same motif, which is a very natural and traditional sign. I'm curious about what inspired those old artisans and where they got their ideas from. Sometimes I'm amazed to see such similarities, like with the the Navajo and Tibetan artisans… They're from completely different continents and time in history but they're using the same colours, patterns and motifs? I think that's fascinating."
The Final Results
"There is beauty in each artisan technique. I wanted to present the strengths of those different processes and mix natural Japanese dyes in with the traditional crochet technique and an Americana-type piece. I would't necessarily choose between them, they both have depth. Both cardigans are completely handmade. I like them both and think they are both strong pieces with different strengths, each with its own beauty."