Dior Men's stellar Fall 2023 collection is dramatically staged by the pyramids of Giza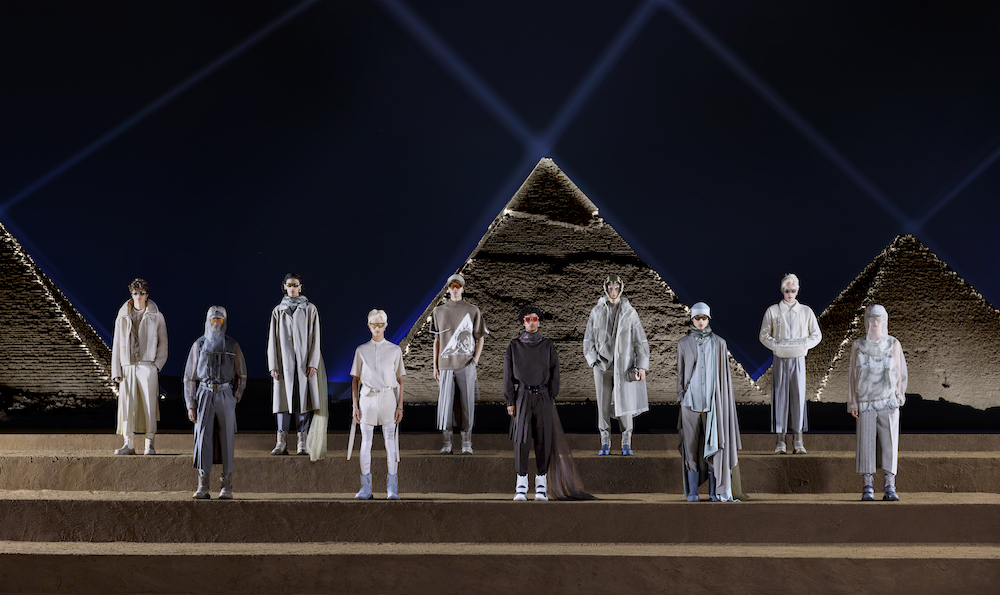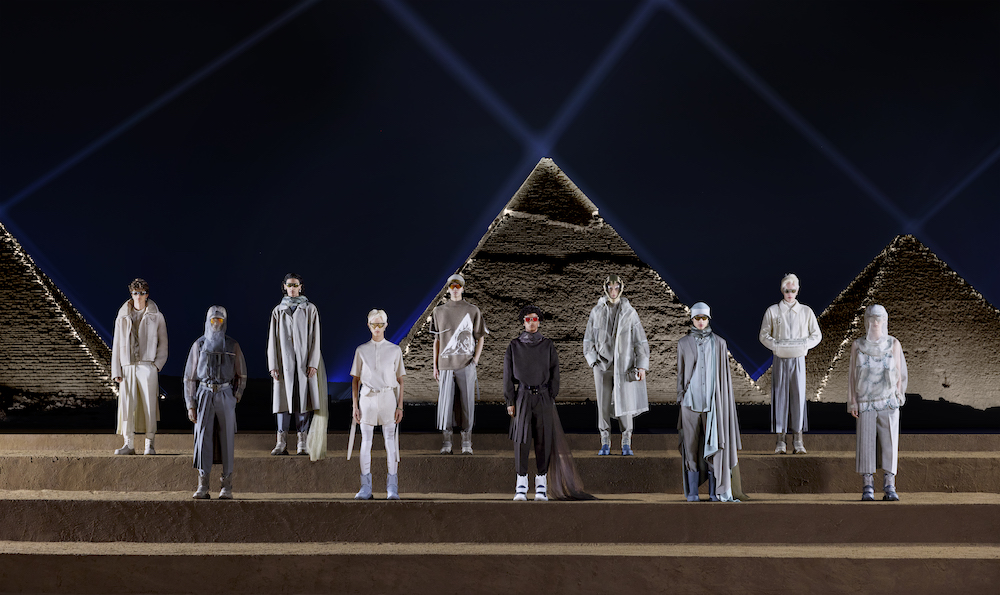 In 1946, Christian Dior was at a professional crossroad. At 41 years old, he had just been offered the role of artistic director at the fashion house Philippe et Gaston by cotton magnate Marcel Boussac. Racked with doubt, he was unsure whether to instead ask to pursue the dream of opening his own house. A firm believer in premonitions, astrology and divination – he carried a string of lucky charms at all times – the evening before he was to make his decision, Dior strolled down Rue du Fabourg Saint-Honoré and almost tripped on a loose cast-iron star. "My destiny came to meet me," he reflected, when discussing this seismic chance moment that convinced him to strike out on his own. The lucky star became a life-long talisman for the couturier, and has guided the eponymous French house ever since.
Over the weekend, as the sun set over the pyramids of Giza and celestial bodies came into focus, a dramatic runway strip showcased forms equally interstellar. Dior Men's Fall 2023 coincided with the 75th anniversary of its debut collection, and while artistic director Kim Jones' accomplished work is a continuum of its storied past, his gaze was fixed firmly on the future.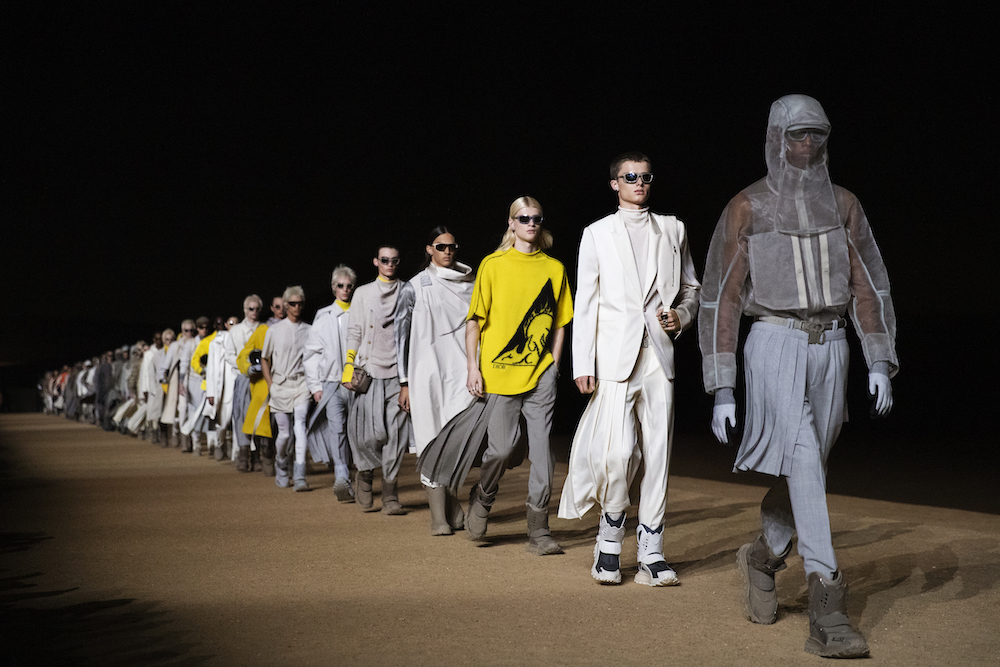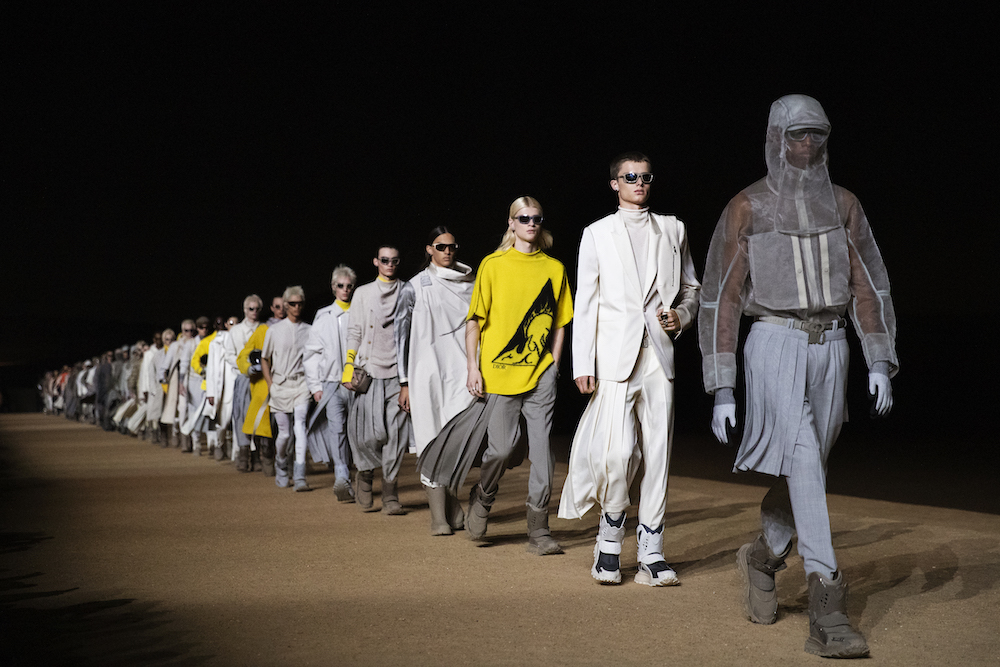 Its sci-fi slant – 3-D printed helmets, embroidery as futuristic armour, transparent jacquard – is balanced beautiful with traditional masculine and feminine tailoring codes; movement accentuated by the flowing silhouettes of capes, trapeze coats and demi-kilts that originate from the brand's archive bias pleated skirt from the 50s – bonne fortune. Bags and shoes working with cannage and diamond codes sit alongside generous suit trousers, windbreakers, sequined tank tops and python-print jackets, couture seamlessly coalescing with technical outerwear detailing. A restrained grey and desert palette is occasionally disrupted by explosions of colour courtesy of engineered prints of stars and galaxies taken from NASA telescopes lightyears away.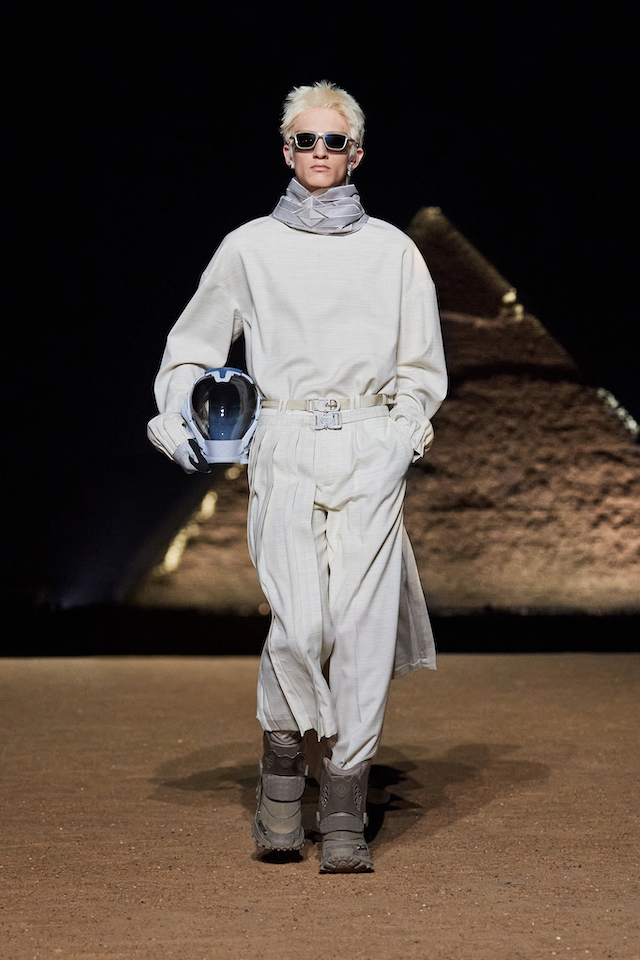 Inevitably the striking desert setting, when paired with design flirting with futurism, calls to mind the many iterations and adaptations of Frank Herbert's epic science-fiction text, Dune. Indeed, Jones cites the incredibly detailed and influential storyboards and proposed costume design by artists Moebius and H.R. Giger (who worked on avant-garde filmmaker Alejandro Jodorowsky's unrealised attempt in the mid 70s) as a central inspiration.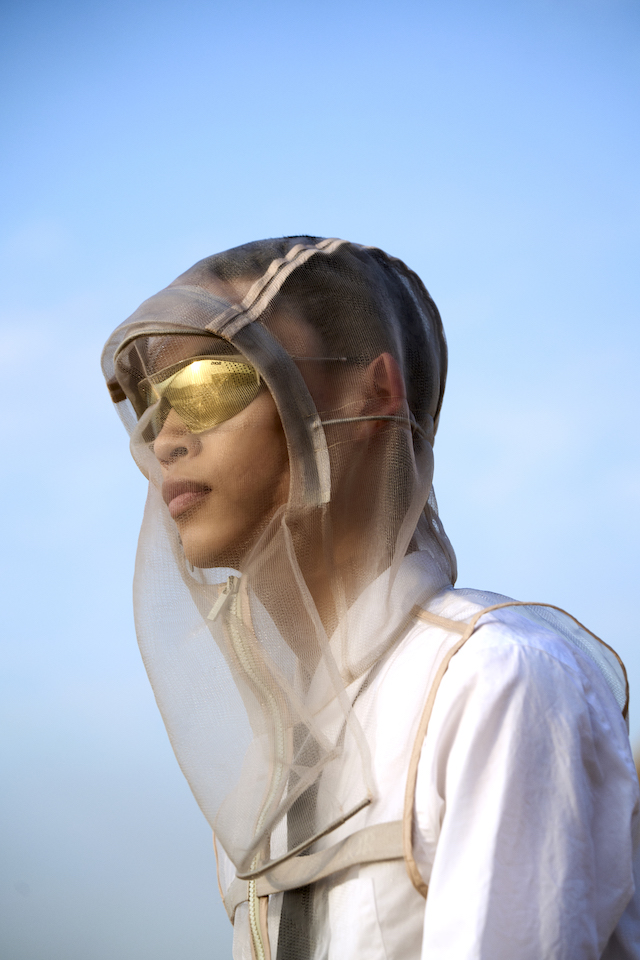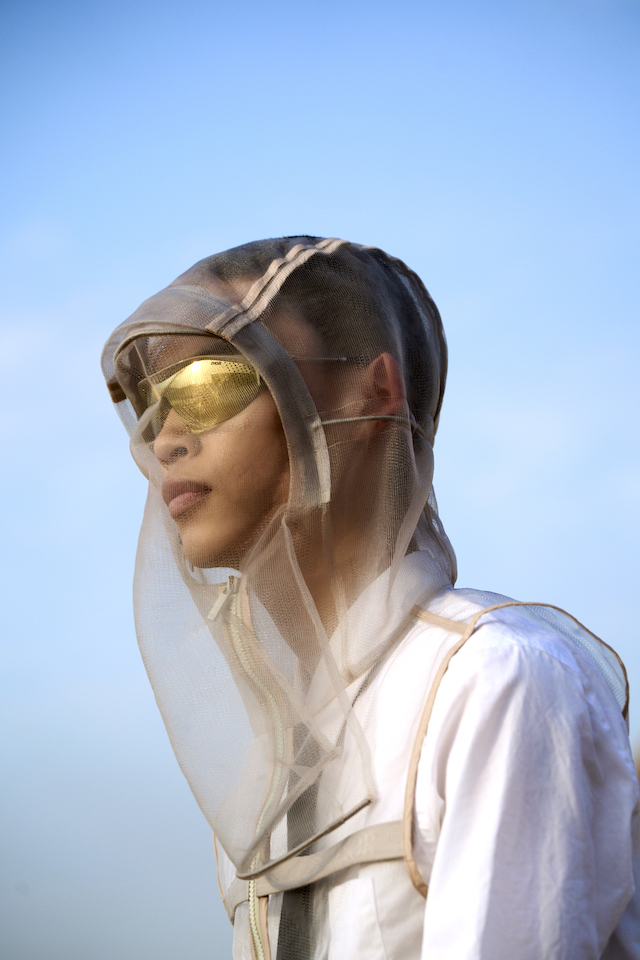 But for all the high-frequency neoprene panelling, cocooning hoods and anodised metal finishes, it's a collection that skilfully stratifies historical periods, notably 20th century exploration. This link was made particularly explicit by the fact the luxury brand also tied the presentation to the 100th anniversary of the discovery of Dynasty Pharaoh Tutankhamun's tomb by British archaeologist Howard Carter.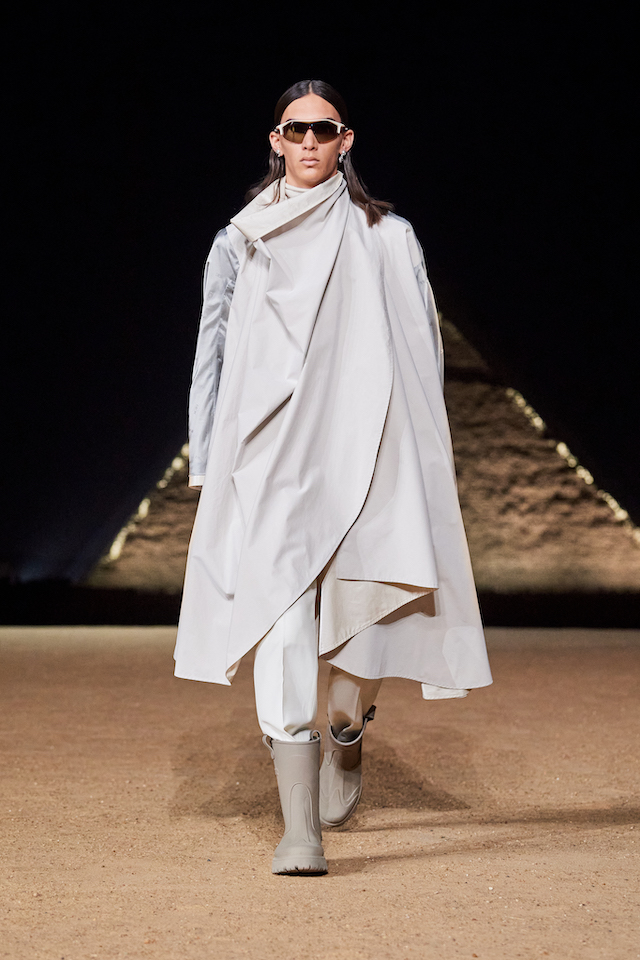 "My interest in ancient Egypt is about the stars and the sky," notes Jones. "It's that fascination with the ancient world and the parallels with what we look at today; what we inherited from them and what we are still learning from the past. It links to Christian Dior in that sense and by way of his fascination with symbols and superstitions that recur throughout his life and work, one of which is the star. In both the collection and the show there is an idea of 'guided by the stars' and what that can entail in many ways. It's about how the past shapes the future or an idea of the future from the past."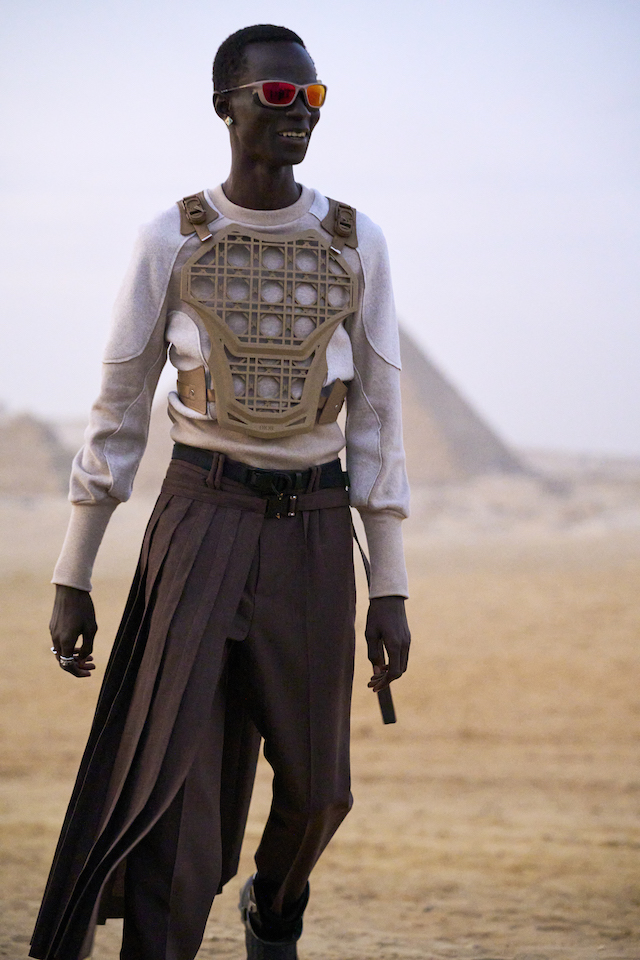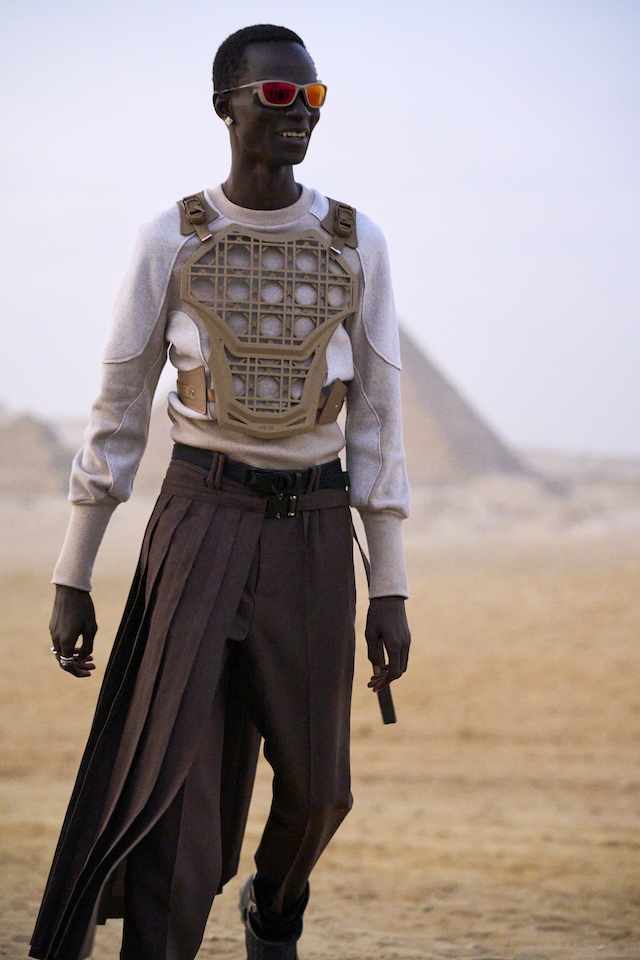 The ambitious spectacle was soundtracked by Vivaldi's 'The Four Seasons', reworked live by acclaimed composer Max Richter and his orchestra. Friends of Dior in attendance included Robert Pattinson, Lewis Hamilton, Sehun, Eunwoo Cha, Naomi Campbell and Daniel Kaluuya, among many others.
With its creative collision of fantasy and antiquity, stretching to space and back, Dior has gone so much further than the old adage: "Aim for the stars and you might hit the steeple."