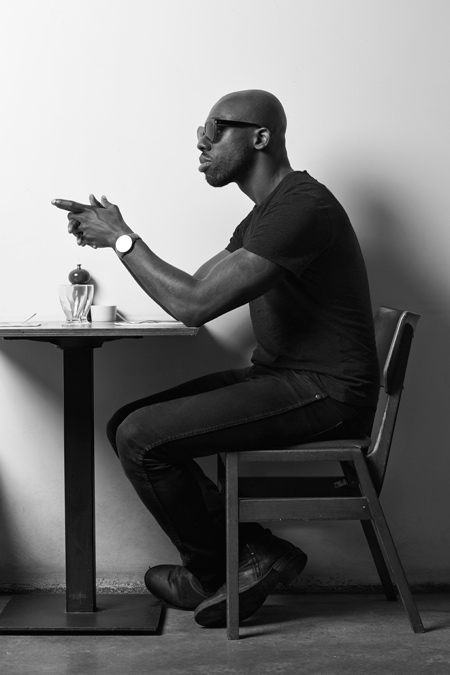 Ahead of tomorrow's Levi's #MakeOurMark event in London, we talk to the Mercury-nominated musician and writer about the collaboration, and find out what moves him
"The desire to better one's craft moves me," says UK singer and producer Ghostpoet in response to the theme of Levi's 'Journey to the Modern Frontier' event tomorrow. As part of a unique collaboration with audio-visual artist Alex Turvey and electronic musician Koreless, the three have created a film that seeks to answer the question What Moves You? "Everyday is an opportunity to indulge in my passion for music, be it making it, analysing it, watching it live – I know I am very lucky to be able to do this for a living, I don't need any more motivation than that" Ghostpoet adds.
Though the idea of collaboration is nothing new to the musician, it did pose a new set of challenges: "Before this, my collaborations were very much a case of fellow artists adding to my own already formed compositions. Working with new artists from scratch on an audio / visual piece was a valuable experience." Ghostpoet wrote words for Koreless to set to music, which in turn were made into an audio-visual film by Turvey.
Having used social media platforms as an outlet for his work, and a prolific user of Twitter himself, the project's digital element – which utilises hashtags, and encourages fan responses across SoundCloud and Facebook – has brought an additional dimension of connectivity to the project. "Social media, for me, is a great way to connect directly with admirers of my music. I don't really use my networks to overly 'sell' what I create but it's very important for me to be normal and grounded – having a good natter or vent aids that process!"
Apply for free tickets to the event tomorrow in London, and join in online using the hashtag #MakeOurMark #Moves