Fraser Moss on the sounds that will play during his Dead Inside show at London Collections: Men this week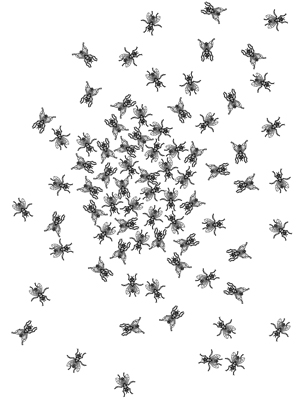 The shows pre-music is an LP by Ruth White called Flowers of Evil from 1969. It's an unsettling electronic piece that is probably the first example of dark wave. This will hopefully set the tone for the catwalk music. The catwalk music itself comprises of three classic tracks from the post-punk era – I wanted to go for something a bit more recognisable rather than too obscure to help get the message come across. The tracks are Delta 5's Mind Your Own Business, which moves into a no-wave classic from Liquid Liquid called Cavern and finishes with Bush Tetras' Too Many Creeps. All of these tracks represent a period in time when music became more experimental, and funk and electronic sounds mixed freely with punk attitude.
I'm old enough to remember these songs from the first time around, but Bush Tetras was a more recent discovery I was looking back to a time when we first started with YMC and what our agenda was, and I was also buying a lot of obscure post punk singles and I tried to create in my mind a uniform that would fit these sounds. The theme is Dead Inside, which is how I feel about a lot of modern culture. The fly print came of a winged collar polyester disco shirt from the mid 70s! I though the imagery worked perfectly with a collection titled Dead Inside.