Charlie Casely-Hayford and Harris Elliott pose exclusively for Port in their Lavenham jackets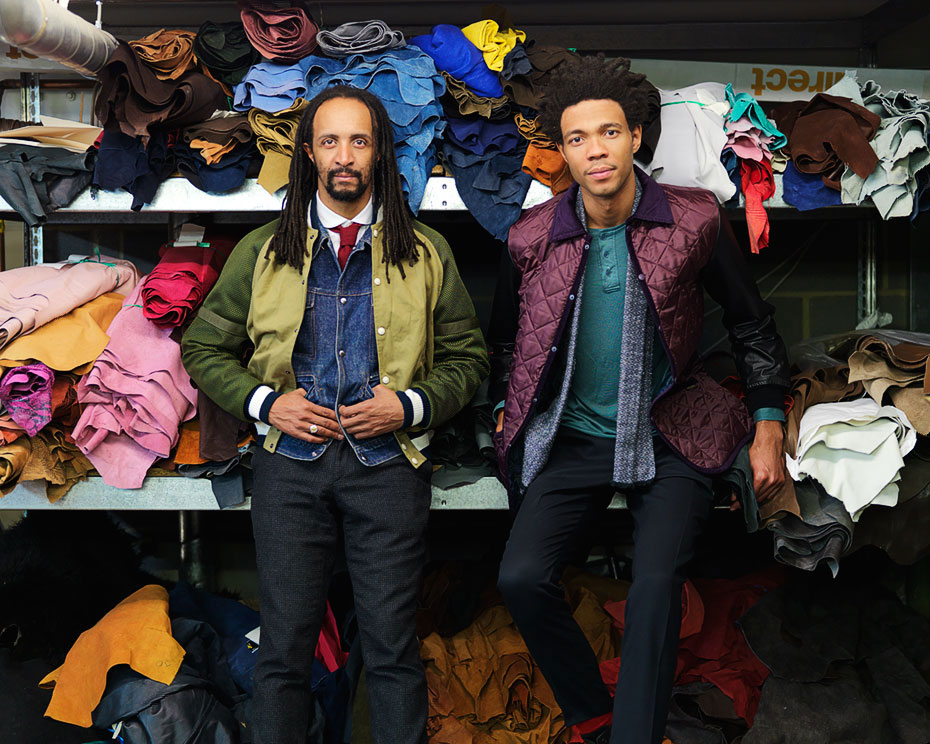 Photography Nikolas Ventourakis
Styling Alex Petsetakis
Concept and Text David Hellqvist
Left to right: Harris Elliott
Charlie Casely-Hayford
To be honest, we don't necessarily need another batch of collaborations right now. This way of merging brands, aesthetics, styles and continents — let's call it the x factor — is often just an easy opt-out to excite customers about yet another wave of products. But that's not to say they don't fill a purpose, and — I'm the first to admit it — I do like a good collaboration myself. But they have to give me something, there has to be a reason for them and the brands must seem to benefit themselves from working with another label with a different sartorial point of view. Luckily, that's the case with both Casely-Hayford and H by Harris' current collaborations with the UK's unofficial quilt masters, Lavenham.
So what is Harris Elliott, himself a quilt aficionado, doing collaborating with Lavenham, you ask. Surely that goes against aforementioned theory about two brands bringing something different to the table. Well, that would have been the case had Harris not explored another, for him new and exciting, corner of Lavenhams' Suffolk factory. His jacket and bag collection is centred on a stunning khaki varsity jacket with mesh sleeves, but also comprises a belted jacket and mesh-infused coat. Elliott has, as such, taken the opportunity to further himself through Lavenham's expertise, and together they have created a unique collection of H by Harris attitude and Long Melford craftsmanship.
Joe and Charlie Casely-Hayford, the father and son duo behind east London's most elegant punk brand, went straight for Lavanham's quilt jugular, reinterpreting the classic Denham style. At its core, Lavenham has equestrian roots and nowhere else is that as obvious as in this particular jacket style. So teamed up with Casely-Hayford's harsh urban treatment, Denham was in for a culture shock, to say the least. And what's better than questioning traditionalism and shaking up the establishment? With black leather sleeves and two-toned jackets in subtle colour combinations, Joe and Charlie have managed to uproot the jacket from its countryside retreat and plant it in Hackney's beautiful concrete jungle.
David: How and why did you hook up with Lavenham?
Charlie: We were interested in the cultural significance of the Lavenham jacket, specifically on the streets of London. It has this old world refinement; it's worn as a staple of the countryside uniform, even in city. But it has also been adopted by London 'rude boys' as a style statement of a subculture worn with their sportswear, and that juxtaposition is a perfect combination for the Casely-Hayford House.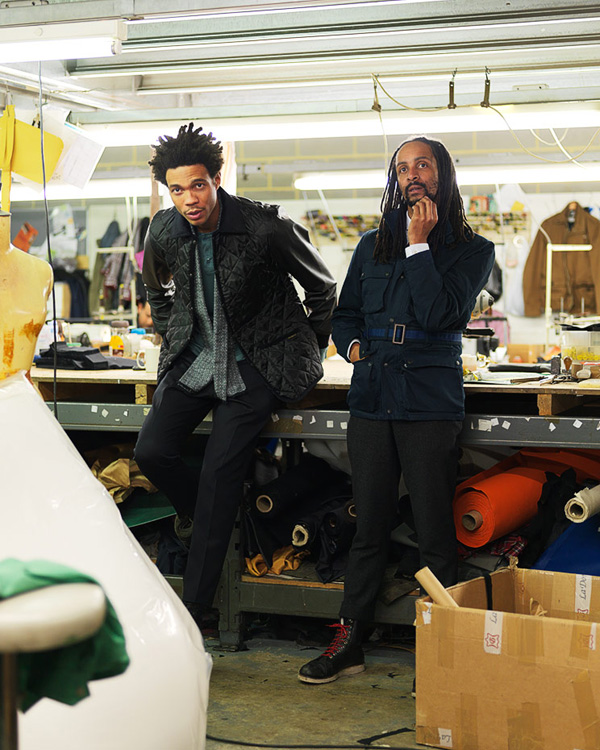 Harris: H by Harris and Lavenham both make specialist quilted products here in the UK. Their quilting capabilities are off the hook, so it was a no-brainer that we should unite and work on a project. Steve suggested I meet with Nicky at Lavenham; there was mutual appreciation from the get-go and with that the H x L collab was born.
David: What is it about Lavenham that you like?
Charlie: It's totally purist. Although they now have a full collection, I love brands that do one thing and do it better than anyone else.
Harris: Lavenham are unique as they are genuinely one of a few brand-manufacturers that make everything in their factory in the UK. That in itself, in this day and age, is amazing; their state-of-the-art machines are brilliant to work with.
David: What was your starting point for the jackets?
Charlie: We wanted to combine the classic Lavenham jacket with a streetwear bomber jacket to accentuate its cultural significance within the London style scene. The final piece for us is a simple concept that for us brings both worlds together.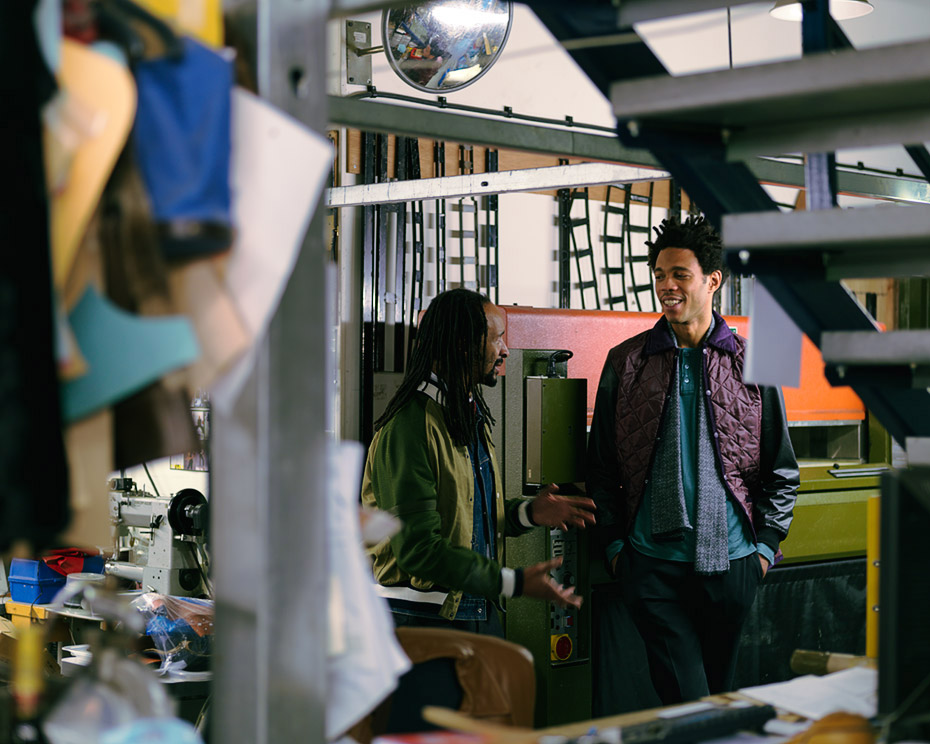 Harris:The collection is called Urban Cowboy. Lavenham's heritage is creating blankets for horses. My brief to myself was to highlight their equestrian sensibilities while introducing a contemporary twist, by combining a jockey style fused with an urban aesthetic.
David: Describe your jackets…
Charlie: The jacket has an exclusive Casely-Hayford black watch lining that is a continuation from the mainline collection. We combined the classic Lavenham design with black leather sleeves and a rib cuff to bring the country and the city together.
Harris: The varsity jacket is the obvious standout piece that definitely turns heads. Military mesh sleeves, that allows you to see the colour of your under garment – and you can feel the breeze, which is perfect for a summer collection. As both brands are known for a certain quilt signature but I wanted to create something unexpected without the external use of quilt – otherwise it would have been too predictable. All the jackets have either detachable quilt liners or quilt detailing in the pockets. You have to look inside to find the quilt detailing. I was able to create a 3D quilt, which makes the pattern come to life.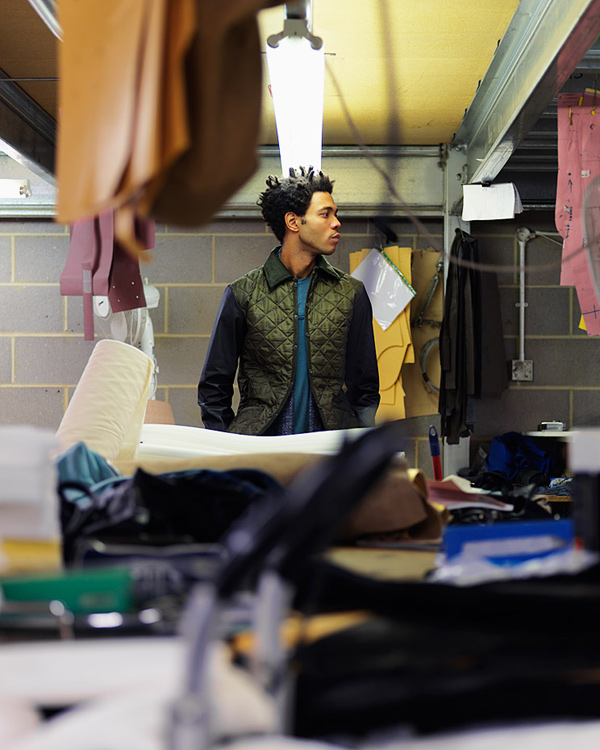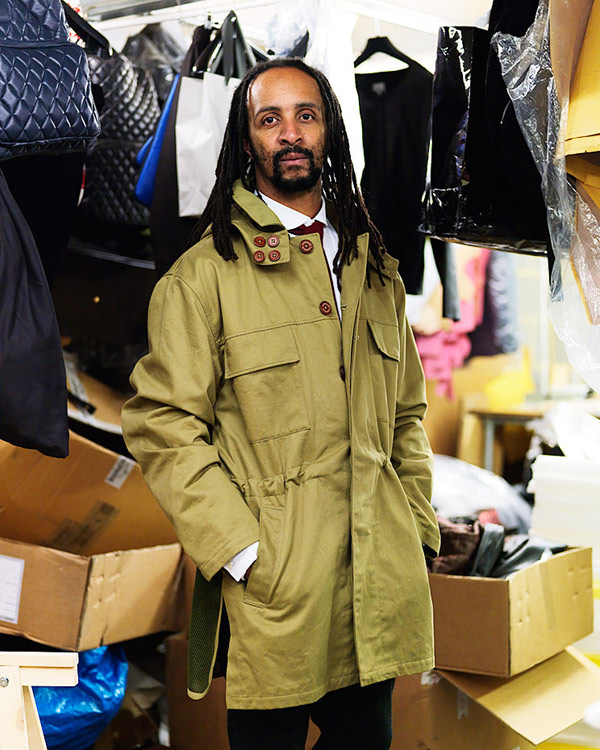 David: What do you think about each other's collaboration?
Charlie: Love the varsity jacket! I tried to steal it when he wasn't looking!
Harris:Charlie and Joe always manage to combine materials and finishes that you often wish you had designed yourself. The Casely-Hayford jackets are new but seem familiar at the same time, a good combination.
David: Any other collabs coming up?
Charlie: We're currently working on a collaboration with the Hostem store on Redchurch Street and will be launching a made-to-measure suit project at the beginning of next year. We've chosen some of the best Italian and English fabrics available, so we're very excited.
Harris: I've been speaking to a notable footwear brand about creating some pieces for them, and also developing some pieces of furniture, with some amazing crafts people.
Coats & jackets Lavenham
All other items Charlie & Harris' own
For more information, visit lavenhamjackets.com Read more about Casely-Hayford & H by Harris