French designer Alexandre Mattiussi presents his capsule collection for the online retailer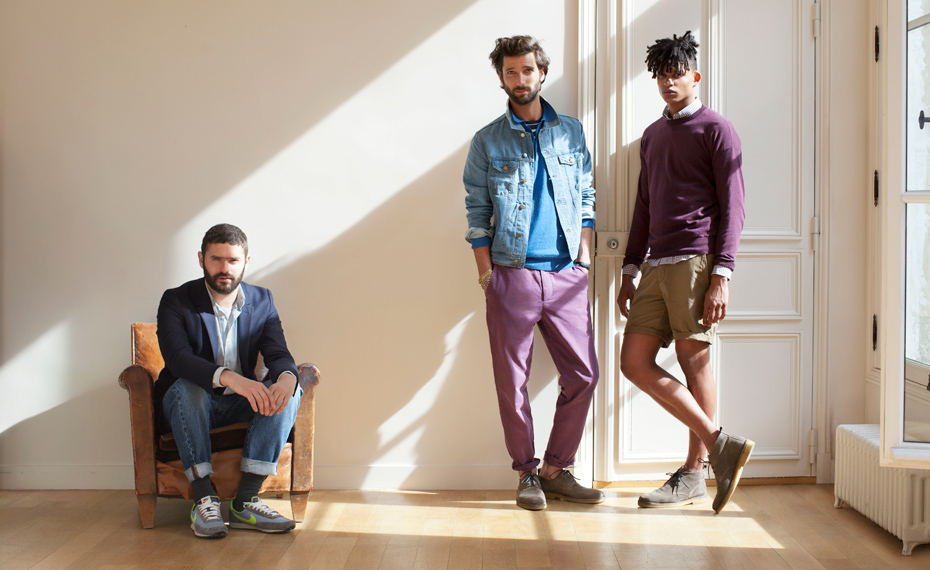 "You have to keep it simple and authentic. Style is definitely not just a question of clothes." Alexandre Mattiussi is spot on. His take on fashion not only refers to clothes – it's about style and, more precisely, a certain lifestyle. The Paris-based designer and his AMI brand refuses to let fashion dictate his creative output: "I just do clothes that I love to wear. I try to keep it elegant, effortless, cool and realistic. I don't do fashion for fashion. I like to see people wearing my clothes. And feeling good in them." For Mattiussi, the end product is part of the story and the customer is integral to the process, rather than just a bloke buying his clothes. "It's more about the attitude than the clothes themselves because AMI is not a concept. The story we tell is a story of a guy you know, a brother, a boyfriend, a friend."
That's why Mattiussi's latest retail adventure, having recently opened up his first standalone store in Paris, makes complete sense. In collaboration with online retailers Mr Porter, the former Dior Homme and Givenchy employee is this week launching an exclusive capsule collection. Mr Porter is only a few years old and, like AMI, still the new kid on the block. Nevertheless, thanks to a focused buying team and a trail blazing attitude towards editorial retail, the Net-a-Porter brother has quickly settled in to the cyber throne in the church of E-commerce. The collaboration series, part of spring push from Mr Porter, also include capsule collections from Raf Simons, Alexander Wang, Beams Plus and Globe-Trotter.
Consisting of the kind of understated and subtle pieces AMI has already made into a signature look, the collection boasts a denim jacket, khaki shorts, stripy cashmere and check shirts – the ultimate holiday wardrobe: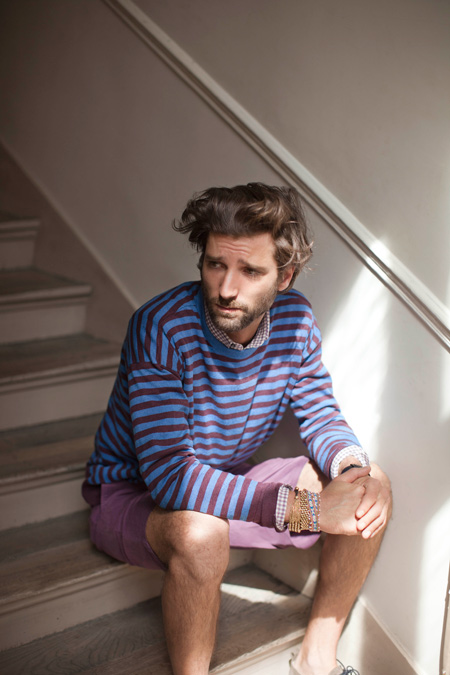 "I just imagined a guy at a 'terrace de café' in summer having a break with friends. I always project the clothes with someone in mind. It's pieces that you could wear easily. Kind of timeless pieces you could wear for a longtime."
"For this exclusive capsule, I used bright colours like purple, blue and navy but also beige on timeless pieces; an Oxford t-shirt, a washed cotton military jacket and light denim jacket, a deep blue brogue. I like to match things together. It's like when you open anyone's closet, you won't find only black and white clothes in it." This is the strength of AMI, one that Mr Porter appreciates. The collection, like mainline AMI, is part of long term wardrobe solution, not a clothes suitable for a fashion whim. These are the sort of clothes that define Mr Porter, as it should be. Arguably, clothes as expensive as these should be seen as an investment rather than the result of an impulse.
Words David Hellqvist
Photography Linda Brownlee
Styling Dan May