David Hellqvist talks to furniture designer and interior decorator Francis Sultana about his collaboration with Brioni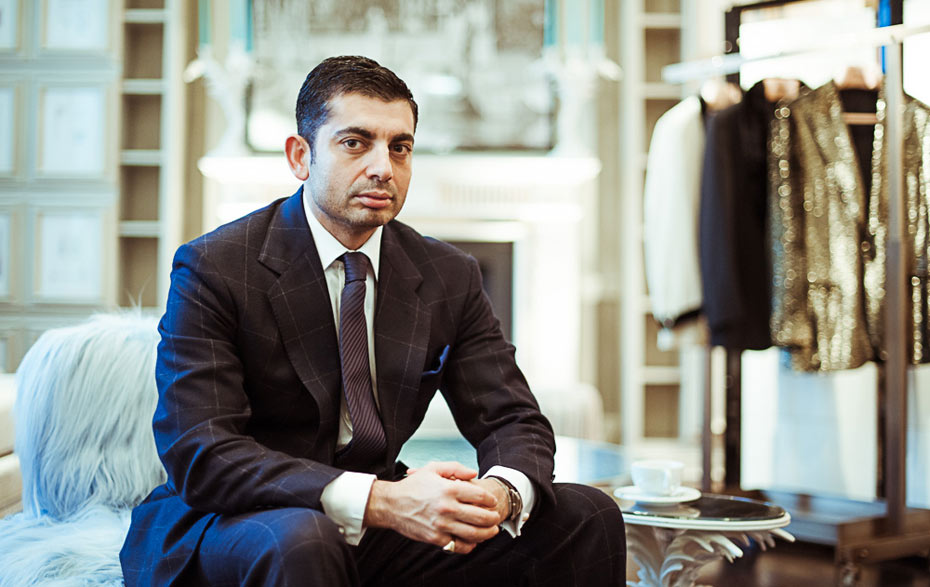 As a tie in with London's Frieze art fair and Pavilion of Art and Design, Italian brand Brioni this week launched an exciting curatorial project with furniture designer and interior decorator Francis Sultana. Taking over the luxe menswear label's Bruton Street store, a mighty Georgian townhouse, Sultana has installed a selection of furniture from his eponymous line, and a handful of interiors and artwork from international and established artists. With art by Tim Noble & Sue Webster  and Matt Collishaw plus furniture pieces from the likes of Zaha Hadid, Fredrikson Stallard and Mattia Bonetti, the two-storey 'gentleman's club' now nicely boasts Brioni's classic and traditional tailoring and high-end contemporary art. Sultana's touch adds to the shopping experience, through the eclectic mix of Hadid's oversized sculptured table on the ground floor and Barnaby Barford's comical miniature porcelain sculptures upstairs in the VIP dressing room. It appears open-air rooms filled with natural light doesn't just benefit Brioni's sharply tailored suits and refined sportswear, but does wonders to a spot of modern art as well.
David Hellqvist: How did you hook up with Brioni?
Francis Sultana: My friend Jason Basmajian, who used to be creative director here, asked me if I wanted work on a project aimed at bringing art and design into the store. My interiors are often done for art collectors and the product that Brioni does is a luxurious menswear line, so it's often the same client and it made sense to launch it this week, during Frieze. I didn't want to create an exhibition as such; more add interiors and art that felt like a natural part of the surroundings. My job as a decorator is to make them look and feel right. I've selected furniture that pushes it in a retail environment, but all pieces fit in and make sense in the store.
David: What was your main objective with the project?
Francis: I wanted to bring the store up to date and add a good art angle to it, which is something we see a lot of in retail today.  The idea was for people in London to get to know the brand Brioni. It's well known in other cities but not so much in the UK. But this also opens up the store to similar events and projects in the future, I think.
"For me, the most important thing with art and design
is to amuse and to have an affect on people, in whatever way possible"
David: Are there any specially commissioned pieces for this exhibition in the store?
Francis: There's two chairs from my first collection that we covered in grey pinstriped suiting fabric. I normally work with women's couture fabrics, not so much these kind of textiles, but I really enjoyed it and I'm getting into men's suiting fabric and I think my next collection will be based around that – I think it's a good change for me.
David: Did you have a relationship with Brioni prior to this exercise? 
Francis: No, I hadn't started wearing it, but then I went to their menswear show in Milan in January, and that's when I really got to know the brand. There were so many things I had no idea they did!David: Would you say there are any similarities between your design approach and Brioni's?
Francis: We both focus on the quality of fabrics and craftsmanship, and Brioni has a very continental style – my interiors can also be called continental and they're based around luxurious fabrics. We share the same the ethos in that way. And, having looked at their archive, I know there's a glamorous side to Brioni, which I very much like.
David: Do you have any favourites, what are the highlights?
Francis: One of my favourite designers is Zaha Hadid, whom I've worked with quite a bit in the past. I put a table of hers in the downstairs main room. I think it suits the brand really well since it's very powerful and the colour is very masculine. It's sculptural and the quality of it is stunning. It was interesting to see what energy the table would give out in the store, if it would fit in but it turned out exactly how I wanted it – it lifted the room and gave it power. Furniture and art can have that effect. You can't help looking at it, but not because it's shocking or you don't understand – it's just an amazing piece of sculpture.
For me, the most important thing with art and design is to amuse and to have an affect on people, in whatever way possible.
Photography Morgan O'Donovan
.
Brioni Art & Design Curated by Francis Sultana, Oct 10 – Nov 10, 2012, Brioni, 32 Bruton Street, W1J 6QT