Port travels to New York City to shoot a story inspired by the latest Moncler Genius collection, 2 Moncler 1952
The digital age has placed particular pressures on fashion. Grown accustomed to the immediate, intimate interpersonal relationships with their friends through social media, consumers are expecting a similar experience with brands. It's something Moncler is well aware of and has come to the fore in their latest project, Moncler Genius.
"The world has changed," explains Remo Ruffini, the chairman and CEO of Moncler. "This digital era has given us a new strength, and our change in direction is the answer to this need for a less filtered, more direct and above all continuous relationship".
And so, in a groundbreaking move, Moncler has done away with the system of seasonal launches for their products, introducing an "approach that is mostly, weekly, daily", reducing the time between the launch of a particular collection and it's arrival in shops.
So far there are eight sections into which Moncler Genius can be divided, involving different creative figures – "a task force" – to bring together varying visions and ideas that innovate and research new technologies. Collectively they will suggest the future of design that goes "beyond every aesthetic and ideological frontier".
"We have chosen designers that differ greatly from each other as have always spoken to different generations," Ruffini continues. "We constantly need to offer new experiences and new ideas."
The 2 Moncler 1952 collection is the fourth drop in the Genius series and sees the two iconic symbols of the brand – the Moncler logo and the puffer jacket – pushed to the fore with jackets in laqué and matte nylon, and a spectrum of green, orange, purple, blue and reds. Taking its name from the year when the brand was founded in the Haute Savoie region of the French alps, the collection is a contemporary, dynamic twist on Moncler's classic heritage.
The 2 Moncler 1952 collection is available in Moncler boutiques, moncler.com and in selective wholesale networks worldwide
Photography Neil Gavin
Styling and creative direction Dan May
Grooming Brent Lavett
Models Devonte, Maya and Alexandre at Krush MGMT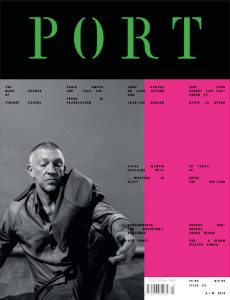 This shoot is taken from issue 23. To buy the issue or subscribe, click here.
Port picks the highlights of the Moncler Genius collection, 2 Moncler 1952