The Hackney studio on their first footwear collaboration with the French fashion brand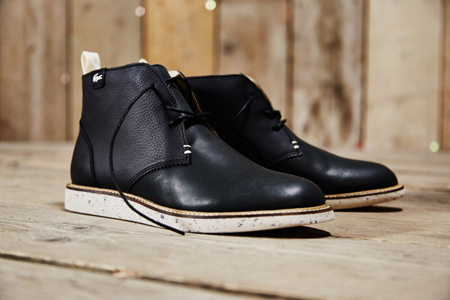 The good people over at Bread Collective are some of our favourite people here at Port. In the past they've made beautiful section openers for us: black and white signage in issue eight, projections for issue nine (our film special) and the hand-painted 'Rockwell' on our latest cover, done by them at the request of our senior editor and cover art director, Matt Willey.
They don't just spend time mucking about for us though. Recently, they collaborated with Lacoste on a series of short films for their Essential Design collection for SS14 – a collaboration that went so well Lacoste asked them to design a shoe of their own.What they came up with is a classic Walsham-shaped desert boot, draped in a combination of nubuck and tumbled leathers, with popped white french binding, waxed laces and a marble speckled sole. Art director Luke James said of the project, "Although we hadn't designed any clothing before, the process was pretty similar to how we usually work. After the first stage of research and initial concepts, we were sent a range of samples: leather swatches, sole units and colour variants of the different parts of the shoe. After selecting the different elements we received a sample shoe and then after tweaking certain aspects we were finally presented with the final product that we were all delighted with".
And we agree. Pleasingly stylish yet practical, exuding handmade quality and craftsmanship, just the way we like things.
To see Bread's films for Lacoste visit their website HERE