Judith Borowski, head of design and branding at NOMOS Glashütte's in-house agency, discusses the German watchmaker's newest timepiece: the Lambda 39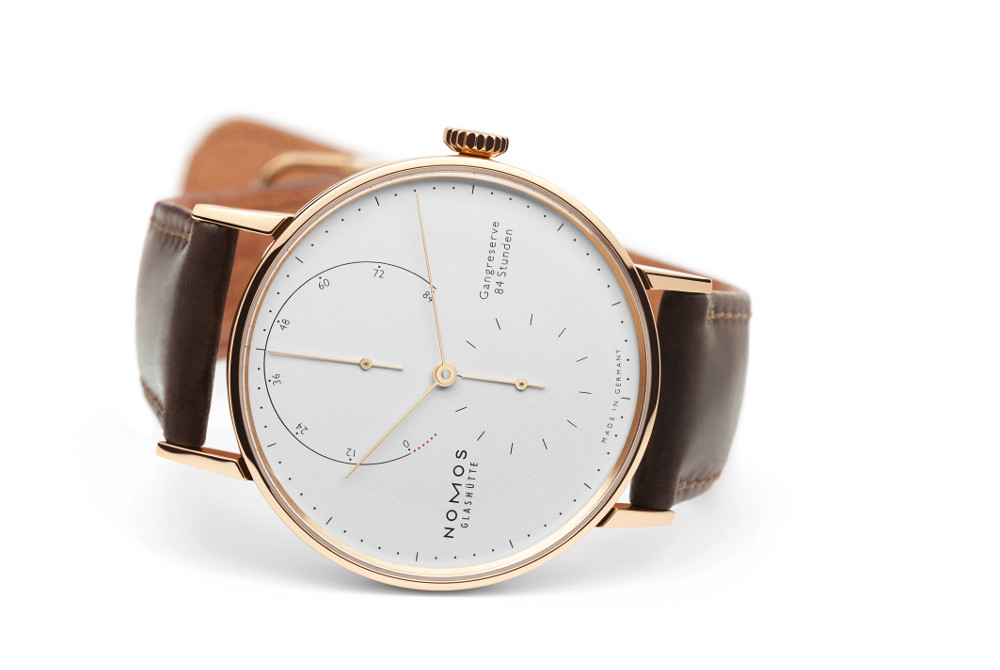 Despite being in production for a modest 25 years, NOMOS Glashütte has established itself as a mainstay among German watch brands. Inspired by Bauhaus design and functionality, models such as the Tangente are already considered classics.
The latest addition to its collection is a reinterpretation of the Lambda watch, first launched to great acclaim in 2013. The new Lambda 39 maintains the sophistication of the original but is more compact in form, with a slender 39mm gold case. We caught up with the design team at NOMOS to discuss the inner workings of the Lambda 39, the values behind the NOMOS collection and the future of analogue timepieces.
The Lambda has been hugely successful – what was the motivation behind releasing a smaller model?
Introducing smaller versions of our successful Lambda model gives our designers the opportunity to reinterpret this design with new proportions and in new colors. These new watches extend the appeal of the watch model to new customers who may have found 42mm a touch too large – since every wrist is different – or those who wanted to see Lambda with a ruthenium-coloured dial.
How do you go about scaling down the previous version? Did you have to start from scratch?
Creating a smaller version of an established watch model is both easier than starting from scratch and, in a way, more difficult. On the one hand, you have the opportunity to work with design decisions that have already been made. On the other hand, scaling down a design creates new challenges as it changes the overall proportions, which can in turn change the character of the design and the watch. In Lambda's case, however, we were able to maintain the overall elegance of the original version in this new 39mm size.
How have you updated the inner workings of the watch?
The manually wound DUW 1001 movement, which is handcrafted in the dedicated NOMOS Atelier, is still at the heart of our Lambda model. We are so proud of it that we saw no need to change it for these new watches.
The movement boasts a power reserve of 84 hours and many of the features that characterise fine mechanical watchmaking, including screwed gold chatons, a twin mainspring barrel, swan neck fine adjustment, fine sunbeam polishing, and a hand-engraved balance cock that reads 'Mit Liebe in Glashütte gefertigt' ('lovingly produced in Glashütte').
How do you see the new Lambda models fitting in with the rest of the NOMOS collection?
We envision these new timepieces will both complement and enhance the existing NOMOS range, by offering more choice to our customers. Our Lambda model now comes in eight slightly different versions — each with its own character, and strikingly beautiful in its own way.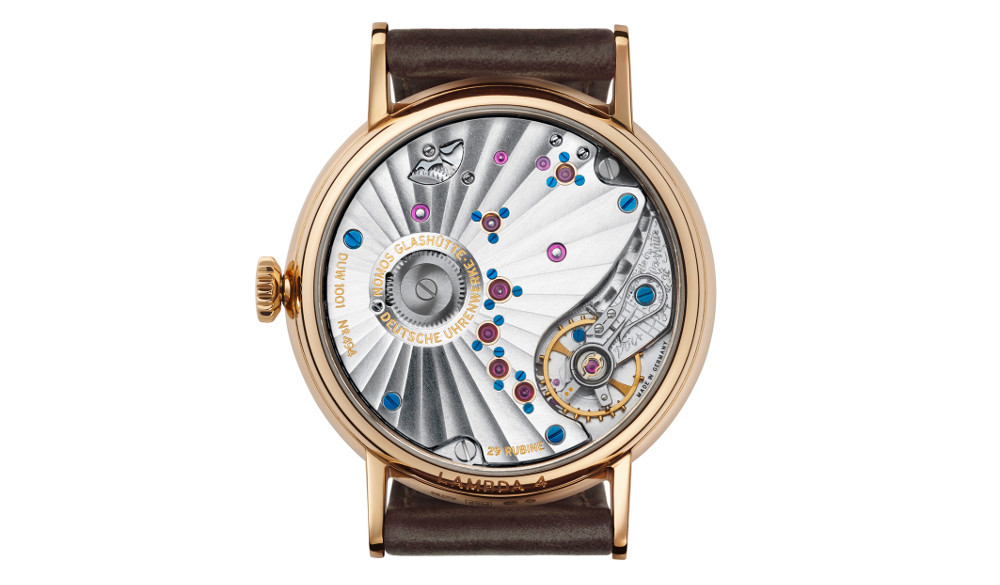 What key characteristics define a NOMOS timepiece?
NOMOS timepieces are crafted in the world-famous town of Glashütte, the birthplace of fine mechanical watchmaking in Germany. All of them feature movements manufactured in-house and are characterised by a unique combination of German engineering and German product design.
As a member of the Deutscher Werkbund, a predecessor of the Bauhaus movement, NOMOS Glashütte aims to make beautiful and functional products designed with the most suitable production techniques. Our watches are renowned for their restrained dials, slender hands, and narrow bezels, with precision being a defining feature of the movement contained within.
How do you see the place of the analogue watch changing as smartwatches become increasingly popular?
While we can only speak for ourselves and not for the watchmaking world as a whole, we believe that mechanical watches simply offer something different to smartwatches. Our products draw from a long history of craftsmanship, giving customers an elegant timepiece that underlines their aesthetic and values. For this reason, we certainly do not see smartwatches as a threat to traditional watches.
In fact, the increasing interest in smartwatches among the younger generation means that they are thinking more and more about what they are wearing on their wrists – something that we are, of course, delighted about! After a while, smartwatch wearers will realise that their wristwear keeps becoming obsolete after a few years. With a mechanical watch, by contrast, they have a fine timepiece for life that is always repairable.
The Lambda 39 is available in 18k rose gold, with gold-plated or blue steel hands, and 18k rose gold with 'black velvet' dial and gold-plated hands