Having worked her way from the bottom rung of fashion of the fashion ladder to the heights of a company with a Royal Warrant, Clayton can guess a bra size at a glance. Here, she explains to Laura Barber how she became the creative force behind the luxury lingerie brand that's fit for a queen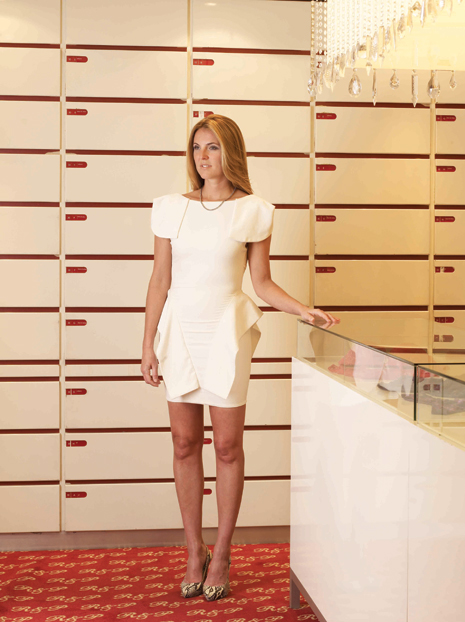 In the beginning, I was far more interested in ties than bras. At 19, my first job after college was in a fashion agency that specialised in men's tailoring. I was PA to the director so I used to tag along with him to sales appointments and, after a while, I started selling his ties for him, then his shirts, and before he knew it, I'd taken over most of his meetings with the major London stores. At that point, I had a lightbulb moment: I knew I wanted to be on the other side of the desk, in the more creative role of buying.
So just before my 21st birthday, I joined Harrods as a buyer's clerk, the very lowest of the low. I'd dreamed of buying prêt a porter women's wear. Instead, they gave me Lingerie and my heart sank: I had visions of a vast sea of moulded cups…But almost immediately, I became fascinated by the intricate details of the pattern pieces and the way a bra is constructed. The average high street bra has a maximum of eight different components, whereas a luxury bra has at least 32, so it's a completely different way of understanding the relationship between the female form and the creation of a silhouette.
I'd been at Harrods for a few months when I had the chance to move to the International Designer Room, but within a week I was begging to be transferred back to bras. To me, a dress is just a dress, but lingerie is the foundation of every outfit.
"To me, a dress is just a dress, but lingerie is the foundation of every outfit"
About two years later, I got a call from Jill Kenton, the daughter of Mr and Mrs K who own Rigby & Peller, offering me a job as their assistant buyer. When I arrived, all the deliveries were still being made to the basement of the Mayfair store and there wasn't really a proper system for ordering or managing the stock, so I put that in place, worked on our profit margins, and got to know our suppliers: it was a massive project but I loved being able to have that much influence on a business. As well as number-crunching, I spent a lot of time on the shop floor with the lingerie buyer, Sharon Gross, who really knew about fitting and fabrics. She also understood how to look after the customer, and the intimacy involved in a fitting, especially at those moments in life when a woman's body has undergone a change and you might be the first person to see her undressed. make a woman look sensational, but it could give her confidence and make her feel feminine again. It was a question of putting into practice something that I'd first heard from Marigay McKee at Harrods: customers don't just want a product, they want an experience. In the end, I was lucky enough to be in the right place at the right time and my role kept expanding as the company opened new branches and re-launched the Rigby & Peller label exclusively to the stores. Today, I'm involved in everything from designing new collections and planning ad campaigns, to visiting factories and attending catwalk shows. Juggling all this is a challenge, but I still try to make time to do personal fittings for our celebrity clients and ensuring that their details remain anonymous. In the world of luxury lingerie, it's all about discretion.