Jacob Charles Wilson meets the award-winning design duo SPACE Copenhagen to discuss their latest project – the renovation Arne Jacobsen's iconic Radisson Blue Royal Hotel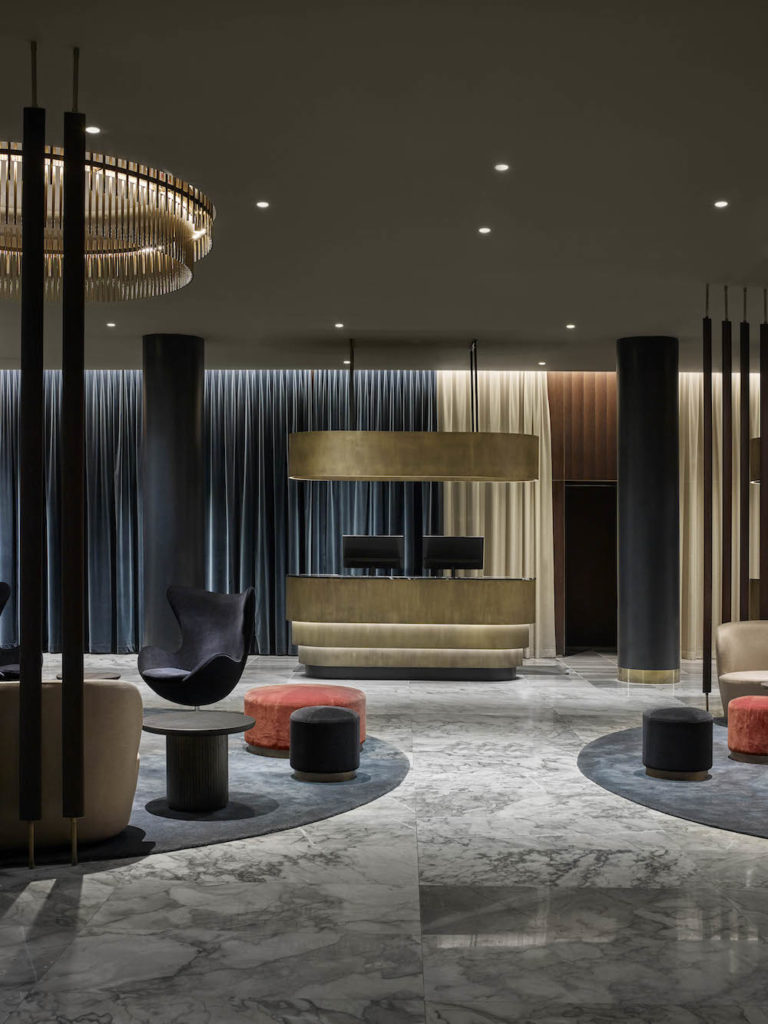 Signe Bindslev Henriksen and Peter Bundgaard Rützou have known each other since their years studying architecture at the The Royal Danish Academy of Fine Arts. They first set up their own rival design firms before joining together in 2005 to work as SPACE Copenhagen, designing  furniture and interiors for private clients, hotels, and restaurants including the world renowned noma, Geranium, and Geist. We met at Copenhagen's Atelier September to talk on how they came to work together, their thoughts on space and materiality, and their recent project renovating the Radisson Blu Royal Hotel Copenhagen – designed by Arne Jacobsen in 1956 today recognised as a singular masterpiece of mid-century architecture in a city of discerning tastes.
Taking a look through your projects, you've worked for restaurants as well as private residences, why did you start taking on these projects? 
SBH: Twenty years ago in Copenhagen there was an amazing wave of new young chefs who were in their own kitchens, doing their own thing, bringing in new ideas, and becoming more ambitious about changing the scene. Back then, when you came out of architecture school, you'd go to a big firm and you'd aim to do large scale architecture – nobody else was interested in paying attention to retail spaces and furniture design. So, we started our own companies and we were each other's best competitors for many years because there was noone else.
PBR: This juxtaposition between the small details and the abstract space was something that's found in great masters and I think the whole impact of what made Danish design famous also became a complex for a whole generation – how do you move from that? That's one of the most interesting things about restaurants – more than anything they're a social experience. Whatever you do with it is a reading of that social activity. So it's a psychological reading translated into design and eventually into space, and that's just really exciting.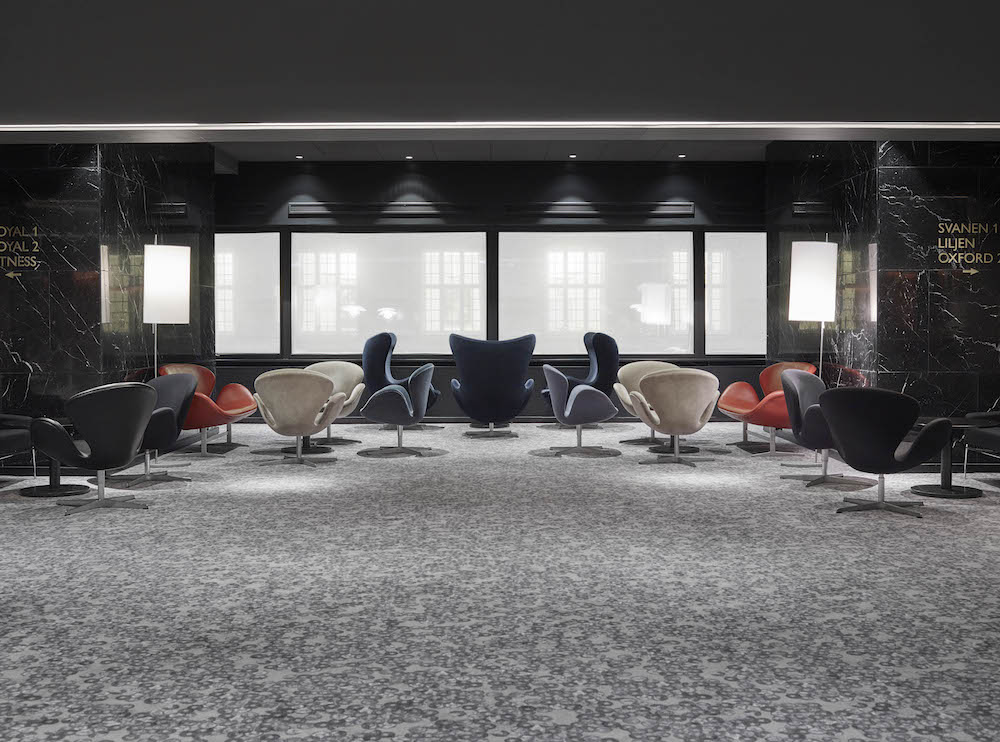 What does it mean to you to approach and reimagine Arne Jacobsen's icon of both the city and of Danish mid-century design?
SBH: Well it's obviously a great honour – in many ways Arne Jacobsen was one of our icons while studying, and he was one of the best examples of actually completing a whole universe from the door handle to the entire building, and the process of storytelling involved in that. There's this very fixed image of what Danish design is, and when you actually look back and look at Jacobsen's work compared to Finn Juhl, to Carl Hansen, to all the great masters, they're extremely playful, they're very inspired by the outside world, they travelled a lot, with inspiration from Japan and Africa and the US. So we felt that we were lucky that it was someone like him, who had a vibrant open mind.
PBR: When you get started you look very carefully at the design and you realise it was indeed a very different time. You have to look back to the social structure that defines the architecture; first of all the building was actually the hotel and check-in terminal for Scandinavian Airlines. Something we thought about is that people want to have all kinds of experiences at hotels folded into one, we no longer differentiate sharply between one space or another. In this case, because the lobby is so huge, it's an open space relationship between a lot of different activities. It was a challenge, but it also makes the site fun, it's like a puzzle, you need to crack it somehow.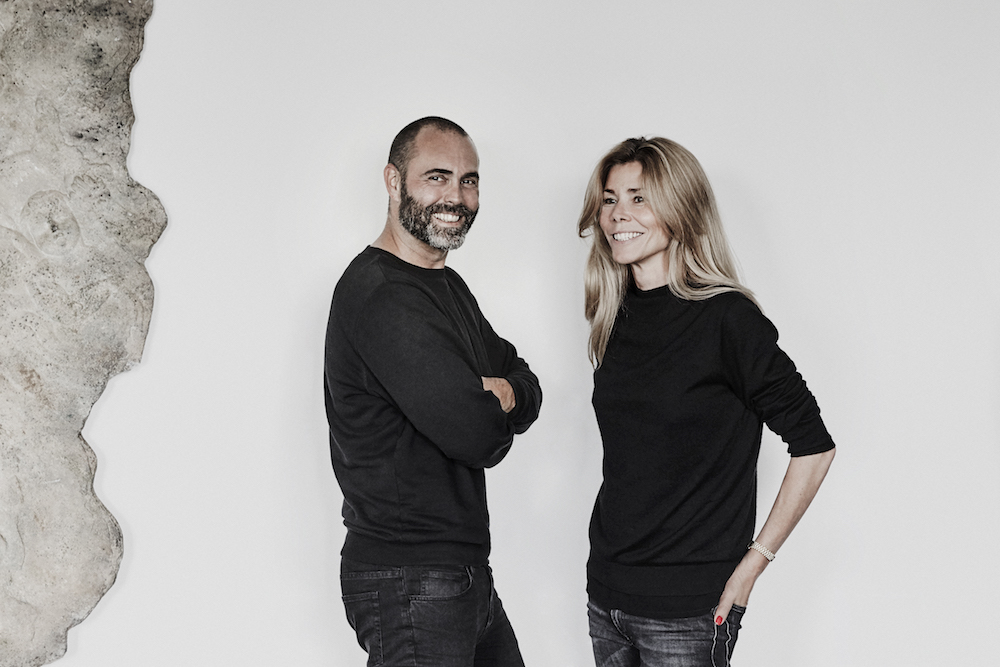 What is the experience you want to give people who stay in the space and feel the materials
SBH: It's a part of the story that's difficult to show now – a lot of our work was also trying to bring back the original building – a lot of construction has been going on here and there in the hotel for the past 50 years, so a lot of the work was just tripping off layers of things that hiding the beautiful old building, trying to restore the floors, trying to bring back the beautiful windowsills in the rooms, little things that you won't really see unless you know how it was years back.
PBR: Another aspect of the building is the fact that it's the only highrise in Copenhagen. It's such a horizontal city – through all of the 20th century we've had this restriction of five floors within the inner city. So, you go to this building and all of a sudden you see the city as a cityscape, it's just really beautiful. Every room has a view, and there's just nothing else like it in the city.
SBH: When people enter the room they go straight for the window and look out, it's what everyone intuitively does. The view is mindblowing, it's so rare that you actually see the city from that angle, it has an almost dreamlike feel.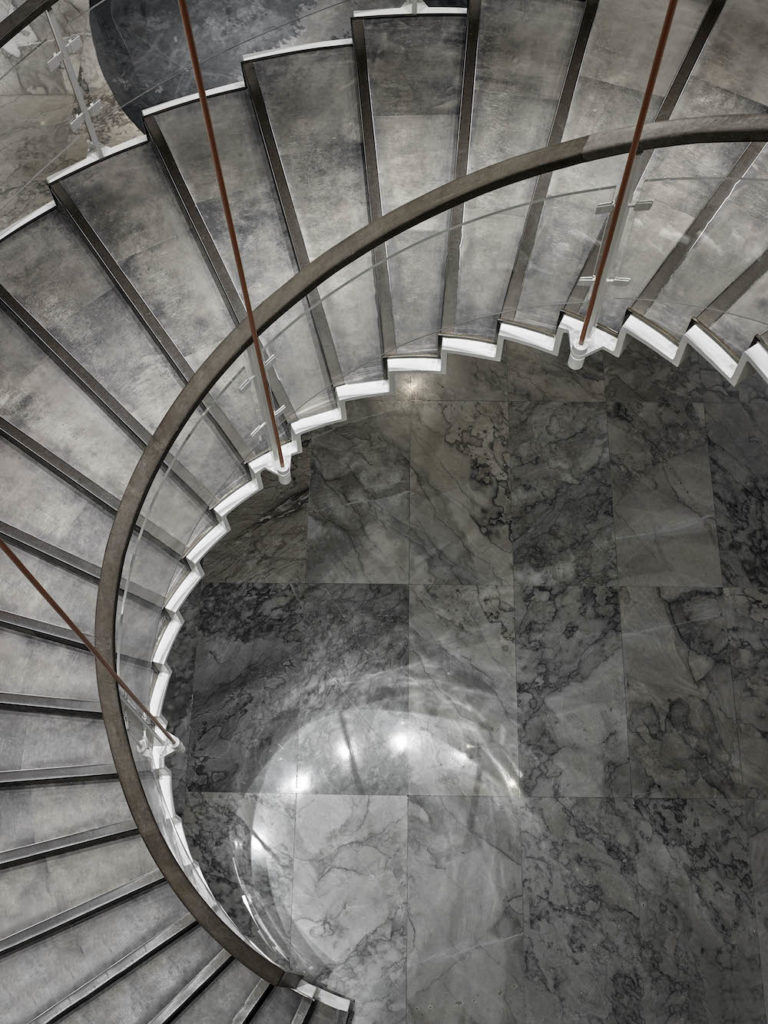 So what's the experience you intended people to have entering this space?
SBH: The staircase was very important for the layout studies we did. We created this stretch of round ceiling alcoves which reflect this beautiful staircase feature. You get a sense of how the space is laid out, with the bar on one side and the restaurant on another. The circle was an important feature for Arne, throughout the whole project. The skylights, the floor, the balcony skylights and the ceiling. He uses the ground staircases and the ground pillars that define the overall structure. Small circular designs on the door. As Peter said, you have the masculinity, but paired with the softer elements, the organic feel and materials.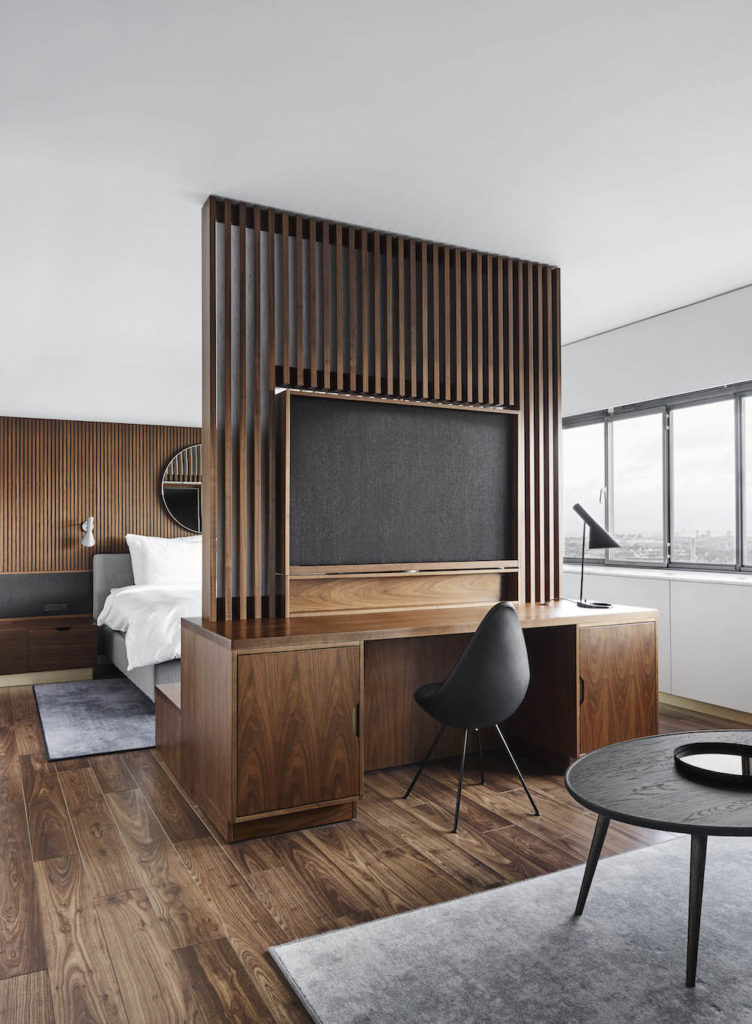 Do you see this project as drawing from a Danish design history, or do you look further for inspiration?
SBH: We can't escape who we are, we grew up with in this tradition; our parents and grandparents, our ten years of studying within this field – it made us. But we've tried to escape, to look a bit further, to not be too intimidated by it, and actually hold onto the fact that curiosity comes from being such a small country. Because, a lot of things do not get fulfilled here, so that's why we get a total urge to go somewhere. There's that feeling of going up a skyscraper and looking out on the world.
PBR: There's a lot to learn from – classical architecture to art nouveau, and further back – design is something you can disappear into, just thinking how two pieces of wood fit together, and how can you translate that into a building, and whether we use it in a project or not… it's the foundation for our inspiration. It's having curiosity at the drawing board, knowing how to play and nurture that, how to fill yourself with opportunity and let go.
SBH: And of course it's also daring to not fulfil people's obvious expectations for what Danish design is…