Design-led technology start-up company ROLI talks with Stephanie Kukulka about their newest project, the Seaboard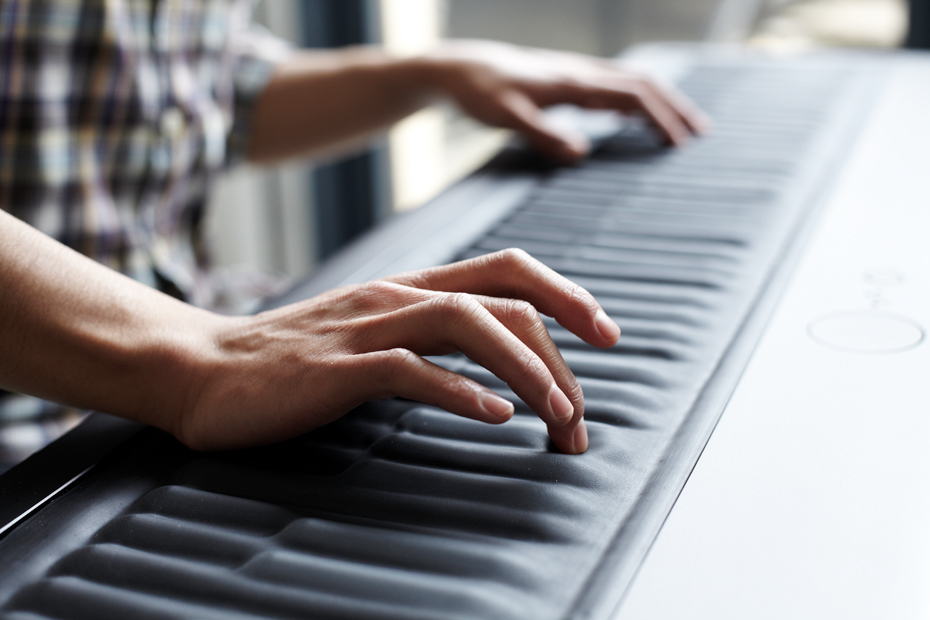 Words Stephanie Kukulka
Photography & film Juan Trujillo Andrades and ROLI
The team at ROLI has been working in overdrive to develop and finalising their newest project, in readiness for it's launch at the South by Southwest music conference held in Texas this week. It would be an understatement to say they are excited, albeit, exhausted. Daily homemade bread and hourly yoga breaks keeps the team energised long into the night, working at perfecting the instrument they call the Seaboard.
Looking at the press images, you might be forgiven it looks like nothing new;  it could be mistaken for a typical keyboard (but with a more streamline aesthetic). However, upon playing the Seaboard, (or hearing it), one is immediately aware of its superiority. The Seaboard distinguishes itself by its soft continuous silicon keyboard interface, allowing extraordinary real-time manipulation and control of pitch, volume, and timbre. Unlike previous keyboards, the Seaboard allows musicians to bend and connect notes. Simultaneously, delicate pressure sensor pads beneath each "keywave" allow dispersed pressure to inflict various sound effects.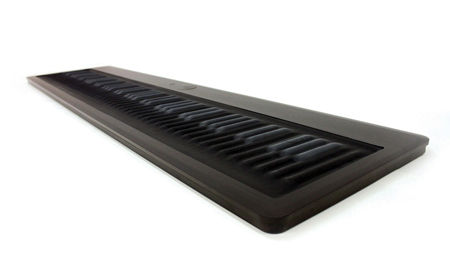 This means rather than a single key providing only one isolated sound, "control continues after the key has been hit, allowing further expression, one similar to that of a violin where the volume and pitch can be continuously changed," explains Jean-Baptiste Thiebaut, ROLI's Head of Technology. An integrated sound dial located at the top of the apparatus also allows the player to switch between instrumental simulations. Essentially, "it's like having a live brass ensemble under your fingertips" states Thiebaut proudly.Combined, these features make an entirely new instrumental playing experience – one that ROLI describes as natural and intuitive. While it's not the first time a pianist has vibrated their finger over a key, it's the first time this motion has effectively influenced the sound produced.
Perhaps this is the most marvelous aspect of the Seaboard – as it is simply an extension of the keyboard, skills are merely added to already established playing abilities, making the transition to the Seaboard a natural one. In-house pianist Heen-Wah Wai confirms this: "Although certain techniques must be learnt and explored, it was a natural transition from the piano." Wai explains the Seaboard to be a highly expressive instrument, responding to a wide number of movements, many which pianists intuitively execute. From the other musicians invited by ROLI to test run the Seaboard, the response is a positive one, excited by the possibilities opened up through its revolutionary design. For many musicians, producers, and composers it means reducing time spent on simulators, essentially compacting equipment required, and opening up the parameters certain instruments set.
The team at ROLI consists roughly of 20 members contributing to the creation of the Seaboard. From programmers, sound designers, musicians, and electrical engineers, each member has the arduous task of building and perfecting this revolutionary piece of equipment. In conjunction to the creation of the physical keyboard itself, much time has been spent developing the Seaboard's compatibility with existing music software programs, such as Logic. Furthermore, there are individuals working on additional pieces of equipment that will accompany the Seaboard, making its superiority even more noticeable.When asked of his hopes for the future of the Seaboard, Thiebaut states: "Our objective is to bring the Seaboard into the family of living instruments. There have been very few additions to the living instrument's family, with the saxophone being amongst the latest to join this family in 1840."
Find out more about ROLI and the technology behind the Seaboard at www.weareroli.com