On a rare, sunny autumnal day, Alyn Griffiths opts for a soaking at the new Barbican installation by rAndom International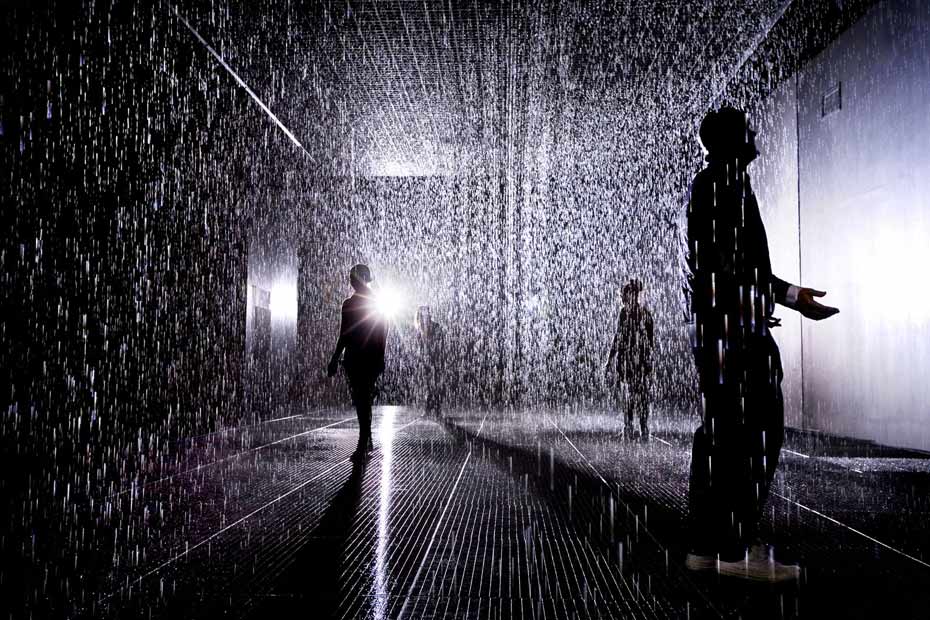 I'm having to shield my eyes from the low autumnal sunlight as I sit outside London's Barbican arts centre with Hannes Koch, one-third of London-based creative collective rAndom International (sic). I can't help but find this rare bout of clement weather ironic as we're here talking about their new installation, Rain Room, which has just opened in the Barbican's Curve gallery and consists of an artificial deluge, beneath which visitors can magically stroll without being soaked.
Inside the gallery space, Koch's colleagues Stuart Wood and Florian Ortkrass are explaining to other journalists just how it is that when they step beneath the hundred-square-metre ceiling from which water is pouring down, a pocket of dry space surrounds them and follows them whereverthey go. Apparently, it's all to do with sophisticated motion-tracking cameras that capture a three-dimensional image of the space and instantaneously turn off the valves above anything that enters the perimeter. When I express apprehension about wandering into Rain Room with my laptop strapped to my back, Koch retorts, "It's about trust. Making a tangible experience and seeing how people react, that's the point of it. We're empowering people."
And he's right, I needn't have worried. However, on entering The Curve – a sweeping corridor that hosts a rotating programme of artistic and architectural installations – the blackened walls and thundering sound of falling water create a foreboding first impression. From somewhere in the distance a light creeps around the curved wall of the corridor, drawing me towards the din. As I approach, the light and noise increase until I'm confronted by a wall of water, streaming from the ceiling onto a slightly raised platform. A single brilliant white spotlight at the back of the space catches the drops as they fall. "We wanted to heighten the exposure and the proximity to water and to make it a visual experience by carving out every drop," explains Koch. "In terms of lighting and the approach it's very site specific. You have to adapt the work to the space: it's not furniture or lighting, and it's not sculpture, like a bronze that you can put anywhere. You have to adapt it to the backdrop and make sure it works with the space and with the people who visit that space and how they operate."
"It's about trust. Making a tangible experience and seeing how people react, that's the point of it. We're empowering people"
So, just how did rAndom International manage to persuade the Barbican to allow them install an April shower in the centre of such a prestigious venue? "When we first showed it to them they were very interested but, in terms of production complexity and health and safety and funding it was out of the question," Koch recalls. "But then the Frankel Foundation commissioned a generic version of the Rain Room and helped to fund the research and the prototyping. Once we actually started building it we went back to the Barbican and asked if they would help us realise it in this space by protecting us from red tape, and about a year ago they said 'go'."It's a brave move by the Barbican, but rAndom International have a proven track record of adapting their work for public spaces, having previously been commissioned to create a light installation called Reflex in the window of London's Wellcome Collection and having exhibited at numerous international venues, including the Victoria and Albert Museum and Tate Modern.
Founded in 2005, after the threesome identified a shared purpose while studying at the Royal College of Art, rAndom International set out to challenge the relationship between people and technology, focusing on interactive installations that offer tangible feedback in response to movement or sound created by their audience.The exhibition marks a significant point in rAndom International's development and Koch is delighted to have an opportunity to bring their own brand of participatory and experiential art to a far wider audience than would typically have access to it at art fairs or smaller exhibitions. "It's the first time for us that we have an installation available to the public on this scale – it's awesome!" enthuses Koch. And those who have the chance to visit the installation won't be disappointed: who wouldn't relish the chance to control the rain, especially in London? Rain Room facilitates this unique experience and demonstrates that, in the right hands, cutting-edge technologies offer opportunities to create little moments of magic that can inspire, empower an amaze.
Rain Room is at The Curve, Barbican, until 3 March 2013. For more info, visit barbican.org